Recent Publications

---
An Epidemic among My People (Religion, Politics, and COVID-19 in the United States) (Temple University Press, 2023)
The pandemic presented religion as a paradox: faith is often crucial for helping people weather life's troubles and make difficult decisions, but how can religion continue to deliver these benefits and provide societal structure without social contact? The topical volume, An Epidemic among My People, explains how the COVID-19 pandemic stress tested American religious communities and created a new politics of religion centered on public health.
Editors
Amanda Friesen
and Paul A. Djupe, along with the contributors, consider how the virus and government policy affected religion in America. Chapters examine the link between the prosperity gospel and conspiracy theories, the increased purchase of firearms by evangelicals, the politics of challenging public health orders as religious freedom claims, and the reactions of Christian nationalists, racial groups, and female clergy to the pandemic (and pandemic politics). As sharp lines were drawn between people and their governments during this uncertain time, An Epidemic among My People provides a comprehensive portrait of religion in American public life.
---
Thin Sympathy: A Strategy to Thicken Transitional Justice (University of Pennsylvania Press, 2021)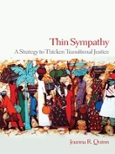 Joanna Quinn spent twenty years working in Uganda and uses its particular case as a lens through which she examines the failure of deeply divided societies to acknowledge the past and proposes that the needed remedy is the development of a very rudimentary understanding—what she calls "thin sympathy"—among individuals in each of the different factions and groups of the other's suffering prior to establishing any transitional justice process.
Based on 440 extensive interviews with elites and other thought leaders in government, traditional institutions, faith groups, and NGOs, as well as with women and children throughout the country, Thin Sympathy argues that the acquisition of a basic understanding of what has taken place in the past will enable the development of a more durable transitional justice process. The cover art is a batik painted by the extraordinary and talented Ugandan artist Bonny Kabugo. He lives with a disability sustained during state-sponsored violence under a former regime. 
---
Ukraine Calling A Kaleidoscope from Hromadske Radio 2016–2019 (Columbia University Press, 2021)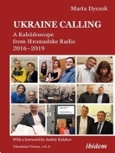 Ukraine Calling is a selection of interviews that aired on Hromadske Radio's (Public Radio Ukraine) Ukraine Calling show. This book, written by Professor Dyczok, is like a time capsule containing a selection of interviews that aired on Hromadske Radio's Ukraine Calling show. They capture what people were thinking during a critical time in the country's history, from the July 2016 NATO Summit through to Volodymyr Zelenskyy's 2019 landslide election victories. Decision makers, opinion makers, and other interesting people commented on events of the day as well as larger issues. Topics range from politics to sports, religion, history, war, books, diplomacy, health, business, art, holidays, foreign policy, anniversaries, public opinion to freedom of speech.
Interview guests include Canada's then Foreign Minister Chrystia Freeland, writer Andrey Kurkov, Crimean political prisoner Hennadii Afanasiev, who was tortured in 2014, Ukraine's acting Health Minister Ulana Suprun, American analyst/journalist Brian Whitmore, UNHRC's Pablo Mateu, ethnologist Ihor Poshyvailo, investment banker Olena Bilan, Tufts University's Daniel Drezner, a cameo appearance by Boris Johnson, and many more. Together these interviews provide a unique, diverse, and kaleidoscopic perspective conveying the substance, atmosphere, and flavor of Ukraine while it was on the receiving end of a hybrid war from Russia.
---
What is Democracy and How Do We Study It? (University of Toronto Press, 2020)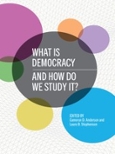 What is Democracy and How Do We Study It? Professors Stephenson and Anderson includes chapters from many Western Political Science faculty members past and present such as Charles Jones, Richard Vernon, Dave Armstrong, Bruce Morrison, Joe Lyons, Nandita Biswas Mellamphy, Dan Bousfield, Andy Sancton, Rob Leone. There are many different ways to do political science research. This book takes a core question that motivates research in political science – what is democracy? – and presents, in a single volume, original research demonstrating a variety of approaches to studying it. The approaches and related methods covered by the chapters in this book include normative political theory, positivist quantitative analysis, behaviouralism, critical theory, post-structuralism, historical institutionalism, process tracing, case studies, and literature reviews. Readers are confronted with the different assumptions that researchers make when entering the research process and can compare and contrast the many different ways that a single question can be studied. This book will be enlightening for students of democracy as well as those interested in research design and methodological approaches. 
---
Winning and Keeping Power in Canadian Politics (University of Toronto Press, 2020)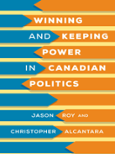 In this book, Roy and Alcantara use a series of experiment to investigate a number of commonly held assumptions about elections and governing Canada in the 21st century. Do negative campaigns win elections? Do voters abandon candidates accused of scandalous behaviour? Do government apologies affect prospects for re-election? This book has the answers! According to Andre Blais, "An intriguing book that examines the success and failure of a wide array of strategies parties use to win and keep power. A fresh perspective with an innovative experimental design. Read it. You will love it." Stuart Soroka says: "Roy and Alcantara offer a uniquely accessible and comprehensive study of factors that matter (and do not matter) to political support." Experimental work on some of the major features of political campaigns highlights the many ways in which the contents of election campaigns can alter information-seeking and vote intentions. Winning and Keeping Power in Canadian Politics offers a rich exploration of the ways in which information and institutions affect Canadian political behaviour." This book has been included in The Hill Times' List of 100 Best Books in 2020.
---
Nested Federalism and Inuit Governance in the Canadian Arctic (UBC Press, 2020)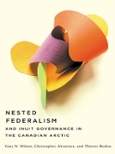 Based on 10 years of in-depth qualitative research, the book chronicles the political journey toward self-governance taken by three predominantly Inuit regions over the past forty years: Nunavik in northern Québec, the Inuvialuit Settlement Region in the western Northwest Territories, and Nunatsiavut in northern Labrador. The authors investigate the internal dynamics of these regions and their relationships with other levels of government in several key policy areas. This meticulous analysis offers new insight into the evolution of Indigenous self-government, as well as its consequences for Indigenous communities and for the future of Canadian federalism. This book has been included in The Hill Times' List of 100 Best Books in 2020.
---
Transitional Justice in Comparative Perspective: Preconditions for Success (Springer Professional, 2020)
The Transitional Justice Centre's latest book, Transitional Justice in Comparative Perspective: Preconditions for Success, edited by Political Science alumni Samar El-Masri, Western University Ph.D. candidate Tammy Lambert, and Professor Joanna R. Quinn, looks at the challenges and the factors that hinder progress and prevent the transitional justice mechanisms from reaching their desired outcomes. What if we could change the conditions in post-conflict/post-authoritarian countries to make transitional justice work better? This book argues that if the context in countries in need of transitional justice can be ameliorated before processes of transitional justice are established, they are more likely to meet with success. As the contributors reveal, this can be done in different ways. At the attitudinal level, changing the broader social ethos can improve the chances that societies will be more receptive to transitional justice. At the institutional level, the capacity of mechanisms and institutions can be strengthened to offer more support to transitional justice processes. Drawing on lessons learned in Colombia, Democratic Republic of the Congo, The Gambia, Lebanon, Palestine, and Uganda, the book explores ways to better the conditions in post-conflict/post-authoritarian countries to improve the success of transitional justice.
---
Local Government in Practice: Cases in Governance, Planning, and Policy (Emond Publishing, 2019)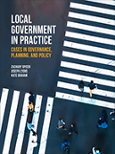 Local Government in Practice: Cases in Governance, Planning, and Policy equips students to effectively deal with contemporary challenges within local government. Through a series of evidence-based simulated cases, readers examine situations to better grasp the intricacies of this dynamic and rapidly changing environment. A diverse range of themes, including council–staff relations, finance, planning and economic development, intergovernmental relations, environmental and health policy, and municipal regulation, provides students with comprehensive coverage of local government in practice.
---
The Politics of Fiscal Federalism (McGill-Queen's University Press, 2019)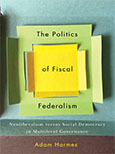 What does federalism have to do with the political struggle between conservatives and progressives over economic policy? How do economic theories of fiscal federalism influence European, North American, and global forms of governance? In the first comprehensive account of the left-right politics of multilevel governance across federal, regional, and global levels, Adam Harmes identifies both free-market and interventionist political projects related to fiscal federalism. Harmes argues that these political projects and the interests that promote them explain a diverse range of phenomena across national contexts, across levels of governance, and over time. This includes the left-right dynamics of US and Canadian federalism, the free-market origins of British euroscepticism and the Brexit vote, the complex politics behind the NAFTA renegotiations, and the emergence of both populist and progressive challenges to global free trade. A highly accessible outline of fiscal federalism theory, The Politics of Fiscal Federalism also expands upon the broader value and policy differences between neoliberal, classical liberal, and Keynesian welfare economics on issues such as the role of the state, subnational and global trade, economic nationalism, and monetary integration. This original and innovative work demonstrates that a political economy approach is essential to the study of federalism, and why federalism and multilevel governance is a critical area of study for political economists.
---
Shaping the Metropolis (McGill-Queen's University Press, 2019)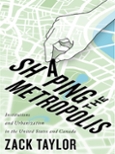 In Shaping the Metropolis, Zack Taylor compares the historical development of American and Canadian urban governance, both at the national level and through specific metropolitan case studies. Examining Minneapolis-St Paul and Portland, Oregon, in the United States, and Toronto and Vancouver in Canada, Taylor shows how differences in the structure of governing institutions in American states and Canadian provinces cumulatively produced different forms of urban governance. Arguing that since the nineteenth century American state governments have responded less effectively to rapid urban growth than Canadian provinces, he shows that the concentration of authority in Canadian provincial governments enabled the rapid adoption of coherent urban policies after the Second World War, while dispersed authority in American state governments fostered indecision and catered to parochial interests. Most contemporary policy problems and their solutions are to be found in cities. Shaping the Metropolis shows that urban governance encompasses far more than local government, and that states and provinces have always played a central role in responding to urban policy challenges and will continue to do so in the future.
---
The Many Faces of Strategic Voting (University of Michigan Press, 2018)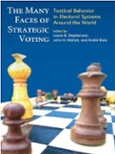 Voters do not always choose their preferred candidate on election day. Often they cast their ballots to prevent a particular outcome, as when their own preferred candidate has no hope of winning and they want to prevent another, undesirable candidate's victory; or, they vote to promote a single-party majority in parliamentary systems, when their own candidate is from a party that has no hope of winning. In their thought-provoking book The Many Faces of Strategic Voting, Laura B. Stephenson, John H. Aldrich, and André Blais first provide a conceptual framework for understanding why people vote strategically, and what the differences are between sincere and strategic voting behaviors. Expert contributors then explore the many facets of strategic voting through case studies in Great Britain, Spain, Canada, Japan, Belgium, Germany, Switzerland, and the European Union. "The Many Faces of Strategic Voting will undoubtedly be of use for those studying voting behavior in a variety of different electoral contexts. It provides the basis for the development of new wave of comparative research on strategic voting." —Nick Vivyan, Durham University
---
Patriotism (Polity, 2018)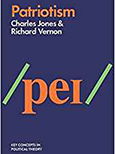 From flag-waving to the singing of national anthems, the practices and symbols of patriotism are inescapable, and modern politics is increasingly full of appeals to patriotic fervour. But if no-one chooses where they were born, and our ethical obligations transcend national boundaries, then does patriotism make any sense? Does it encourage an uncritical attachment to the status quo, or is it a crucial way of understanding and applying our freedoms and moral duties?
In this engaging book, Charles Jones and Richard Vernon guide us through these questions with razor-sharp clarity. They examine the different ways patriotism has been defended and explained, from a republican attachment to free and democratic institutions to an ethical and historical fabric that makes our entire moral life and identity possible. They outline its relationship to a range of other key concepts, such as nationalism and cosmopolitanism, and skillfully analyses the issues surrounding partiality to country and whether we should prioritize the welfare of our compatriots over outsiders. This concise and lucid volume will be essential for both students and general readers wishing to understand the contemporary resonance and historical development of patriotism, and how it intersects with debates about global justice, cosmopolitanism and nationalism.
---
Strategic Party Government (University of Chicago Press, 2017)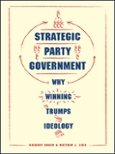 Why is Congress mired in partisan polarization? The conventional answer is that members of Congress and their constituencies fundamentally disagree with one other along ideological lines. But Gregory Koger and Matthew J. Lebo uncover a more compelling reason that today's political leaders devote so much time to conveying their party's positions, even at the expense of basic government functions: Both parties want to win elections. In Strategic Party Government, Koger and Lebo argue that Congress is now primarily a forum for partisan competition. In order to avoid losing, legislators unite behind strong party leaders, even when they do not fully agree with the policies their party is advocating. They do so in the belief that party leaders and voters will reward them for winning—or at least trying to win—these legislative contests. And as the parties present increasingly united fronts, partisan competition intensifies and pressure continues to mount for a strong party-building strategy—despite considerable disagreement within the parties. By bringing this powerful but underappreciated force in American politics to the forefront, Koger and Lebo provide a new interpretation of the problems facing Congress that is certain to reset the agenda for legislative studies.
---
The Qur'an Problem and Islamism: Reflections of a Dissident Muslim (Mantua Books Ltd., 2017)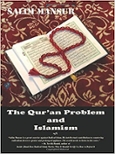 The Qur'an Problem and Islamism is about religion and politics, about Muslims and Islam, and the internal debate within the world of Islam about Islamic reform and what it entails. Mansur discusses the difference between Islam, as a world religion within the Abrahamic tradition of monotheism, and Islamism, as a political ideology and a theology of jihad, and how historically Islam as a religion was turned into the ideology of Islamism, or political Islam. The sacred text of Islam is the Qur'an, and the challenge of any text lies in how it is read, understood, and practiced. The "Qur'an problem" has been right from the outset of Islamic history following the demise of Muhammad, the prophet of Islam, in how to read, understand, interpret, and apply the meaning of the Qur'an in the lives of Muslims, and how this "Qur'an problem" remains the source of violence among Muslims at the present time as it has been in the past. It is the contention of Mansur that any reform of Islam that will assist Muslims reconcile with the modern world of science and democracy, and contribute to peace among them and with the rest of the world, must begin with a positive resolution of the "Qur'an problem."
---
Northern Lights: Exploring Canada's Thing Tank Landscape (McGill-Queen's University Press, 2017)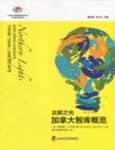 This book has been translated into Simplified Chinese by the Shanghai Academy of Social Science. Don Abelson explores the rise of think tanks in Canada and addresses many of the most commonly asked questions about how, and under what circumstances, they are able to affect public opinion and public policy. He identifies the ways in which Canadian think tanks often prioritize political advocacy over policy research, and seeks to explain why these organizations are well-suited and equipped to shape the discourse around key policy issues. The first comprehensive examination of think tanks in Canada, Northern Lights is both a primer for those looking to understand the role and function of think tanks in the policy-making process and a guide to the leading policy institutes in the country.
---
Twenty-First Century Immigration to North American (McGill-Queen's University Press, 2017)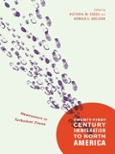 Human migration has reached an unprecedented level, and the numbers are expected to continue growing into the foreseeable future. Host societies and migrants face challenges in ensuring that the benefits of migration accrue to both parties, and that economic and socio-cultural costs are minimized. Professors Don Abelson and Victoria Esses (Professor of Psychology, Western) provide an insightful comparative examination of the policies and practices that manage and support immigrants, Twenty-First-Century Immigration to North America identifies and addresses issues that arose in the early years of the twenty-first century and considers what to expect in the years ahead. The volume begins with an overview of immigration policies and practices in the United States and Canada, then moves to an investigation of the economic and socio-cultural aspects, and concludes with a dialogue on precarious migration. Taking a multidisciplinary approach, the editors include research from the areas of psychology, political science, economics, sociology, and public policy. Underscoring the complicated nature of immigration, this collection aims to foster further discussion and inspire future research in the United States and Canada.
Back To Top