Department News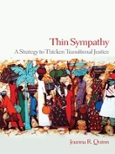 Professor Quinn - New Book
Professor Joanna Quinn has recently written a book called Thin Sympathy: A Strategy to Thicken Transitional Justice with the University of Pennsylvania Press. The cover art is a batik painted by the extraordinary and talented Ugandan artist Bonny Kabugo. He lives with a disability sustained during state-sponsored violence under a former regime. Congratulations!
---
Professor Dyczok – Russia's Growing Escalations Against Ukraine News Article
In recent Global News article, as Global concern rises, Professor Marta Dyczok joins others as they discuss more on the Russian build up on Ukraine's border.
---
Joanna Quinn - New Publications
Professor Joanna Quinn has recently published some articles, including "Transitional Justice and the Diaspora: Examining the impact of the Haitian Diaspora on the Haitian Truth Commission," with David Hoogenboom a past PhD student from Department, "The Impact of State Abdication on Transitional Justice: When Non-State Actors Fill the Post-Transition Gap," and "Letting the State Off the Hook? Dilemmas of Holding the State to Account in Times of Transition," with Adam Kochanski a past M.A. student from the Department.
---
Professor Finneron-Burns - New Publication
Professor Elizabeth Finneron-Burns has recently published a study entitled "State Pensions and the Duties of Retirees" published in the Oxford Handbook of Intergenerational Ethics. In it Finneron-Burns discusses what duties citizens have to ensure that universal pension schemes are sustainable for generations to come in the future.
COVID-19 Updates
Department of Political Science COVID-19 Updates
The health and safety of our faculty, staff and students remain our number one priority. Until the current provincial lockdown is lifted, the department will be operating remotely. Staff will respond to your email inquiries during our regular office hours, 8am-4pm.
Undergraduate
Local Government
Graduate
Notices
Department Intranet