2018 News Archive
Professor Zack Taylor - Toronto Politics Research Profiled on CityLab
Professor Taylor's research with University of Toronto sociologist Daniel Silver and graduate student Fernando Calderón-Figueroa on the rise of suburban populism in Toronto was profiled by urban geographer Richard Florida on the Atlantic Magazine's CityLab blog. Their article in the International Journal of Politics, Culture, and Society discusses how populism mobilization within a vibrant, multicultural metropolis problematizes the conventional understanding of populism as a reaction in the declining hinterland against cosmopolitan urban centres. Taylor, Silver, and Calderón-Figueroa identify the institutional, cultural, social, and economic processes that created an opportunity for populist mobilization in the city, one that Rob Ford and his brother Doug took advantage of in their 2010 and 2014 mayoral campaigns. The multicultural composition of Ford Nation sets it apart from white working-class populism found in contemporary American and European national politics.
---
Professor Dan Bousfield - New Journal Publication
International relations (IR) is traditionally taught from a detached standpoint, as the international realm is conceptualized as distinct from normative, emotional, and embodied realities. In this article, Professor Bousfield along with Heather Johnson and Jean Montsion, challenge this abstraction and focus on emotions to examine the intersection of race and international relations in how we teach and how students learn. Focusing on emotional labor, they maintain that students are taught and learn about the presence and absence of race in the discipline in specific ways. The article is called "Racialized Hearts and Minds: Emotional Labor and Affective Leadership in the Teaching/Learning of IR" and can be found at Oxford Academic.
---
Professor Christopher Alcantara - 100 Best Books in 2018
Professor Alcantara's book, A Quiet Evolution: The Emergence of Indigenous-Local Intergovernmental Partnerships in Canada, co-authored with Jen Nelles, has been named one of the 100 best political, history, public policy books in 2018 by the Hill Times. The book is published by University of Toronto Press. Check out the list of top 100 books here.
---
Political Science Faculty Launch New Centre for Urban Policy and Local Governance
On November 23, Western's Centre for Urban Policy and Local Governance hosted its first official event: a public roundtable on The Intentional City: Shaping London's Urban Future. This was an important moment for the new Centre, signalling its goal of productively engaging scholars across disciplinary boundaries and building new relationships between Western researchers and the community.
London is at a crossroads. Neither a core global city nor a place left behind, it occupies the open middle ground of Ontario's and Canada's urban future. What kind of future do we want for London, and how do we get there? Who should lead, and who needs to be at the table? What can London learn from other mid-size cities? Fundamentally, can London be an intentional city—one that knows what it is, knows what it wants to become, has assembled the resources, including community and intergovernmental support, to get there?
Moderated by the Centre's associate director, Professor Martin Horak, the roundtable brought together civic leaders and academics for an open public discussion of these questions. Five panellists participated: Pierre Filion, Professor in the School of Planning at the University of Waterloo and an expert in mid-sized cities; Arielle Kayabaga, Councillor-Elect for City of London's downtown Ward 13; Michelle Baldwin, Executive Director of London's Pillar Nonprofit Network and Co-Founder of Innovation Works; John Fleming, Managing Director of Planning and City Planner for the City of London; and Neil Bradford, Professor and Chair of the Department of Political Science at Huron University College. The director of the centre is Political Science faculty member Zack Taylor. For more information, visit http://nest.uwo.ca/urbancentre/.
---
Professor Nandita Biswas Mellamphy - Presentation at the New School NYC
Professor Biswas Mellamphy and Dr. Dan Mellamphy will be joining Dr. Anthony Dunne (Co-Director of DunneAndRaby.Co.UK), Dr. Ben Goertzel (CEO of SingularityNET), Dr. Gary Tomlinson (Director of the Whitney Humanities Center at Yale University) and others for "Agent Intellects: Sentience, Sapience and Thalience on the Planetary Ledger" at The New School NYC this Saturday December the 8th.
---
Professor Zack Taylor - Joins GTA Housing Agenda Working Group
At the invitation of the City of Toronto, Professor Taylor has joined a working group of regional policymakers studying solutions to housing affordability in the Greater Toronto Area. The group was convened in the context of the Ontario Ministry of Municipal Affairs and Housing's consultations on housing affordability and supply.
---
Professor Laura Stephenson – New Publication
Voters do not always choose their preferred candidate on election day. Often they cast their ballots to prevent a particular outcome, as when their own preferred candidate has no hope of winning and they want to prevent another, undesirable candidate's victory; or, they vote to promote a single-party majority in parliamentary systems, when their own candidate is from a party that has no hope of winning. In their thought-provoking book The Many Faces of Strategic Voting, Laura B. Stephenson, John H. Aldrich, and André Blais first provide a conceptual framework for understanding why people vote strategically, and what the differences are between sincere and strategic voting behaviors. Expert contributors then explore the many facets of strategic voting through case studies in Great Britain, Spain, Canada, Japan, Belgium, Germany, Switzerland, and the European Union.
 
"This is an excellent book that makes an important contribution to our understanding of voting behavior in a variety of contexts. The volume brings together a diverse set of contributors from around the world to address exciting and controversial questions about what motivates vote choice." —Jeffrey Karp, Brunel University London
---
Sarah Nimigan – Canadian Partnership for International Justice
Political Science and Centre for Transitional Justice and Post-Conflict Reconstruction PhD student Sarah Nimigan is part of the Canadian Partnership for International Justice delegation to the 17th Assembly of State Parties to the International Criminal Court. The ASP is one of the most important events in the field of international justice. 
---
Professor Erika Simpson - Foreign Affairs and International Trade Debate
Professor Simpson participated in the Standing Senate Committee on Foreign Affairs and International Trade on Thursday, November 22 with new Senate testimony on ATT and Bill C-47 by Martin Butcher (OXFAM UK), Pratt & Whitney. This lively debate includes the new Arms Trade Treaty, Canada's proposed Bill C-47, the Saudi arms deal, the Export Permits for LAVs in the past and future and the role of Senators in their advisory role for overseeing new legislation. For a quicker overview and more information read the transcript here. 
---
Professor Marta Dyczok – November Presentations 
Monday November, 12 Professor Dyczok co-organized a panel and presented paper on "Media and the EuroMaidan," at University of Toronto, MUNK School of Global Affairs and Public Policy, Center for European, Russian, and Eurasian Studies (CERES) Petro Jacyk Program on the Study of Ukraine. Event was titled, Ukraine's EuroMaidan: Five Years Later. The other panelists were Ukraine's Ambassador to Canada, the Honorable Andriy Shevchenko, and Professor Olexiy Haran from the National University of the Kyiv Mohyla Academy, Ukraine, Professor Olga Onuch, University of Manchester, and Professor Lucan Way, University of Toronto, Co-Director of Jacyk Program.
Thursday 15 November 15, Dyczok presented a paper on "Media in a Post-EuroMaidan Ukraine," at George Washington University, Elliot School of International Affairs, Institute of European, Russian and Eurasian Studies (IERES), at the invited Symposium, The Future of Ukraine: Realities, Risks, and Opportunities. The other speakers were Professor Peter Rolberg, Director of IERES, Professor Paul D'Anieri, University of California, Riverside, Prof. Andrew Wilson, University College, London, and Professor Georgiy Kasianov, Ukrainian Academy of Science.
---
Professor Don Abelson - New Publication
The Third Edition of Professor Abelson's book, Do Think Tanks Matter? Assessing the Impact of Public Policy Institutes was recently published by McGill-Queen's University Press.Professor Abelson also gave a Keynote address entitled, "Thinking About Success: How Think Tanks can Achieve Policy Influence," at the 2018 Global Think Tank Forum in Shanghai on October 26.  The Forum is sponsored by the Shanghai Academy of Social Sciences. This organization will be publishing the Simplified Chinese version of his book in late December or early January.
---
Kate Graham - Dissertation Defense
Kate Graham successfully completed her PhD, "Leading Canada's Cities? A Study of Urban Mayors", supervised by Professor Emeritus Andrew Sancton. Congratulations Kate!
---
Professor Zack Taylor - Talks Local Autonomy on The Agdenda with Steve Paikin 
Professor Taylor appeared on the October 17th edition of TVOntario's The Agenda with Steve Paikin on October 17, discussing whether cities need more powers with Globe and Mail international correspondent Doug Saunders and Enid Slack, Director of the University of Toronto's Institute on Municipal Finance and Governance. 
---
Professor Martin Horak - Opinion Editorial Assessing Mayoral Candidates
How much stock should voters put in the promises of mayoral hopefuls? Virtually none says Professor Horak.  Mayors don't have much more power than councillors, but there are qualities to look for when marking your ballot, says Horak in his recent opinion editorial, "Vision, communications key when picking a mayor".  Martin finishes by stating that we need mayors who can work effectively with others, bridge divides and lead on difficult and complex issues. Looking beyond the promises, we can learn much about mayoral candidates from the way they campaign. It's up to us to investigate the options closely, and choose wisely.
---
Professor Zack Taylor - Comments on Toronto Politics and Calls to Increase Municipal Autonomy
In a feature article in the Globe and Mail by Doug Saunders which examined recent arguments in favour of greater autonomy for Toronto and other Canadian cities, Professor Taylor suggests that we should think carefully about the implications of local autonomy if taken to its extreme. "If we work from the premise that local autonomy and self-determination is always better, without any conditions or boundaries around it, then we end up looking a lot like the United States, and that produces a lot of inequities that I think we're pretty glad we don't have." He went to say that "Our most pressing policy problems are found in cities, and probably the solutions are found in cities as well. So the question is, should we municipalize the problem? And I would rather suggest that we should formulate urban governance as multilevel governance – all levels of government are governing cities, and the test is how well they work together to do it, to leverage the different things that they're good at."
Professor Taylor also commented on the nature of political conflict in the City of Toronto in the Toronto Star's ongoing series of articles about what divides and unites Torontonians. On the basis of research on Toronto's political and social geography since its 1997 amalgamation, he stated that the stereotype of Toronto's politics being driven by conflict between residents of prewar core and postwar suburban areas is overly simplistic. In several of the six elections since amalgamation, neighbourhoods have instead divided on socio-economic status. Professor Taylor also provided maps of neighbourhood voting behaviour for the article.
---
Professor Christopher Alcantara - Visiting Stanford University
Professor Alcantara has been invited to participate in a workshop hosted by the Hoover Institution at Stanford University on the topic of "Renewing Indigenous Economies." The workshop brings together economists, legal scholars, Indigenous studies faculty, political scientists and practitioners from North America, Australia, and New Zealand to discuss new and cutting edge empirical research on the subject of Indigenous wealth and economic development. Dr. Alcantara's expertise as it relates to this workshop is in the fields of private property rights, economic development corporations, and Indigenous self-government.  The workshop runs from September 21 to 23.
---
Professor Nandita Biswas Mellamphy - Presentation for The Friedrich Nietzsche Society Annual Conference
Professor Biswas Mellamphy will be presenting a keynote lecture in Europe at the annual conference of The Friedrich Nietzsche Society (FNS2018) on Thursday, September 20.  This year's conference is devoted to the topic of Nietzsche and the Politics of Difference.  
---
Professor Zack Taylor - Presents to South African Government Delegation
On August 28, Professor Taylor presented to members of the South African Municipal Demarcation Board, a body responsible for redrawing municipal boundaries in post-Apartheid South African. The delegation came to Toronto to learn about the Canadian experience with municipal boundary change, regional governance, and local public finance. The all-day workshop was hosted by the Institute on Municipal Finance and Governance at the University of Toronto, of which Professor Taylor is a Fellow. Professors David Siegel and Zac Spicer, who teach in Western's graduate Local Government Master of Public Administration program, also participated.
---
Professor Stephenson - Module 6 Planning Committee for the Comparative Study of Electoral Systems (CSES) Member
Professor Laura Stephenson
has been confirmed as a new member of the Module 6 Planning Committee for the Comparative Study of Electoral Systems (CSES). The CSES is an international collaboration of election study teams that include a common module of survey questions in their studies. The Planning Committee is responsible for developing the research agenda and questionnaires that will be implemented in each country.
---
Professor Laura Stephenson - New SSHRC Insight Grant 
Congratulations to
Professor Stephenson
(principal applicant), who has been awarded a SSHRC Insight Grant to study "Attitudes toward democracy and elections in Canada".  Her co-applicants are Allison Harell (UQAM), Peter Loewen (University of Toronto) and Daniel Rubenson (Ryerson University). The project will develop and field a number of surveys, including the 2019 Canadian Election Study. The research produced will help us to better understand elections, political behaviour and the range and intensity of policy preferences across the country. ($343,474.00)
---
Professor Rob Leone – New Roles in Toronto and NY
Professor Leone is departing to pursue more work in the field of public affairs consulting with Earnscliffe as a principal in the firm's Toronto office. Rob will also be taking up an academic post with Niagara University in Lewiston, NY and Toronto where he will be overseeing the University's current and future programs in Toronto and teaching in the PhD program in Leadership and Public Policy in Lewiston next year. Rob will remain with the department teaching for the Fall term. Congratulations to Rob and we wish him all the best as he begins this next chapter!
---
Professor Erika Simpson - Tour's Ontario Power Generation's Low and Intermediate Nuclear facility and Used Fuel Processing and Storage Buildings
Professor Simpson was invited to tour Ontario Power Generation's Low and Intermediate Nuclear facility and Used Fuel Processing and Storage Buildings, visiting the Low and Intermediate Nuclear Waste Facility and the proposed site for the Deep Geologic Repository (DGR). Professor Simpson was able to see the waste volume reduction building, control room, yard storage, used fuel processing and storage buildings, accompanied on the tour by Fred Kuntz, Manager, Corporate Relations and Communications – Bruce County, Ontario Power Generation (OPG); Lynda Cain, Senior Communications Advisor, OPG; and DGR Project Manager Donna Pawlowski, all of whom provided expert input on the tour. NWMO geoscientist Dylan Luhowy also delivered a briefing in the DGR Core Samples Storage Facility. (Photo credit Ontario Power Generation).
---
Professor Don Abelson - Named Director, Mulroney Institute of Government at St. Francis Xavier University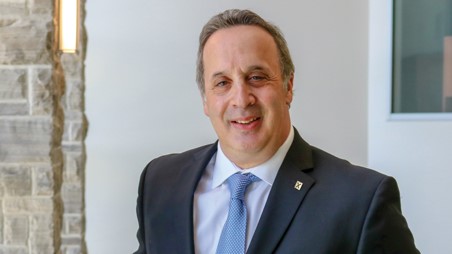 Professor Abelson has been appointed the founding Director of the Brian Mulroney Institute of Government, and the inaugural ECN Capital Chair in Canada-U.S. Relations at St. Francis Xavier University.
A specialist in Canadian-American relations, U.S. politics and U.S. foreign policy, Dr. Abelson brings over two decades of extensive scholarly and research experience to the position, particularly around the role of think tanks and their efforts to influence public opinion and public policy.
Abelson has been with Western for the past 25 years, and served as Professor and chair, Department of Political Science, Director of the Centre for American Studies and Director of the Canada-US Institute.  Don will be missed, however we wish him the best of luck as he embraces this exciting opportunity! Congratulations!
---
Professor Christopher Alcantara - New SSHRC Insight Grant 
Congratulations to Professor Alcantara (co-applicant), who has been awarded a SSHRC Insight Grant totalling $371,300.  The title of their project is: "Water Servicing Agreements between First Nations and Municipalities in Ontario" and the rest of the research team includes PI Brady Deaton (Economics, University of Guelph)  and co-applicant Sheri Longboat (Environmental Design and Rural Development, University of Guelph). 
"We aim to explore the potential for water sharing among First Nations and municipalities in Ontario, and assess the potential for water sharing as a solution in the portfolio of solutions needed to address drinking water issues on reserves. To the extent that it is not a likely solution, we want to better understand why this is the case. We aim to quantitatively identify the potential scope for water sharing between First Nations and municipalities in the province, as well as factors that influence communities – both First Nation and municipal – to choose to engage, or not engage, in these exchanges. We also aim to explore through qualitative case study analyses community openness to, and attitudes regarding, water sharing and inter-local cooperation in specific contexts. Each case explored will be a community in proximity to a potential municipal water sharing partner, that has also had – or is currently experiencing – water quality challenges." 
---
Carleton Model NATO 2018 - Award Recipients
February 22-25, a group of Western University Political Science students attended this years Carleton University Model NATO Conference in Ottawa. This unique four-day conference/simulation brings together over 100 students from across Canada to debate the most pressing transatlantic and international security issues. The core of the event is an intensive and immersive two-day simulation of NATO decision-making and crisis management.  Well done to all who attended and congratulations to the following award winners:
Military Committee, Honourable Mention: Jaya Scott, United -States of America,

 

(Western University)
Committee on Proliferation, Best Position Paper: Trisha Kershaw, Portugal (Western University
Euro-Atlantic Partnership Council, Best Delegate: Jaquelin Coulson, Czech Republic (Western University
Civilian Emergency Protection Committee, Honourable Mention: Sarah Wyatt, United States of America (Western University)
---
Professor Laura Stephenson - Promoted to Full Professor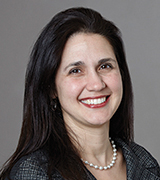 The department is pleased to announce the promotion of Professor Stephenson to Full Professor, effective 1 July 2018.  Dr. Stephenson is a leading scholar of political behaviour, elections and electoral systems, Canadian politics, and Comparative Politics.  She has published co-edited and co-authored books as well as over 38 journal articles and book chapters. She is one of the investigators of the 2019 Canadian Election Study and has served as Undergraduate Chair of our department and Program Coordinator of the annual Canadian Political Science Association conference, among many other important service roles to the university and the discipline. Congratulations Dr. Stephenson!
---

2018 Political Science TA Award Recipients - Arcis and Cannon 
Congratulations to Shereen Arcis and Graeme Cannon, Political Science MA Students and recipients of the 2018 TA Awards. 
Each year, SOGS recognizes the efforts of our extraordinary TAs who dedicate themselves to teaching and the educational experience of students at Western University with the Graduate Student Teaching Assistant (GSTA) Awards. Awards of $500 are presented annually to graduate students, divided equally across the divisions of the School of Graduate and Postdoctoral Studies (SGPS). Award recipients are selected by the GSTA Committee based on the results of standard evaluations and written comments provided by nominees' students. Since 2005, the nomination and evaluation process is completed entirely online. The awards are sponsored by the Society of Graduate Students, PSAC 610 (the Graduate Teaching Assistants' Union), and the School of Graduate and Postdoctoral Studies (SGPS).  Well done!
---
Professor Zack Taylor - Joins CBC Ontario Election Panel
Professor Taylor joined King's University College's Jacquetta Newman and Fanshawe College's Matt Farrell on CBC Radio London's weekly morning election analysis panel to discuss what the results mean for london. 
To listen to the post election panel, visit CBC London Morning.
---
Professor Rob Jonasson - Western Gazette Article
Professor Jonasson shares why provincial politics should matter to students in this Western Gazette article. With the 2018 provincial election, student political engagement has been dismal in comparison to 2015. Professor Robert Jonasson says that "most people, including students, tend to vote more on average across Canada for federal elections."
---
Drs. Jerald Sabin and Ian Kalman - New Appointments
Two postdoctoral fellows in the Department of Political Science at Western University have accepted faculty positions in Canada and Vietnam.
Dr. Jerald Sabin has accepted a tenure-track position at Bishop's University and Dr. Ian Kalman will join Fulbright University Vietnam, starting July 1.  Both had been working with Dr. Christopher Alcantara on a variety of projects relating to Indigenous-settler relations in Canada.
Dr. Alcantara's previous SSHRC post-doctoral fellow, Dr. Michael Morden, took a job at the Mowat Centre and is now research director at Samara Canada. Congratulations to Jerry and Ian as they move on to the next stage of their academic careers!
---
Professor Zack Taylor - Weighs In On American Metropolitan Governance  
Professor Taylor published a commentary in the Minneapolis Star-Tribune on May 23 about proposed reforms to the structure of the Twin Cities Metropolitan Council, the United States' largest regional planning and service delivery agency, and the only one that is appointed by the state governor. He argues that partisan debates over accountability are missing the point because they ignore the historical choices that led to its creation in the 1960s. The Twin Cities Metropolitan Council features prominently in Professor Taylor's forthcoming book, which is a comparative historical study of metropolitan governance and planning in the United States and Canada.
---
Professor Marta Dyczok - Toronto Panel Moderator
Professor Dyczok moderated a panel featuring Crimean Tatar leader Mustafa Dzhemilyev this past week meeting with the community in Toronto, commemorating Stalin's 1944 deportation of Crimean Tatars, talking about the current human rights situation in Crimea, with Ukraine's Ambassador to Canada Andriy Shevchenko, head of Ukrainian Canadian Congress Paul Grod, head of Crimean Tatar Association of Canada Rustem Irsay. Thank you Ihor Michalchyshyn, and to Elvira Saale for the photo.
---
Professor David Armstrong - Named Canada Research Chair (Tier II)
Professor Armstrong's work will provide a set of statistical tools enabling researchers to better test theories about the causes and consequences of political phenomena.
The 'big data' is driving development of more and more flexible techniques to analyze large data files. One of the biggest questions for researchers is: How does what we learn from these new methods relate to what we have learned through other methods in the last 75 years of data collection and analysis?
Armstrong's research has broad implications across the medical, natural and social sciences. There are many fields where experiments (the gold standard of understanding causality) are not possible. These new methods will allow researchers to make more causal statements with observational (non-experimental) data.
In a 'big data' world, the importance of theory is diminished in favour of sophisticated software that can uncover the important factors relating causes to consequences in a flexible way. The focus is not on a test, but on trying to predict the political outcome of interest.
Armstrong's research is aimed at integrating these two approaches. His work merges the flexibility of methods for discovering relationships in big data with more conventional methods, allowing for a much deeper and more nuanced understanding of how political phenomena work.
---
Professors Charles Jones and Richard Vernon - New Book
Professors Jones and Vernon have written a new book titled Patriotism. "Jones and Vernon's Patriotism is simply the best available introduction to the tangled questions about citizenship and belonging that roil contemporary political theory. They write with unfailing grace and clarity, their command of the relevant scholarship is peerless, and they are scrupulously fair to rival viewpoints.  They deserve a very wide readership." - Eamonn Callan, Stanford University. 
---
Department of Political Science Professors Recognized
Congratulations to our Political Science Department Professors awarded the 2016-2017 USC Teaching Honour Roll Award of Excellence!
Dan Bousfield
Nandita Biswas Mellamphy
Caroline Dick
Radoslav Dimitrov
Zachary Taylor
Andrés Pérez
Joanna Quinn
Richard Vernon
Faculty members are awarded based on teaching evaluations from all of the classes a faculty member has taught in the previous academic year, including intersession but excluding distance studies courses, are included, whose total average scores meet or exceed 6.3 will be listed in the Honour Roll.
---
Professor Joanna Quinn - Global Congress of the Scholars at Risk Network
Professor Quinn is in Berlin, Germany to attend the Global Congress of the Scholars at Risk Network. Scholars at Risk is an international network of institutions and individuals whose mission it is to protect scholars and promote academic freedom. By arranging temporary academic positions at member universities and colleges, Scholars at Risk offers safety to scholars facing grave threats, so scholars' ideas are not lost and they can keep working until conditions improve and they are able to return to their home countries. See www.scholarsatrisk.org for more information.
---
Professor Zack Taylor - Ontario 360 project Contribution
Working with Dr. Gabriel Eidelman of the University of Toronto's School of Public Policy and Governance, Professor Taylor is one of 30 contributors to the Ontario 360 project, an evidence-based, nonpartisan scan of Ontario's challenges and opportunities in the context of the June 2018 provincial election. Their transition briefing on Municipal Affairs recommends the appointment of a new 'Who Does What' panel to study the provincial-municipal relationship with the aim of clarifying political accountability and improving local public service quality.
---
Professor Nandita Biswas Mellamphy - Presentation
Professor Biswas Mellamphy, presented "Hacking the Data Body" at the Inaugural Workshop of The Posthumanism Research Network (PRN) at Brock University.  The institute seeks to investigate the status and limits of the "human" in an era in which multiple crises — global warming, superintelligent computers, genetic engineering, and massive species extinction, to name but a few — mark the precariousness of exclusively human-centred practice and thought.  The keynote address of this Workshop by Dr. William Brown from  the University of Roehampton on "Expressions and Images of the Post-human in Current Cinema, Propaganda and Politics" is based in part on works of Professor Biswas Mellamphy and other scholars.
---
Professor  Marta Dyzcok – New Publication
Professor Dyczok contributes a chapter on Ukraine in a new publication by the Soviet and Post-Soveit Politics and Society (SSPS)'s Mass Media in the Post-Soviet World edited by Marlene Laruelle and Peter Rollberg. This collection covers the major trends of the media environment of the post-Communist world and their recent development, with special focus on Russia and the post-Soviet space. More details here.
---
Professor Zack Taylor – Panel Discussion Participation
On March 27, Professor Zack Taylor will participate in a panel discussion on "Legacies of the Megacity: Toronto's Amalgamation 20 Years Later" organized by the Institute on Municipal Finance and Governance at the University of Toronto's Munk School of Global Affairs. Prof. Taylor will be joined by Shirley Hoy, former City Manager, City of Toronto; John Matheson, former Chief of Staff to Ontario's Minister of Municipal Affairs and Housing; and Alexandra Flynn, Assistant Professor, University of Toronto. 
---
Professor Christopher Alcantara – Western News Article
Professor Alcantara said going negative in an election has no effect in winning over voters and, in fact, has a negative effect on the attacker's own campaign. In the Western News Article "Attack Ads Become a Double Negative," he says going positive, finding star candidates to drop into specific ridings and getting the all-important endorsement, can push a party across the finish line. 
---
Professor Zack Taylor - University of Manitoba Lecture
On March 5, Professor Taylor will give an invited Food For Thought lecture at the University of Manitoba's Faculty of Architecture and City Planning Program on resilience thinking in urban planning practice. While in Winnipeg, he will also meet with the Partnership of the Manitoba Capital Region to talk about what the region can learn from international experience with different models of metropolitan governance.
---
Professor Radoslav Dimitrov – Redesigning EU
Professor Dimitrov is helping redesign the European Union's negotiating strategy in international climate negotiations in Brussels, Belgium and Sofia, Bulgaria. He made a presentation to the EU Commission and the EU climate diplomacy team and proposed a 10-point strategy in political communication. The EU accepted the proposal and established a formal group to implement his ideas.
---
Professor Don Abelson - Presentations
Over Reading Week, Professor Abelson traveled to London, UK giving a number of presentations on Think Tanks:
"Think Tanks and the Trump Presidency." Presentation to the Policy Research and Think-Tanks Research Seminar, University of Bath (London campus), London, UK, February 16, 2018.
"How to Measure the Impact of Think Tanks." Presentation to the OTT (On Think Tanks) Conference, London, UK, February 15, 2018.
 "Think Tanks, Expertise and the Crisis of the Liberal Order in the Trump Era." Presentation to the Centre for International Policy Studies (CIPS), City University London (CUL), February 15, 2018.
---
City of Sarnia and Local Government Program Partnership
Local Government students are working to solve pressing policy and administrative challenges with the City of Sarnia.  Policies include cannabis control, updating the local noise bylaw, and a communications plan for telephone and Internet voting; 17 graduate students in the London university's Local Government Program are tackling how to make them work.  Having another set of eyes is going to free up time for city staff, said Sarnia Deputy Clerk James Jenkins, and potentially give city officials different perspectives to consider. 
---
Dr. Jerald Sabin - New Publication 
Dr. Jerald Sabin, SSHRC Post-Doctoral Fellow in Political Science at Western, has co-authored a new paper with Dr. Andrea Olive in PS: Political Science & Politics 51 (1): 183-189, entitled "Slack: Adopting Social-Networking Platforms for Active Learning." 

According to the abstract: "Online learning in postsecondary institutions has increased dramatically across the United States and Canada. Although research demonstrates the benefits of online learning for student success, instructors face challenges in facilitating communication, delivering course content, and navigating outdated and cumbersome technologies. The authors examine the use of a free third-party platform called Slack as a tool to facilitate better communication among students and faculty, enable the delivery of diverse and dynamic course content, and reach students in an online course that supports both independent and collaborative learning. The authors present a case study of Slack's use in an online second-year environmental politics course taught at a large Canadian public university. There is a significant and growing literature on how to best engage students in online learning, including active and social learning models as promising approaches to digital teaching. The authors argue that using collaborative social technologies such as Slack—which both replicates and integrates the online and social-media environments that students already inhabit—can assist faculty in meeting their pedagogical goals online. The article documents the instructors' experience in managing discussion and involving students in their online learning through active learning exercises. Best practices are examined." 
---
Professor Salim Mansur - New Book
Professor Mansur has written a new book titled The Qur'an Problem and Islamism: Reflections of a Dissident Muslim.  This book is about religion and politics, about Muslims and Islam, and the internal debate within the world of Islam about Islamic reform and what it entails. Mansur discusses the difference between Islam, as a world religion within the Abrahamic tradition of monotheism, and Islamism, as a political ideology and a theology of jihad, and how historically Islam as a religion was turned into the ideology of Islamism, or political Islam. The sacred text of Islam is the Qur'an, and the challenge of any text lies in how it is read, understood, and practiced.
---
Kenny Ie - Dissertation Defense
Kenny Ie successfully completed his PhD, "Prime Ministers and Public Expectations: A Study of Institutional Change", supervised by Professor Cris de Clercy. Congratulations Kenny!
---
Back To Top