Methods Training
Our department is committed to providing our graduate students with the best research methods training in Canada.  Each year, we typically offer three quantitative methods courses (POL 9590, 9591, 9592) and one qualitatative course (POL 9593) to prepare students for research-oriented careers within and outside of the university.  Our methods instructors, anchored by Dr. Dave Armstrong, Canada Research Chair in Political Methodology, are committed to providing our students with practical skills in a highly accessible manner, no matter one's level of enthusiasm or trepidation towards research methods.  In addition to coursework, students can access the expertise and training of our senior PhD students, who frequently organize research methods drop-in sessions, reading groups, and workshops.  Below are some examples of the kinds of activities and outcomes in which our students are engaged:  
Western University Research Methods Workshop Series for Graduate Students
Fall 2020

This speaker series, organized and delivered by Western's senior PhD students and post-docs, is designed to introduce our first and second year graduate students to a number of research methods used by our senior students in their dissertations and non-thesis related research projects. The focus of the series is on understanding how these tools are used and the range of questions that they can help answer. All grad students are welcome to attend by contacting the organizer, Tyler Girard.
Multi-Methods Research: Answering Questions with Both Quantitative Modelling and Case Studies – Monday October 19th, Noon to 1pm
     Speaker: Dr. Alexis Lerner, Presidential Data Postdoctoral Fellow

Text Analysis (Documents and Social Media) – Monday, October 26th, Noon to 1pm
     Speaker: Michelle Caplan, PhD Candidate and Shanaya Vanhooren, PhD Candidate

Causal Inference

- Monday, November 9th, Noon - 1 pm
     Speaker: John Kennedy, PhD Candidate



Multilevel Models

- Monday, November 23rd, Noon - 1pm
    Speaker: Nicole McMahon, PhD Candidate



Measurement and Dimensional Analysis

 - Monday, November 30th, Noon - 1pm
    Speaker: Megan Payler, PhD Candidate



Bayesian Statistics

- Monday, December 7th, Noon - 1pm
     Speaker: Tyler Girard, PhD Candidate
    
 Graduate Student Publications
Tyler Girard. In press. "Reconciling the Theoretical and Empirical Study of International Norms: A New Approach to Measurement." American Political Science Review. In this paper, Tyler develops a new measure of international norms using a series of techniques he learned in our research methods classes. The result is this publication in what many consider to be the top journal in the discipline.
John Kennedy, Christopher Alcantara, and Dave Armstrong. 2020. "Do governments keep their promises? An analysis of speeches from the throne." Governance https://doi.org/10.1111/gove.12548.12548.  In this paper, John Kennedy uses a time series method he learned in our methods classes to analyze an original data set of Canadian speeches from the throne. The result is a publication in what is generally regarded as one of the top political science and public policy/public administration journals in the discipline.   
Selected Dissertation Fieldwork Trips 
Australia
PhD candidate Nicole McMahon's dissertation research focuses on transgender policy change in Canada and Australia. Her trip to Australia involved interviews in Sydney and Canberra and archival research at the National Archives of Australia in Canberra.
---
London Bridge
PhD candidate Tyler Girard's UK trip to London involved interviews and archival work for his own research and work for Dr. Adam Harmes' forthcoming book that will include a chapter on Brexit.
---
Guatemala City, Guatemala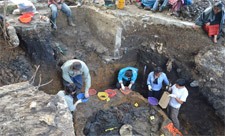 PhD candidate Tamara Hinan attended a multidisciplinary field school in Guatemala entitled 'Forensic Investigation: The Internal Armed Conflict and Post-Conflict in Guatemala.' This field school was organized jointly by the International Field Initiatives and Forensic Training (IFIT) and the Guatemalan Forensic Anthropology Foundation (FAFG). As part of the field school, she was given hands-on experience in the various strategies used by the FAFG to identify victims of the genocide and civil war in Guatemala, including forensic anthropology, forensic archaeology and DNA analysis. She participated in an ongoing exhumation, and took testimony from family and community members about their experiences during the conflict. This field school was an invaluable opportunity to begin to understand the complexity of human rights investigations in a post-conflict context, and to problematize the links between truth and memory, and justice and development efforts in Guatemala today.
---