Books Published by Faculty

Thin Sympathy: A Strategy to Thicken Transitional Justice (University of Pennsylvania Press, 2021)
Joanna Quinn
Joanna Quinn spent twenty years working in Uganda and uses its particular case as a lens through which she examines the failure of deeply divided societies to acknowledge the past and proposes that the needed remedy is the development of a very rudimentary understanding—what she calls "thin sympathy"—among individuals in each of the different factions and groups of the other's suffering prior to establishing any transitional justice process.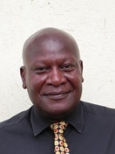 Based on 440 extensive interviews with elites and other thought leaders in government, traditional institutions, faith groups, and NGOs, as well as with women and children throughout the country, Thin Sympathy argues that the acquisition of a basic understanding of what has taken place in the past will enable the development of a more durable transitional justice process.
The cover art is a batik painted by the extraordinary and talented Ugandan artist Bonny Kabugo. He lives with a disability sustained during state-sponsored violence under a former regime. 
---
Ukraine Calling 
A Kaleidoscope from Hromadske Radio 2016–2019

(Columbia University Press, 2021)

Marta Dyczok
Ukraine Calling is a selection of interviews that aired on Hromadske Radio's (Public Radio Ukraine) Ukraine Calling show. This book is like a time capsule containing a selection of interviews that aired on Hromadske Radio's Ukraine Calling show. They capture what people were thinking during a critical time in the country's history, from the July 2016 NATO Summit through to Volodymyr Zelenskyy's 2019 landslide election victories. Decision makers, opinion makers, and other interesting people commented on events of the day as well as larger issues. Topics range from politics to sports, religion, history, war, books, diplomacy, health, business, art, holidays, foreign policy, anniversaries, public opinion to freedom of speech. Interview guests include Canada's then Foreign Minister Chrystia Freeland, writer Andrey Kurkov, Crimean political prisoner Hennadii Afanasiev, who was tortured in 2014, Ukraine's acting Health Minister Ulana Suprun, American analyst/journalist Brian Whitmore, UNHRC's Pablo Mateu, ethnologist Ihor Poshyvailo, investment banker Olena Bilan, Tufts University's Daniel Drezner, a cameo appearance by Boris Johnson, and many more. Together these interviews provide a unique, diverse, and kaleidoscopic perspective conveying the substance, atmosphere, and flavor of Ukraine while it was on the receiving end of a hybrid war from Russia.
---
What is Democracy and How Do We Study It? (University of Toronto Press, 2020)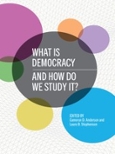 Cameron Anderson, Laura Stephenson
What is Democracy and How Do We Study It? includes chapters from many Western Political Science faculty members past and present such as Charles Jones, Richard Vernon, Dave Armstrong, Bruce Morrison, Joe Lyons, Nandita Biswas Mellamphy, Dan Bousfield, Andy Sancton, Rob Leone. There are many different ways to do political science research. This book takes a core question that motivates research in political science – what is democracy? – and presents, in a single volume, original research demonstrating a variety of approaches to studying it. The approaches and related methods covered by the chapters in this book include normative political theory, positivist quantitative analysis, behaviouralism, critical theory, post-structuralism, historical institutionalism, process tracing, case studies, and literature reviews. Readers are confronted with the different assumptions that researchers make when entering the research process and can compare and contrast the many different ways that a single question can be studied. This book will be enlightening for students of democracy as well as those interested in research design and methodological approaches. 
---
Winning and Keeping Power in Canadian Politics (University of Toronto Press, 2020)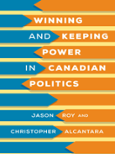 Christopher Alcantara, Jason Roy
In this book, Roy and Alcantara use a series of experiment to investigate a number of commonly held assumptions about elections and governing Canada in the 21st century. Do negative campaigns win elections? Do voters abandon candidates accused of scandalous behaviour? Do government apologies affect prospects for re-election? This book has the answers! According to Andre Blais, "An intriguing book that examines the success and failure of a wide array of strategies parties use to win and keep power. A fresh perspective with an innovative experimental design. Read it. You will love it." Stuart Soroka says: "Roy and Alcantara offer a uniquely accessible and comprehensive study of factors that matter (and do not matter) to political support. Experimental work on some of the major features of political campaigns highlights the many ways in which the contents of election campaigns can alter information-seeking and vote intentions. Winning and Keeping Power in Canadian Politics offers a rich exploration of the ways in which information and institutions affect Canadian political behaviour." This book has been included in The Hill Times' List of 100 Best Books in 2020.
---
Nested Federalism and Inuit Governance in the Canadian Arctic (UBC Press, 2020)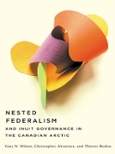 Gary N. Wilson, Christopher Alcantara and Thierry Rodon
Based on 10 years of in-depth qualitative research, the book chronicles the political journey toward self-governance taken by three predominantly Inuit regions over the past forty years: Nunavik in northern Québec, the Inuvialuit Settlement Region in the western Northwest Territories, and Nunatsiavut in northern Labrador. The authors investigate the internal dynamics of these regions and their relationships with other levels of government in several key policy areas. This meticulous analysis offers new insight into the evolution of Indigenous self-government, as well as its consequences for Indigenous communities and for the future of Canadian federalism. This book has been included in The Hill Times' List of 100 Best Books in 2020.
---
Transitional Justice in Comparative Perspective. Preconditions for Success (Springer Professional, 2020)
Samar El-Masri, Tammy Lambert, Joanna R. Quinn
The Transitional Justice Centre's latest book, Transitional Justice in Comparative Perspective: Preconditions for Success, edited by Political Science alumni Samar El-Masri, Western University Ph.D. candidate Tammy Lambert, and Professor Joanna R. Quinn, looks at the challenges and the factors that hinder progress and prevent the transitional justice mechanisms from reaching their desired outcomes. What if we could change the conditions in post-conflict/post-authoritarian countries to make transitional justice work better? This book argues that if the context in countries in need of transitional justice can be ameliorated before processes of transitional justice are established, they are more likely to meet with success. As the contributors reveal, this can be done in different ways. At the attitudinal level, changing the broader social ethos can improve the chances that societies will be more receptive to transitional justice. At the institutional level, the capacity of mechanisms and institutions can be strengthened to offer more support to transitional justice processes. Drawing on lessons learned in Colombia, Democratic Republic of the Congo, The Gambia, Lebanon, Palestine, and Uganda, the book explores ways to better the conditions in post-conflict/post-authoritarian countries to improve the success of transitional justice.
---
Local Government in Practice: Cases in Governance, Planning, and Policy (Emond Publishing, 2019)
Zachary Spicer, Joseph Lyons, Kate Graham
Local Government in Practice: Cases in Governance, Planning, and Policy equips students to effectively deal with contemporary challenges within local government. Through a series of evidence-based simulated cases, readers examine situations to better grasp the intricacies of this dynamic and rapidly changing environment. A diverse range of themes, including council–staff relations, finance, planning and economic development, intergovernmental relations, environmental and health policy, and municipal regulation, provides students with comprehensive coverage of local government in practice.
---
The Politics of Fiscal Federalism: Neoliberalism vs Social Democracy in Multilevel Governance (McGill-Queen's University Press, 2019)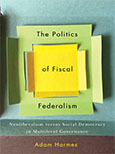 Adam Harmes
What does federalism have to do with the political struggle between conservatives and progressives over economic policy? How do economic theories of fiscal federalism influence European, North American, and global forms of governance? In the first comprehensive account of the left-right politics of multilevel governance across federal, regional, and global levels, Adam Harmes identifies both free-market and interventionist political projects related to fiscal federalism.

Harmes argues that these political projects and the interests that promote them explain a diverse range of phenomena across national contexts, across levels of governance, and over time. This includes the left-right dynamics of US and Canadian federalism, the free-market origins of British euroscepticism and the Brexit vote, the complex politics behind the NAFTA renegotiations, and the emergence of both populist and progressive challenges to global free trade. A highly accessible outline of fiscal federalism theory, The Politics of Fiscal Federalism also expands upon the broader value and policy differences between neoliberal, classical liberal, and Keynesian welfare economics on issues such as the role of the state, subnational and global trade, economic nationalism, and monetary integration.

This original and innovative work demonstrates that a political economy approach is essential to the study of federalism, and why federalism and multilevel governance is a critical area of study for political economists.
---
Shaping the Metropolis
Institutions and Urbanization in the United States and Canada (McGill-Queen's University Press, 2019)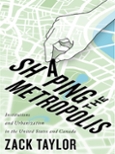 Zack Taylor
In Shaping the Metropolis, Zack Taylor compares the historical development of American and Canadian urban governance, both at the national level and through specific metropolitan case studies. Examining Minneapolis-St Paul and Portland, Oregon, in the United States, and Toronto and Vancouver in Canada, Taylor shows how differences in the structure of governing institutions in American states and Canadian provinces cumulatively produced different forms of urban governance. Arguing that since the nineteenth century American state governments have responded less effectively to rapid urban growth than Canadian provinces, he shows that the concentration of authority in Canadian provincial governments enabled the rapid adoption of coherent urban policies after the Second World War, while dispersed authority in American state governments fostered indecision and catered to parochial interests. 

Most contemporary policy problems and their solutions are to be found in cities. Shaping the Metropolis shows that urban governance encompasses far more than local government, and that states and provinces have always played a central role in responding to urban policy challenges and will continue to do so in the future.
---
The Many Faces of Strategic Voting
Tactical Behavior in Electoral Systems Around the World (University of Michigan Press, 2018)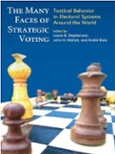 Laura B. Stephenson, John H. Aldrich, and André Blais, Editors
Voters do not always choose their preferred candidate on election day. Often they cast their ballots to prevent a particular outcome, as when their own preferred candidate has no hope of winning and they want to prevent another, undesirable candidate's victory; or, they vote to promote a single-party majority in parliamentary systems, when their own candidate is from a party that has no hope of winning. In their thought-provoking book The Many Faces of Strategic Voting, Laura B. Stephenson, John H. Aldrich, and André Blais first provide a conceptual framework for understanding why people vote strategically, and what the differences are between sincere and strategic voting behaviors. Expert contributors then explore the many facets of strategic voting through case studies in Great Britain, Spain, Canada, Japan, Belgium, Germany, Switzerland, and the European Union.

"The Many Faces of Strategic Voting will undoubtedly be of use for those studying voting behavior in a variety of different electoral contexts. It provides the basis for the development of new wave of comparative research on strategic voting." —Nick Vivyan, Durham University
---
Patriotism (Polity, 2018)
Charles Jones and Richard Vernon
From flag-waving to the singing of national anthems, the practices and symbols of patriotism are inescapable, and modern politics is increasingly full of appeals to patriotic fervour. But if no-one chooses where they were born, and our ethical obligations transcend national boundaries, then does patriotism make any sense? Does it encourage an uncritical attachment to the status quo, or is it a crucial way of understanding and applying our freedoms and moral duties?
In this engaging book, Charles Jones and Richard Vernon guide us through these questions with razor-sharp clarity. They examine the different ways patriotism has been defended and explained, from a republican attachment to free and democratic institutions to an ethical and historical fabric that makes our entire moral life and identity possible. They outline its relationship to a range of other key concepts, such as nationalism and cosmopolitanism, and skillfully analyses the issues surrounding partiality to country and whether we should prioritize the welfare of our compatriots over outsiders.
This concise and lucid volume will be essential for both students and general readers wishing to understand the contemporary resonance and historical development of patriotism, and how it intersects with debates about global justice, cosmopolitanism and nationalism.
---
Strategic Party Government: Why Winning Trumps Ideolgy
(University of Chicago Press, 2017)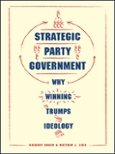 Matt Lebo
Why is Congress mired in partisan polarization? The conventional answer is that members of Congress and their constituencies fundamentally disagree with one other along ideological lines. But Gregory Koger and Matthew J. Lebo uncover a more compelling reason that today's political leaders devote so much time to conveying their party's positions, even at the expense of basic government functions: Both parties want to win elections.
In Strategic Party Government, Koger and Lebo argue that Congress is now primarily a forum for partisan competition. In order to avoid losing, legislators unite behind strong party leaders, even when they do not fully agree with the policies their party is advocating. They do so in the belief that party leaders and voters will reward them for winning—or at least trying to win—these legislative contests. And as the parties present increasingly united fronts, partisan competition intensifies and pressure continues to mount for a strong party-building strategy—despite considerable disagreement within the parties.

By bringing this powerful but underappreciated force in American politics to the forefront, Koger and Lebo provide a new interpretation of the problems facing Congress that is certain to reset the agenda for legislative studies.
---
The Qur'an Problem and Islamism: Reflections of a Dissident Muslim (Mantua Books Ltd., 2017)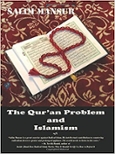 Salim Mansur
The Qur'an Problem and Islamism is about religion and politics, about Muslims and Islam, and the internal debate within the world of Islam about Islamic reform and what it entails. Mansur discusses the difference between Islam, as a world religion within the Abrahamic tradition of monotheism, and Islamism, as a political ideology and a theology of jihad, and how historically Islam as a religion was turned into the ideology of Islamism, or political Islam. The sacred text of Islam is the Qur'an, and the challenge of any text lies in how it is read, understood, and practiced. The "Qur'an problem" has been right from the outset of Islamic history following the demise of Muhammad, the prophet of Islam, in how to read, understand, interpret, and apply the meaning of the Qur'an in the lives of Muslims, and how this "Qur'an problem" remains the source of violence among Muslims at the present time as it has been in the past. It is the contention of Mansur that any reform of Islam that will assist Muslims reconcile with the modern world of science and democracy, and contribute to peace among them and with the rest of the world, must begin with a positive resolution of the "Qur'an problem."
---
Northern Lights: Exploring Canada's Thing Tank Landscape (McGill-Queen's University Press, 2017)

Don Abelson
This book has been translated into Simplified Chinese by the Shanghai Academy of Social Science. Don Abelson explores the rise of think tanks in Canada and addresses many of the most commonly asked questions about how, and under what circumstances, they are able to affect public opinion and public policy. He identifies the ways in which Canadian think tanks often prioritize political advocacy over policy research, and seeks to explain why these organizations are well-suited and equipped to shape the discourse around key policy issues. The first comprehensive examination of think tanks in Canada, Northern Lights is both a primer for those looking to understand the role and function of think tanks in the policy-making process and a guide to the leading policy institutes in the country.
---
Twentieth-first Century Immigration to North American: Newcomers in Turbulent Times (McGill-Queen's University Press, 2017)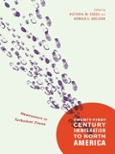 Don Abelson, Victoria Esses, co-editors
Human migration has reached an unprecedented level, and the numbers are expected to continue growing into the foreseeable future. Host societies and migrants face challenges in ensuring that the benefits of migration accrue to both parties, and that economic and socio-cultural costs are minimized.

Professors Don Abelson and Victoria Esses (Professor of Psychology, Western) provide an insightful comparative examination of the policies and practices that manage and support immigrants, Twenty-First-Century Immigration to North America identifies and addresses issues that arose in the early years of the twenty-first century and considers what to expect in the years ahead. The volume begins with an overview of immigration policies and practices in the United States and Canada, then moves to an investigation of the economic and socio-cultural aspects, and concludes with a dialogue on precarious migration. Taking a multidisciplinary approach, the editors include research from the areas of psychology, political science, economics, sociology, and public policy. Underscoring the complicated nature of immigration, this collection aims to foster further discussion and inspire future research in the United States and Canada.
---
Justice Back and Forth: Duties to the Past and Future (University Toronto Press, 2016)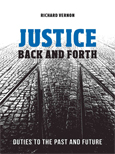 Richard Vernon
Richard Vernon, Distinguished University Professor, has published a new book entitled Justice Back and Forth: Duties to the Past and Future, published by University of Toronto Press.  Ideas of justice have traditionally focused on what individuals owe to one another and have drawn our attention to what is considered fair – what one of us owes to another is justly matched by what the other owes to them. However, what does justice require us to do for past and future generations? In  Justice Back and Forth, award-winning author Richard Vernon explores the possibility of justice in cases where time makes reciprocity impossible. This "temporal justice" is examined in ten controversial cases including the duty to return historical artifacts, the ethics and politics of parenting, the punishment of historical offences, the right to procreate, and the imposition of constitutions on future citizens. By deftly weaving together discussions on historical redress and justice for future generations, Vernon reveals that these two opposing topics can in fact be used to illuminate each other. In doing so, he concludes that reciprocity can be adapted to serve intergenerational cases.
---
A Capitol Idea: Think Tanks and US Foreign Policy (Nanjing University Press, 2016)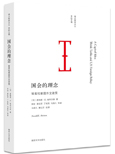 Don Abelson
The Simplified Chinese translation of  Professor Don Abelson's book,  A Capitol Idea: Think Tanks and US Foreign Policy, has been published by Nanjing University Press.  In this book, Don Abelson focuses on a host of high profile think tanks - including the Brookings Institution, the Heritage Foundation, and the Project for the New American Century - and on the public and private channels they rely on to influence important and controversial foreign policies, including the development and possible deployment of a National Missile Defense and George Bush's controversial war on terror. In the process of uncovering how some of the nation's most prominent think tanks have established themselves as key players in the political arena, he challenges traditional approaches to assessing policy influence and suggests alternative models.  
---
The Digital Dionysus: Nietzsche and the Network-Centric Condition (Punctum Books, 2016)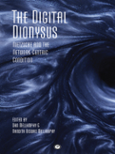 Nandita Biswas Mellamphy, Dan Mellamphy, Co-Editors
Professor Biswas Mellamphy has just published an anthology—dedicated to the memory of the Department of Political Science's late great  Bibi Pettypiece—with the New York publisher Punctum Books.  The anthology is entitled  The Digital Dionysus: Nietzsche and the Network-Centric Condition , and features essays by such luminaries as  Arthur Kroker (UVic Political Science professor, Canada Research Chair in  Technology Culture & Society),  Horst Hutter  (uConcordia Political Science professor, world-renowned scholar of Plato and Nietzsche, author of  Shaping the Future: Nietzsche's New Regime and  Politics as Friendship: Classical Notions of Politics & the Practice of Friendship),  Shannon Bell (YorkU Political Science professor, Researcher  & Theorist of  Fast Feminism),  Eugene Thacker (New School professor of Media Studies, author of  The Global Genome: Biotechnology, Politics & Culture),  Julian Reid (King's College UK professor of International Relations  & Political Theory, author of  The Liberal Way of War in addition to  Biopolitics of the War on Terror), and  many more.  "Dan Mellamphy  & Nandita Biswas Mellamphy (Western University) have staged a brilliant collaboration among critical theorists from a range of disciplines to explore the import of  Nietzschean thought  for contemporary issues in media, technologies and digitization.  The result is  The Digital Dionysus, a must-read for scholars in media, aesthetics, politics, and philosophy"— Patricia Ticineto Clough, Professor of Sociology  & Women's Studies ( The Graduate Center, City University of New York), author of  Auto-Affection: Unconscious Thought in the Age of Tele-Technology as well as  The End(s) of Ethnography: From Realism to Social Criticism, and editor of  The Affective Turn: Theorizing the Social (Duke University Press).  
---
Think Tanks, Foreign Policy and Geo-Politics (Routledge, 2016)
Don Abelson, Xin Hua, Stephen Brooks, Co-Editors
In Think Tanks, Foreign Policy and Geo-Politics, Professor Abelson and his colleagues examine how think tanks have helped frame domestic and international conversations on matters of foreign policy and geopolitics. Among other things, the contributors to this volume analyze how governments and actors in civil society are influenced by the activities of think tanks in various countries.
---
Northern Lights (McGill-Queen's University Press, 2016)
Don Abelson
In Northern Lights, Professor Abelson explores the rise of think tanks in Canada and addresses many of the most commonly asked questions about how, and under what circumstances, they are able to affect public opinion and public policy. He identifies the ways in which Canadian think tanks often prioritize political advocacy over policy research, and seeks to explain why these organizations are well-suited and equipped to shape the discourse around key policy issues. The first comprehensive examination of think tanks in Canada, Northern Lights is both a primer for those looking to understand the role and function of think tanks in the policy-making process and a guide to the leading policy institutes in the country.
---
A Quiet Evolution: The Emergence of Indigenous - Local Intergovernmental Relations in Canada (University of Toronto Press, 2016)
Chris Alcantara, Jen Nelles, Co-Authors
The University of Toronto Press has published Professor Alcantara's new book, co-authored with Jen Nelles, entitled A Quiet Evolution: The Emergence of Indigenous - Local Intergovernmental Relations in Canada.  The book is based on five years of SSHRC-funded research and involved a number of UWO PhD students who worked as research assistants.  The Right Honourable Paul Martin, Former Prime Minister of Canada and founder of the Martin Aboriginal Education Initiative shares that "This book tells an important and compelling story about how Indigenous and local governments in Canada are quietly working together to improve their communities, coordinate their policies, and jointly manage their programs, services, and mutual interests.  While most commentators focus on federal and provincial relations, Alcantara and Nelles show that it is at the local level where some of the most fruitful dialogue and cooperative partnerships are occurring between Indigenous and non-Indigenous communities.  A Quiet Evolution is a must read for political leaders, policymakers, and everyday citizens who want practical yet transformative strategies for improving Indigenous–Canadian relations."
---
Ukraine's Euromaidan: Broadcasting through Information Wars with Hromadske Radio (E-International Relations, 2016)
Marta Dyczok
Professor Dyczok's new book, Ukraine's Euromaidan: Broadcasting through Information Wars with Hromadske Radio is now available open access. You can download it for free, read, and listen to the podcasts, or is also available in hard copy. This book brings together a series of English language reports on the Ukraine crisis first broadcast on Hromadske Radio between 3 February 2014 and 7 August 2015. Collected and transcribed here, they offer a kaleidoscopic chronicle of events in Ukraine. Bookending the reports, purpose written introduction and conclusion sections contextualize the independent radio project within the larger picture of Ukraine's media and political developments – both before the Euromaidan and in its dramatic aftermath.
---
Fighting For Votes: Parties, the Media and Voters in an Ontario Election (UBC Press, 2015)
Laura Stephenson, William Cross, Jonathan Malloy, Tamara Small, Co-Editors
Elections are not just about who casts ballots - they reflect the citizens, parties, media, and history of an electorate. Fighting For Votes examines how these factors interacted during a recent Ontario election. The result is a sophisticated analysis of how parties influence voters in an era where Twitter feeds and other new media are reshaping the electoral landscape.
---
Urban Neighborhoods in a New Era: Revitalization Politics in the Postindustrial City (The University of Chicago Press Books, 2015)
Martin Horak
Dr. Martin Horak is one of 10 co-authors of the book. Focusing on neighborhoods in six cities, the collection of studies by this group of distinguished political scientists and urban scholars show how key players, including politicians and philanthropic organizations, are beginning to see economic growth and neighborhood improvement as complementary goals. In examining the course of experiences from an earlier period of redevelopment to the present postindustrial city, this book opens a window on a complex process of political change and possibility for reform.
---
Permissible Progeny? The Morality of Procreation and Parenting (Oxford University Press, 2015)
Richard Vernon, Sarah Hannan, Samantha Brennan, Co-Editors
Permissible Progeny? The Morality of Procreation and Parenting contributes to the growing literature on the morality of procreation and parenting by advancing new arguments and novel perspectives on existing debates. As a whole it is sure to generate further philosophical debate on pressing and rich questions surrounding the bearing and rearing of children.
---
Local Level in China and Canada (CRC Press, 2015)
Andrew Sancton, Chen Zhenming, Co-Editors
This book examines the development of citizen participation in local governance in Canada and China, respectively. It covers the characteristics of political culture and climate on local participation, highlighting factors especially unique to urban poor, class migration and aboriginal and immigrant populations. This book includes case studies that compare Canadian and Chinese communities and extrapolate interesting policy-level changes at the local level based on citizen behavior and involvement.
---
Negotiating the Deal: Comprehensive Land Claims Agreement in Canada (University of Toronto Press, 2013)
Christopher Alcantara
Using in-depth interviews with Indigenous, federal, provincial, and territorial officials, Christopher Alcantara compares the experiences of four Aboriginal groups: the Kwanlin Dün First Nation (with a completed treaty) and the Kaska Nations (with incomplete negotiations) in Yukon Territory, and the Inuit (completed) and Innu (incomplete) in Newfoundland and Labrador. Based on the experiences of these groups, Alcantara argues that scholars and policymakers need to pay greater attention to the institutional framework governing treaty negotiations and, most importantly, to the active role that Aboriginal groups play in these processes. This book provides the first systematic and comprehensive analysis of the factors that explain both completed and incomplete treaty negotiations between Aboriginal groups and the federal, provincial, and territorial governments of Canada.
---

Federal Property Policy in Canadian Municipalities - Exploring the conflict-ridden intergovernmental relations regarding federal land uses (McGill-Queen's University Press, 2013)
Robert Young, Contributor and Co-Editor
Federal property issues - especially those involving divestiture - create political disputes at all levels of government. Federal Property Policy in Canadian Municipalities analyzes the emergence of many of these issues involving military bases, airports, and other facilities in communities across Canada.
With careful analysis the contributors show the underlying patterns and causes of these conflicts and their resolutions while emphasizing intergovernmental relations and the social forces that are active in property issues. Contributors examine general federal policy as well as issues pertinent to British Columbia, the Toronto waterfront, New Brunswick, and Newfoundland and Labrador. The unprecedented number of cases discussed in these essays provides general conclusions and recommendations for a new orientation that will take local interests and preferences into account from the outset of decision-making.
Public property is an understudied field of public policy, particularly as it concerns municipal government. Federal Property Policy in Canadian Municipalities presents a comprehensive treatment of federal property, changes in policy, and the effects these changes have on various levels of government.
---

Postsandinismo: Crónica de un Diálogo Intergeneracionale Interpretación del Pensamiento Político de la Generación XXI (IHNCA, 2013)
Andrés Pérez-Baltodano
This book offers an interpretation of the political ideas and aspirations of Nicaraguan youth. It was published by the Central American. Professor Perez comments on the release of his new book in a television interview with Confidencial. Conexiones Fortaleciendo el periodismo nicaraguense provides a commentary on Professor Perez's new book.
---
Cities of Oil: Municipalities and Petroleum Manufacturing in Southern Ontario, 1860–1960 (University of Toronto Press, 2013)
Tim Cobban
Cities of Oil is the first sustained historical account of the development of the early Canadian petroleum refining and manufacturing industry. In it, Timothy W. Cobban documents the industry's development in southern Ontario, from its beginnings in the 1850s to its later expansion on the outskirts of London, to Petrolia, and finally to Sarnia. He accounts for all of the industry's important developments and innovations, particularly the role played by municipalities in fostering its growth. Using extensive archival research, Cobban concludes that municipalities can stimulate the accelerated, sustained development of local industry sectors, thus challenging the dominant view that the influence of municipalities on economic growth is marginal. Cities of Oil demonstrates the importance of accommodating the land and infrastructure needs of industry at critical junctures, and implementing land use policies that encourage the dense clustering of industries. This book will be essential reading for those seeking a greater understanding of industrial growth in the province of Ontario.
---
Delectable Lie: A Liberal Repudiation of Multiculturalism (Mantua Books, 2013)
Salim Mansur
"Professor Salim Mansur is a man of exceptional courage, powerful insight, and possessed of both a delightful and energetic prose style" - Rex Murphy, "the Point of View" on CBC The National and host of CBC Radio One, Cross Country Checkup. "Canada led the Western world into the multicultural mire in 1988, ironically under a conservative government. Salim Mansur's deep and scintillating analysis should help the country out of this illiberal and unfortunate policy." Daniel Pipes, PhD President of the Middle East Forum and Taube distinguished fellow at the Hoover Institution of Stanford University. "Clear thinkers are rare, and so are powerful polemicists. Courageous human beings are rarer still, but the rarest of all is to find the three combined in one person. Meet Salim Mansur". George Jonas, author and columnist for the National Post. The International Free Press Society - Canada. Congratulations on this fine achievement, Salim!
---
Au-delà de la Loi sur les Indiens (Septentrion, 2012)
Christopher Alcantara, Tom Flanagan, André Le Dressay, Co-Editors
The First Nations of Canada did not end up holding attention with their controversial territorial claims. Their lands are still managed according to Law on Indian of 1876 and nobody seems to want to open again this file. Christopher Alcantara, Tom Flanagan, and André Le Dressay approach these subjects head-on by wondering if this law was really profitable to the natives. Jostling actual practices, their lighting job offers the creation of a new system which would allow the First Nations to enjoy the full ownership of their lands, in individual or collective title, a system which could ameliorate the quality of life in the autochthonous communities of all country.
---
Image Building in Canadian Municipalities (McGill-Queen's University Press, 2012)
Robert Young, Jean Harvey, Co-Editors
Municipal image-building now promotes cities globally, and also to their own citizens. Image-building in Canadian Municipalities explores the decision making processes that determine how cities and towns choose to represent themselves. It also assesses the effectiveness of those processes and of the images themselves. Documenting how image-building policies vary across municipalities and provinces, contributors focus on the interaction between various levels of government and on the involvement and influence of business organizations, heritage associations, environmental groups, and other social forces. Delving into largely unexplored areas of research, with a particular interest in smaller towns and cities, authors show how municipal image-making is often used to advance other policy objectives, and thereby intersects with areas such as culture, economic development, tourism, and immigration. Image-building in Canadian Municipalities shows how municipalities of all sizes are conscious of their images. Thought-provoking and instructive, it provides lessons to policy makers and social interest groups about creating better public policies.
---
Europeanizing Greece: The Effects of Ten Years of EU structural Funds 1989-1999 (University of Toronto Press, 2012)
Nancy Vamvakas
While Greece dept crisis continues to make international headlines, the country has received remarkably little scholarly attention - especially in comparison to other European Union members. Europeanizing Greece explores the developments that resulted from Greece's European integration between 1989 and 1999, which played a crucial role in shaping the country's current conditions. Focusing on changes made to the Greek administrative and political system based on EU structural policy, Nancy A. Vamvakas contends that EU involvement was not the only reason why these modifications were implemented. Vamvakas points out serious flaws in the Greek's system and demonstrates how Greece's approach to reform has been inextricably linked to the perceived level of crises.
---
Historical Redress: Must We Pay for the Past? (Bloomsbury Publishing, 2012)
Richard Vernon
The last twenty years have seen a remarkable surge of political and ethical interest in historical redress - that is, the righting of old wrongs. In this fascinating book, Richard Vernon argues that whatever the kind of redress that's at issue, and whether the wrong is large or small, an important philosophical issue arises. Exploring recent and high profile cases, Vernon focuses on the issue of responsibility. Responsibility isn't something inherited, like property or one's DNA. How, then, can it fall to one generation to make good the wrongs done by another? The book addresses all the main issues and arguments relating to justice, memory, apology and citizenship, and concludes by arguing for a forward-looking approach that focuses on the right of future generations to live just lives.
---
Sites of Governance: Multilevel Governance and Policy Making in Canada's Big Cities (McGill-Queen's University Press, June 2012)
Robert Young and Martin Horak, Co-Editors
Focusing on diverse policy fields including emergency planning, image-building, immigrant settlement, infrastructure, federal property, and urban Aboriginal policy, Sites of Governance presents detailed studies of the largest city in each of Canada's provinces. Drawing on extensive documentary research and hundreds of interviews, contributors offer rich, nuanced analyses and a wealth of policy cases, ranging from preparation for the Vancouver 2010 Olympics to the development of innovative immigrant settlement programming in Winnipeg. Dominant themes include the importance of resources and formal jurisdiction in multilevel policy making, and the struggle for influence between business interests and other social forces.  Essential reading for anyone concerned with the quality of urban life in Canada, Sites of Governance offers important insights about how multilevel governance works in Canadian cities.
---
The Struggle for Mexico: State Corporatism and Popular Opposition (McFarland, 2012)
Debra Chapman
Debra Chapman, a 2009 PhD recipient from the Department of Political Science, Western University, has just published her first book entitled: The Struggle for Mexico: State Corporatism and Popular Opposition. Congratulations Debbie!
---
Lectures on the Relations between Law and Public Opinion in England during the Nineteenth Century (Forgotten Books, 2012)
A.V. Dicey, Edited by  Richard VandeWetering
Dicey's Law and Public Opinion is a famous attempt by our Edwardian Liberal to make sense of nineteenth-century British legal and political trends. This Liberty Fund edition, edited and with an introduction by Richard VandeWetering, makes the book available to 21st century students of Liberalism.
---
Canadian Local Government: An Urban Perspective (Oxford University Press, 2011)
Andrew Sancton
This book is a comprehensive introduction to municipal government in Canada. The text emphasizes that what happens in local government affects our lives on a daily basis just as much, if not more, than what happens at the provincial and federal levels. Addressing all of the key questions political scientists ask about political institutions, the book explores how local governments are defined, why we have them, what they do, and how power is attained and distributed within them. Drawing on years of experience in the field, Andrew Sancton examines the legal and political frameworks in which city governments operate; the structural changes associated with annexation and amalgamation; power, politics, and management in Canada's major cities; the important issue of money; and, finally, the future of local government. Current, engaging, and in-depth, this ground-up Canadian text reveals the crucial role local government plays in shaping everyday life.
---
Accountability for Collective Wrongdoing (Cambridge University Press, 2011)
Richard Vernon, Tracy Isaacs, Co-Editors
Ideas of collective responsibility challenge the doctrine of individual responsibility that is the dominant paradigm in law and liberal political theory. But little attention is given to the consequences of holding groups accountable for wrongdoing. Groups are not amenable to punishment in the way that individuals are. Can they be punished – and if so, how – or are other remedies available? In this book, the topic crosses the borders of law, philosophy and political science, and in this volume specialists in all three areas contribute their perspectives. They examine the limits of individual criminal liability in addressing atrocity, the meanings of punishment and responsibility, the distribution of group punishment to a group's members, and the means by which collective accountability can be expressed. In doing so, they reflect on the legacy of the Nuremberg Trials, on the philosophical understanding of collective responsibility, and on the place of collective accountability in international political relations.
---
Immigrant Settlement Policy in Canadian Municipalities (McGill-Queen's University Press, 2011)
Robert Young, Erin Tolley, Co-Editors
Canada has, by most accounts, one of the most successful immigration programs in the world, a function of the policies, programs, and services that assist newcomers. Immigrant settlement is a crucial policy field that involves governments, communities, and a range of social forces. Constitutionally, immigration matters are an area of shared jurisdiction, but the federal government has long been the dominant player. Provinces and municipalities, however, are now pushing for an expanded policy role, increased resources, and governance arrangements that recognize the important part they play in immigrant settlement. Drawing on a great many in-depth interviews with government officials and front-line workers, contributors provide a comparative assessment of approaches to immigrant settlement in nineteen Canadian municipalities. This is complemented by a discussion of the federal government's role in this policy field, and by a comprehensive introduction and conclusion, which ground the book historically and thematically, synthesize its key findings, and provide recommendations for addressing the challenges related to intergovernmental cooperation, settlement service delivery, and overall immigrant outcomes.
---
The Perils of Identity: Group Rights and the Politics of Intragroup Difference (UBC Press, 2011)
Caroline Dick
Professor Caroline Dick has published a new book entitled: The Perils of Identity: Group Rights and the Politics of Intragroup Difference. The book which assesses how philosophical treatments of identity-based rights claims work to suppress respect for difference in the legal realm, has been described as a work that "significantly advances the debate around multiculturalism and group rights, some of the most pressing issues of our time." Congratulations Caroline! For more information.
---
The Three Stigmata of Friedrich Nietzsche Political Physiology in Age of NihilismThe Three Stigmata of Friedrich Nietzsche: Political Physiology in the Age of Nihilism (Palgrave Macmillan, 2011)
Nandita Biswas Mellamphy
Since the early twentieth century, scholarly debate has revolved around the status of the 'political' in the thought of Friedrich Nietzsche. Following Nietzsche's call for a 'philosopher-physician' and his own use of the bodily language of 'health' and 'illness' as tools to diagnose the ailments of the body politic, this book is the first to offer a reconstruction of the concept of 'political physiology' in Nietzsche's thought. Biswas Mellamphy presents Nietzsche's political physiology by inter-relating three concepts not usually treated together: great politics, eternal recurrence, and the philosopher of the future. By bridging some of the interpretive gaps between the Anglo-American, German and French schools of interpretation, Nietzsche's political physiology is presented as a politics of subjective transmutation within the context of that pervasive pathological condition of modernity called 'nihilism'. This book charts the pathology of nihilism in Nietzsche's thought and argues that Nietzsche's political physiology is, first and foremost, a politics of emergent ontology.
---
The Politics of Acknowledgement: Truth Commissions in Uganda and Haiti (UBC Press, 2011)
Joanna R. Quinn
The Politics of Acknowledgement develops a theoretical framework of acknowledgement with which to explain and assess how instruments of transitional justice such as truth and reconciliation commissions should operate. Rather than applying this framework to successful tribunals, Joanna Quinn uses it to evaluate the difficulties encountered and the ultimate failure of truth commissions in two countries -- Uganda and Haiti. Analysis of these commissions reveals that if reconciliation is to be achieved, acknowledgement of past violence and harm -- by both victims and perpetrators -- must come before goals such as forgiveness, social trust, civic engagement, and social cohesion.
---
Voting Behaviour in Canada (UBC Press, 2011)
Cameron D. Anderson and Laura B. Stephenson
Can election results be explained, given that each ballot reflects the influence of countless impressions, decisions, and attachments? Leading young scholars of political behaviour piece together a comprehensive portrait of the modern Canadian voter to reveal the challenges of understanding election results. By systematically exploring the long-standing attachments, short-term influences, and proximate factors that influence our behaviour in the voting booth, this theoretically grounded and methodologically advanced collection sheds new light on the choices we make as citizens and provides important insights into recent national developments.
---
Approaching Public Administration: Core Debates and Emerging Issues(Cambridge University Press, 2010)

Robert Leone, Frank L.K. Ohemeng, Co-Editors 
This book fills the need for a student resource that goes beyond the traditional textbook format, and allows students to explore the core practical and theoretical questions in this field. Far from simply academic concerns, many of these debates resonate closely with today's headlines. They are, in essence, the basic questions at the heart of how our public service operates — or should operate — and how it can best serve the public.  Brief, focused, and clearly written, the selections include contributions from many of Canada's leading lights in the field. Alongside new pieces are reprints of several classic essays that every student of public administration should be familiar with. Rounding out the collection are a selection of brief readings that explore recent and emerging issues in the field, and are designed to further enhance classroom discussion and debate.  The book is appropriate for courses in public administration and public sector governance, for both undergraduate and graduate levels.
---
Cosmopolitan Regard: Political Membership and Global Justice (Cambridge University Press, 2010)
Richard Vernon
Cosmopolitan theory suggests that we should shift our moral attention from the local to the global. Richard Vernon argues, however, that if we adopt cosmopolitan beliefs about justice we must re-examine our beliefs about political obligation. Far from undermining the demands of citizenship, cosmopolitanism implies more demanding political obligations than theories of the state have traditionally recognized. Using examples including humanitarian intervention, international criminal law, and international political economy, Vernon suggests we have a responsibility not to enhance risks facing other societies and to assist them when their own risk-taking has failed. The central arguments in Cosmopolitan Regard are that what we owe to other societies rests on the same basis as what we owe to our own, and that a theory of cosmopolitanism must connect the responsibilities of citizens beyond their own borders with their obligations to one another.
---
Social and Political Bonds A Mosaic of Constrast and Convergence (Mcgill-Queens University Press, 2010)
F.M. Barnard
Is it possible to bridge the gap between the state's secrecy and the people who are ruled? Social and Political Bonds argues that mediation between people and purposes, parts and wholes, voluntariness and coercion, not only can but must occur in a fair society and outlines a range of strategies that can be used to join seemingly irreconcilable social and political contexts.
Warning specifically against official moralistic rhetoric, the ignoring of civic demands, and hidden acts of power by anonymous governmental bureaucracies and lobbyists, F.M. Barnard uses an approach that blurs the boundaries of specialized fields of study in order to recognize the degree to which individual choice influences political force. He also shows how any attempt to achieve a balance between the state and society requires a developed political judgment and a measured view of what can be politically attained and demanded.
A masterfully clear work that synthesizes centuries of political theory, Social and Political Bonds makes a powerful and well-reasoned case for the benefits of civic involvement and governmental cooperation.
Frederick Barnard was a professor emeritus in the Department of Political Science at Western.
---
Islam's Predicament Perspectives of a Dissident Muslim (Mosaic Press, 2010)
Salim Mansur
"In the face of Muslim extremism and terror that went global with 9/11, there remains the urgent need for Muslims to confront and repudiate those who have perverted their faith, or hijacked it, and made of Islam an ideology of bigotry and war (jihad). Islam's Predicament is a small effort in that urgently needed larger and wider struggle against radical Muslims, or Islamists, who have wrecked the Muslim world and have spread fear and violence indiscriminately among non-Muslims." - Salim Mansur, from the Preface. 
---
La Suberversion Etica de la Realidad: Crisis y Renovacion del Pensamiento Critico Latinoamericano (IHNCA, 2009)
Andrés Pérez-Baltodano
The first part of the book offers an assessment of Latin American Marxism and analyzes the relationship between Marxism and Liberation Theology. The second part of the book articulates a normative foundation for "a new relation between critical theology and social science in Latin America".
---
Media, Democracy and Freedom. The Post Communist Experience (Peter Lang AG, 2009)
Marta Dyczok and Oxana Gaman-Golutyina, Co-Editors
This volume brings together papers from an international group of scholars from various disciplines who, 'explore the complex relations between media, society, and the state, in this region over the past twenty years, and present theoretical arguments which challenge dominant views.'
---
Foundations of Governance: Municipal Government in Canada's Provinces (University of Toronto Press, 2009)
Andrew Sancton and Robert Young
Municipalities are responsible for many essential services and have become vital agents for implementing provincial policies, including those dealing with the environment, emergency planning, economic development, and land use. In Foundations of Governance, experts from each of Canada's provinces come together to assess the extent to which municipal governments have the capacity to act autonomously, purposefully, and collaboratively in the intergovernmental arena. Each chapter follows a common template in order to facilitate comparison and covers essential features such as institutional structures, municipal functions, demography, and municipal finances. Canada's municipalities function in diverse ways but have similar problems and, in this way, are illustrative of the importance of local democracy. Foundations of Governance shows that municipal governments require the legitimacy granted by a vibrant democracy in order to successfully negotiate and implement important collective choices about the futures of communities.
---
Do Think Tanks Matter? Assessing the Impact of Public Policy Institutes, Second Edition (Revised and Expanded, Mcgill-Queens University Press, 2009)
Donald Abelson
Think tank directors often credit their institutes with influencing major policy debates and government legislation and many journalists and scholars believe the explosion of think tanks in the latter part of the twentieth century indicates their growing importance in the policy-making process. Abelson goes beyond assumptions, identifying the influence and relevance of public policy institutes in today's political arena in the United States, where they've become an integral feature of the political landscape, and in Canada, where, despite recent growth in numbers, they enjoy less prominence than their US counterparts. By focusing on the policy cycle, issue articulation, policy formation, and implementation, Abelson argues that individual think tanks have sometimes played an important role in shaping the political dialogue and the policy preferences and choices of decision-makers but often in different ways and at different stages of the policy cycle. This revised and updated edition of the book includes up-to-date data (2000-08) on the growing visibility and policy relevance of think tanks in Canada and the United States. 
---
Reconciliation(s) Transitional Justice in Postconflict Societies (Mcgill-Queens University Press, 2009)
Joanna R. Quinn
The transformation of conflict and post-conflict societies through transitional justice is now key to the process of peacebuilding. Various mechanisms, including trials, truth commissions, and apologies, are now seen as essential in effecting societal change. It is widely argued that reconciliation is a key element of this process. Yet scholars and practitioners alike have little understanding as to what it is or how it works. Reconciliation(s) considers the definition of the concept of reconciliation itself, which means different things to different people. The definitional dialogue that arises from the book attempts to situate "reconciliation" within a theoretical and analytical framework. The contributing authors espouse competing definitions, although all agree on its important function in building relationships of trust and cohesion. The essays in this book also consider the nature and utility of reconciliation in a number of contexts, evaluating both its function and efficacy. This book provides a comprehensive evaluation of reconciliation as a means of bringing about social healing.
---
The Limits of Boundaries: Why City-regions Cannot be Self-governing (Mcgill-Queens University Press, 2008)
Andrew Sancton
Andrew Sancton combines his own broad knowledge of global changes with an outline and comparison of the viewpoints of prominent social scientists to argue that city regions in western liberal democracies will not and cannot be self-governing. Self-government requires a territory delineated by official boundaries, but the multiple boundaries of city-regions, unlike the clear and undisputed boundaries of provinces and states, continue to move outward due to the constant growth and expansion of urban populations and services.
The Limits of Boundaries clearly shows that difficulties in reaching agreements on boundaries fatally limit the capacity of city-regions to be self-governing.
---
Governing the Post-Communist City: Institutions and Democratic Development in Prague (University of Toronto Press, 2007)
Martin Horak
When faced with the rapid and disorienting transition from communism to democracy, many eastern European leaders sought simple, immediately rewarding answers to complex policy problems. Through an analysis of urban politics in Prague between 1990 and 2000, Governing the Post-Communist City shows how this phenomenon affected post-communist democratic development at the local level. Focusing on the issues of road infrastructure and downtown development, Martin Horak demonstrates that political leaders' reliance on short-term policy solutions in the early 1990s enabled pre-democratic institutional forms to survive the early post-communist period, with negative consequences for the quality of local democracy in the longer term.
---
Continuity and Change in Canadian Politics (University of Toronto Press, 2006)
Cristine de Clercy, Editor
The state of Canadian politics is in constant flux. Current and recent issues and events have led to a host of changes in the way politics is done in this country and there are no signs of this trend coming to an end. In Continuity and Change in Canadian Politics, Hans J. Michelmann and Cristine de Clercy, along with some of the leading names in Canadian political scholarship, provide a many-sided assessment of contemporary Canadian government and politics to honour the career of their eminent colleague, David E. Smith.
---
A Capitol Idea Think Tanks and U.S. Foreign Policy (Mcgill-Queens University Press, 2006)
Donald Abelson
A Capitol Idea Think Tanks and U.S. Foreign Policy reveals the extent to which think tanks in the United States have become active and vocal participants in the foreign policy-making process. In this timely exploration, Donald Abelson re-evaluates the role of these complex organizations and looks at how political influence is achieved on Capitol Hill and in the White House.
---
Drifting Together: The Political Economy of Canada-US Integration (University of Toronto Press, 2006)
John N. McDougall
This book examines the effects of North American free trade on Canada-US relations beyond the dimensions of trade and investment flows. Specifically, its chapters trace the impact of the FTA/NAFTA on Canada's cultural policies; communications regulations; cross-border regional interactions; social policy; defence and security policy; and foreign policies beyond the Canada-US relationship. Distinctively, the study sets the transformation of Canada-US relations resulting from free trade against the backgrounds of both economic history and theories of economic and political integration. In doing so, it argues the case that, while the members of the NAFTA are highly unlikely ever to undertake the form of political integration adopted by the European Union, Canada is already engaged a process of policy harmonization with the United States that amounts to political integration by stealth. Thus, the "integration question" in North America is, for Canada, essentially a question of preserving its democracy.
---
Science & International Environmental Policy: Regimes and Nonregimes in Global Governance (Rowman & Littlefield Publishers, 2005)
Radoslav S. Dimitrov
The book explores the connection between ideas and collective action in world politics, by investigating the role of expert information in creating environmental treaties. It compares successful negotiations (on ozone depletion and acid rain) with failures to create policy agreements (on deforestation and coral reefs degradation). The findings clarify which types of knowledge motivate cooperation and shape the emergence of multilateral institutions.
---
The Return of the State (Douglas & McIntyre, 2004)
Adam Harmes
In 1999, the growing backlash against free-market globalization became visible in the "battle of Seattle" and other large-scale protests around the world. Now, anti-globalization is going mainstream as concerns over terrorism and the offshore outsourcing of jobs provoke a new wave of economic nationalism and trade protectionism. Many see these trends as foreshadowing the 'end of globalism'. In contrast, The Return of the State charts the emergence of a new global compromise to show why neither the free-market status quo nor the end of globalization are likely scenarios. More likely, it argues, is a return of the state on a more extensive and international scale.
---
The Myth of the Sacred: The Charter, the Courts, and the Politics of the Constitution in Canada (Mcgill-Queens University Press, 2003)
Donald E. Abelson, et al
The Myth of the Sacred is a collection of articles by leading experts in Canada and the United States who challenge many of the underlying normative principles of the Canadian constitution. In short, it examines how various domestic groups have used the Constitution to advance their own political interests at the expense of the public interest.
---
Entre el Estado Conquistador y el Estado Nación (Fundación Friedrich Ebert en Nicaragua, 2003)
Andrés Pérez
This book analyzes the impact of religious beliefs on Nicaraguan political culture and political institutions. More specifically, it provides an interpretation of the way in which ideas of God held by Nicaraguan elites have conditioned the way they understand history and their role in it. The book uses a comparative-historical approach that elucidates the specificity of the religious and political culture of Nicaragua. This approach rejects the premise of secularism that is implied in most social science studies of Latin American political and institutional history.
---
Do Think Tanks Matter? Assessing the Impact of Public Policy Institutes (Mcgill-Queens University Press, 2002)
Donald Abelson
Do Think Tanks Matter? Assessing the Impact of Public Policy Institutes (McGill-Queen's University Press, 2002) has been published in Arabic by the Emirates Center for Strategic Studies and Research. This book makes a comparative study of research institutes in the United States and Canada by studying their development, their various kinds, and the prominent institutes that represent them in the two countries.
The author approaches the subject by focusing on the impact of these institutes on public policies of the two countries and employs a distinctive method of comparison that is different from the conventional methods that are usually limited to historical studies on the development of these institutes, a description of their organizational structures, etc.
---
Workplace Equality: International Perspectives on Legislation, Policy and Practices (Springer, 2002)
Carol Agócs, Editor
As a unique international comparative survey and assessment of affirmative action and employment equity policies, Workplace Equality is a sourcebook for researchers, practitioners and students in the fields of public policy, employment law, sociology, industrial relations and human rights.
---
NATO and the Bomb (Mcgill-Queens University Press, 2002)
Erika Simpson
During the Cold War, the Canadian government's approach to NATO and nuclear weapons raised eyebrows, provoked newspaper headlines, and angered Americans and Europeans alike. In NATO and the Bomb, Erika Simpson explains contemporary defence decisions and Canada's support—or lack thereof—for NATO.
---
Canada and the Beijing Conference on Women (UBC Press, 2002)
Elizabeth Riddell-Dixon
Elizabeth Riddell-Dixon relates the findings of her study to two broad concerns in the literature on Canadian foreign policy making. First, she assesses the relative importance to foreign policy of developments in the international arena, on the one hand, and domestic pressures, on the other. Second, she considers the effectiveness of government efforts to democratize foreign policy.
---
Political Morality: A Theory of Liberal Democracy (Cambridge University Press, 2001)
Richard Vernon
This book, which continues Richard Vernon's work on citizenship, discusses the relationship between freedom and equality in contemporary political theory. Rejecting the foundational claims of liberalism, it situates political freedom within a model of discursive democracy, and in doing so raises questions about the legitimacy of current political institutions.
---
Global Justice: Defending Cosmopolitanism (Oxford University Press, 2001)
Charles Jones
What obligations do wealthy people have to ensure that the world's poor achieve a quality of life that is recognizably human? This is the fundamental question of international distributive justice and one that has only been seriously debated in the last twenty-five years. This highly informative work analyzes the relative merits of the core moral perspectives framing the debates, including the universalist, nationalist, patriotism, and relativist. It presents an engaging argument for universal basic human rights, making it an ideal resource for anyone interested in political theory, philosophy, international relations, development studies, and moral philosophy.
---
Unseen Power: How mutual funds threaten the political and economic wealth of nations (Stoddart, 2001)
Adam Harmes
Part economic and political analysis, part journalistic exposé, Unseen Power shows how the explosion in mass investment through mutual funds and pension funds represents far more than the growth of a particular industry. Rather, it represents a sea change in the power of the financial markets and an economic, political, and cultural phenomenon that lies behind many recent trends in the new global economy. Many pundits of globalization have focused on the growing power of large multinational corporations. Unseen Power takes a different tack, explaining how fund managers, and not CEOs, have come to wield the greatest clout in the new global economy. In economic terms, this clout has made our financial markets much less efficient and much more prone to booms, busts, and financial crises. In political terms, it has led to a massive shift in the balance of power between Wall Street and Main Street – in favour of the former.
---
The Grand Alliance and Ukrainian Refugees (St Antony's Series) (Palgrave MacM, 2000)
Marta Dyczok
This study explores the role of refugees in international relations by looking at the largest involuntary migration of Ukrainians in history. Using both Western and newly available Soviet sources it sheds light on Grand Alliance policies towards World War II Ukrainian refugees. It demonstrates how the activities of this particular group of refugees had an impact on international refugee policy and provides insight into the origins of the Cold War.
---
Ukraine: Change Without Movement, Movement Without Change (Postcommunist States and Nations) (Routledge, 2000)
Marta Dyczok
Ukraine has surprised many international observers. Few anticipated its declaration of independence in 1991 or its determination to move out of Russia's shadow. Dyczok redresses the continuing dearth of information on the country. Aimed at nonspecialists and specialists alike, it presents an overview of the main government policies, and the social and cultural issues facing the new state. These are placed within their historical, regional and global framework. In contrast with the generally bleak picture that international media reports present, the book suggests that Ukraine has actually accomplished a great deal in a short time. In seven years, from 1991 to 1998, Ukraine went from being a little-known nation within a non-democratic state to an internationally recognized independent country. During this period of change, it contributed to the geopolitical shift which occurred with the implosion of the Soviet Union. As such, it may be argued, Ukraine has a role to play in the search for the new international order.
---
Merger Mania (McGill-Queen's Press, 2000)
Andrew Sancton
Merger Mania began as a consultant's report for the City of Westmount, Quebec. At a time when the Mayor of Montreal was urging that the Government of Quebec sponsor legislation merging all the municipalities on the Island of Montreal, I was asked to write a comprehensive summary of past debates about municipal amalgamation throughout the democratic world, with an emphasis on Canada. The report was initially published privately and then by McGill-Queen's University Press.
---
The Politics and Economics of Eric Kierans: A Man for All Canada (McGill-Queen's University Press, 1993)
John McDougall
Eric Kierans appealed to me a subject for several reasons. For one, he was a major voice for Canadian nationalism during the 1970s and early 1980s and, in particular, had opposed the Mackenzie Valley pipeline proposal, a subject I had written about. For another, he was one of the few members of the first Trudeau government who had also served – together with René Levesque – as a minister in Quebec, so I thought he would have some interesting thoughts on national unity. Finally, I had met him several times, and had come to admire him as a man of conviction and integrity – a model politician in fact. Thanks for your efforts on this project.
---
Canada and the International Seabed (Mcgill-Queens University Press, 1989)
Elizabeth Riddell-Dixon
Canada's policy on deep seabed mining. Elizabeth Riddell-Dixon argues that Canada's position was determined by certain influential actors in the federal government. Lawyers in the Department of External Affairs and officers from the Department of Energy, Mines, and Resources formed the dominant coalition in the interaction between federal-provincial decision-makers, labour unions, and business groups.
---
Back To Top