Student Testimonials
The best indicator of the success of the Political Science Program are our students.  Meet some of our current students and graduates and learn what they have to say about our Program and Western.
Undergraduate Students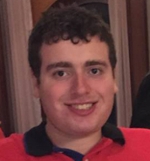 Darren Marr, Honors Spec. in Political Science and Scholar's Elective program '16
"The Political Science Department at Western University is a special place. It offers a wide variety of courses that suit many different interests. It allows students to express themselves in many different manners and challenge preexisting opinions and biases. Most importantly, the faculty and fellow students are supportive on both an academic and personal level. There is a real sense of camaraderie in the program. Graduating high school as a high achieving student, I was hoping that the Scholars Elective Program would provide me with a unique academic experience. Participating in this program within the Political Science Department definitely exceeded my expectations. The opportunity to study in a one on one setting with a professor on a weekly basis in a subject within their field of expertise was something I will never forget. I was able to conduct the type of research that normally would only be available to graduate students. My mentors challenged me with unique readings, complex research issues and a level of academic scrutiny that resulted in my completion of projects that I am the most proud of from my undergraduate experience.
Next year, I will be attending the Faculty of Law at the University of Toronto. Western Political Science and Scholars Elective has provided me with the type of research, writing and analytical skills that I believe will allow me to be successful in my studies and in my future career as a lawyer. Overall, I really enjoyed my time at Western University particularly in my studies in the Department of Political Science and the Scholars Elective Program. I would recommend the experience to anyone who desires an academic challenge and unique educational opportunity." 
---
Serwaah Phebih, Year 4 Honors Spec. in Political Science '16
"The most valuable thing about being a Political Science student at Western is that we get to witness a truly comprehensive view of politics; as we are educated not only on every political theory that you can imagine, but we get to look at politics from a range of world views, and as such, get to make our own opinions and conclusions about what form of politics speaks to us, and are able to appreciate the value from a holistic point of view."   
---
Rishita Apsani, Year 4 Honors BA Political Science '14
"My political science courses nurtured my passion for public service by giving me an appreciation of the complexity of international conflict and poverty.  Through the department, I have had the opportunity to conduct research abroad, present at conferences, and complete an undergraduate thesis. I will leave the program with knowledge and relationships that will continue to help me for the rest of my life." 
---
Graduate Students
Thomas Randall, PhD Candidate
"The notable deciding factor for choosing to join Western University's Department of Political Science to study political theory was not only the quality of research the faculty were producing, but how personable and supportive the faculty were. To have such open and welcoming access to intellectual discourse and rigour with Professors Richard Vernon and Charles Jones has been and will be my lasting impression of studying here. Both professors are at the forefront of research on cosmopolitanism, liberal theories of justice, and intergenerational justice (though the list doesn't stop there). For those interested in pursuing a thesis that falls under any of these categories, reading for a degree under Professors Vernon and Jones will absolutely bring the best out of your ideas. For those considering a career in academia, their encouragement to achieve during the funding process, for publishing papers, and presenting at conferences will greatly enhance your future prospects." 
---
Alumni
Dr. Karim Ismaili, PhD '97
"My doctoral education in the Department of Political Science at The University of Western Ontario was truly exceptional. From the very beginning of my Western journey, I was fortunate to interact with renowned scholars, motivated peers, and helpful members of staff who were always there to answer my every question. I worked closely with my primary advisor, Dr. Allan K. McDougall, in whom I found a mentor who encouraged me to explore my interests, even if they fell outside the traditional boundaries of the discipline. Dr. Sid Noel, Dr. Bob Young and many others helped me think carefully and creatively about the intersection between Public Policy and Canadian Politics. During my time at Western, I was fortunate to teach my first university level courses, present my first conference papers, conduct participatory observational research in the justice sector of the federal government in Ottawa, and receive a fellowship at the Center of Criminology at the University of Toronto. Those foundational experiences enabled me to navigate my academic career. I have been tenured at four universities in the US and Canada, serving at the assistant, associate and full professor level. I have also served as a department chair, associate dean, dean, vice provost, special advisor to a university president, and now as Chief Academic Officer at the largest university in the Massachusetts state university system. Western has been on my mind recently, in large part because of my new responsibilities. As I look back on my journey, it is the fine education and the amazing opportunities I received at Western that helped to make me what I am today. I am proud to be an alum." 
---
Phil Henderson, Honours BA '14
"Political Science at Western offers a diversity of opportunities that can benefit students of all tastes and dispositions. I found that the freedom of upper-year courses really allowed me to pursue my own interests, and have helped me to plot a course towards a Master's thesis."

---
Undergraduate Students, Graduate Students, and Alumni - We would love you hear from you!  If you would like to be profiled on this site, please complete the applicable questionnaire below and submit it with your photo to polisci-web@uwo.ca.