Field Research

Selected Dissertation Fieldwork Trips and Presentations
London Bridge
PhD candidate Tyler Girard's UK trip to London involved interviews and archival work for his own research and work for Dr. Adam Harmes' forthcoming book that will include a chapter on Brexit.
---
Urban Mayors across Canada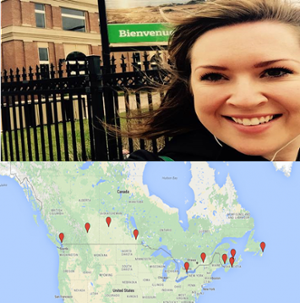 Kate Graham, PhD candidate in Political Science, visited 10 Canadian cities, the largest in each province, in May and June of 2016.  Her study draws on extensive literature and legislative reviews, an institutional analysis, a survey of 13,000 Canadians, and elite interviews with mayors and the people who work most closely with them.  The trip included stops in Vancouver, BC; Calgary, Alberta; Saskatoon, Saskatchewan; Winnipeg, Manitoba; Toronto, ON; Montreal, Quebec; Saint John, New Brunswick; Halifax, Nova Scotia; Charlottetown, PEI; St. John's, Newfoundland and Labrador.
---

Lima, Peru - United Nations Climate Change Conference
Bjørnar Egede-Nissen, PhD candidate in Political Science, attended the United Nations Climate Change Conference in Lima, Peru from December 1-12, 2014. He was conducting research for his dissertation on the unity of the G-77, the developing country coalition in the climate negotiations. While there, he was also representing the country of Belize as an advisor.
---
Chicago, Illinois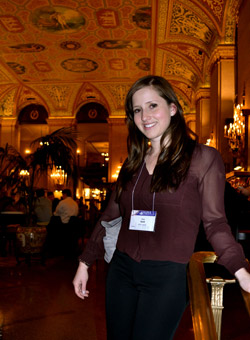 PhD candidate Dana Gold presented her paper, "Representations of the 'Other' in the Israeli-Palestinian Conflict: Political and Cognitive Dimensions," at the Midwest Political Science Association (MPSA) Conference in April, 2014. The conference was held at the Palmer House Hilton in Chicago, Illinois.
---
Tunis, Tunisia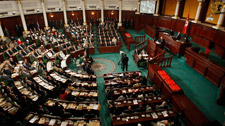 PhD candidate Saad Abbasi conducted field research for his dissertation project. During his visit, Saad carried out several interviews with influential scholars and academics, elected members of Tunisia's National Constituent Assembly, photo right, members of prominent civil society organizations, and political activists. His ongoing research investigates the Islam and democracy compatibility thesis within the Muslim world historically, as well contemporarily with focus on the cases of Egypt, Turkey and Tunisia.
---
Throughout Canada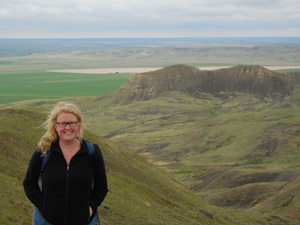 Alison Shott's doctoral field research took her to nine provinces in eleven months. During her travels, she collected the records of municipal associations from their offices, provincial archives, and legislative libraries. Her dissertation is a cross-provincial examination of how the membership composition of municipal associations influences their behaviour in intergovernmental relations.
---
Kurdistan Region, Iraq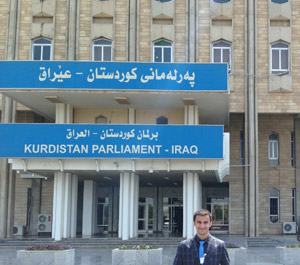 PhD candidate Zheger Hassan spent two months in Iraq conducting 30 interviews. He travelled to the Kurdistan region of Iraq to conduct research on the recent Iraqi national parliamentary elections. His research is on 'de facto states' with a particular focus on Iraqi Kurdistan, a politically autonomous region in northern Iraq.
---
Washington, DC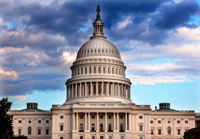 PhD candidate Bridget Whipple recently conducted interviews and gathered group responses to changes in the political environment, assessing strategic choices, resources, and opportunity structures in Washington, DC.
---
Guatemala City, Guatemala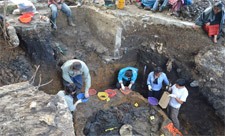 PhD candidate Tamara Hinan attended a multidisciplinary field school in Guatemala entitled 'Forensic Investigation: The Internal Armed Conflict and Post-Conflict in Guatemala.' This field school was organized jointly by the International Field Initiatives and Forensic Training (IFIT) and the Guatemalan Forensic Anthropology Foundation (FAFG). As part of the field school, she was given hands-on experience in the various strategies used by the FAFG to identify victims of the genocide and civil war in Guatemala, including forensic anthropology, forensic archaeology and DNA analysis. She participated in an ongoing exhumation, and took testimony from family and community members about their experiences during the conflict. This field school was an invaluable opportunity to begin to understand the complexity of human rights investigations in a post-conflict context, and to problematize the links between truth and memory, and justice and development efforts in Guatemala today.
---
Kurdistan Parliament, Northern Iraq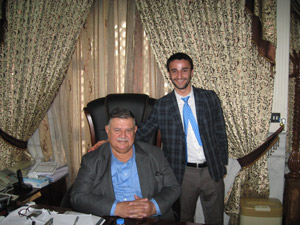 PhD candidate Zheger Hassan traveled to the northern Kurdish region of Iraq to interview Kurdish politicians and Iraqi officials who work in Arbil. He conducted interviews with various government and non-government officials (including regional MPs, federal MPs, ministers, academics, and journalists) in Erbil and Duhok.
Picture left: Interview with Bayiz Talabani, Minister of Finance and the Economy, City of Erbil (capitol of the Kurdish region).
---
Tromso, Norway and Kiruna, Sweden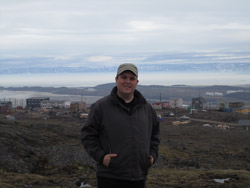 As part of his dissertation, PhD candidate Andy Chater conducted interviews with Arctic Council policy makers about the Council's evolution. The Arctic Council is an International intergovernmental forum that addresses issues of environmental protection and sustainable development in the Arctic.
---
Nova Scotia, Newfoundland, New Brunswick, PEI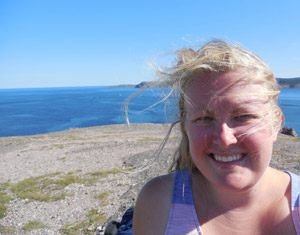 PhD candidate Alison Shott studies the role of associations of municipalities in shaping provincial-municipal relations. In order to understand how the varied structures of these associations affect their level of influence at the provincial level, she made comparisons across both provinces and time by examining historical records and other primary sources on associations of municipalities from municipal offices, provincial archives, university libraries, and the libraries of provincial legislatures. This research was conducted in Halifax and Wolfville, Nova Scotia; St. John's, Newfoundland and Labrador; Fredericton, New Brunswick; and Charlottetown, Prince Edward Island.
Photo above Signal Hill, St. John's, Newfoundland and Labrador
---
Iqaluit, Nunavut
PhD candidate Andy Chater toured Nunavut in order to better understand the Canadian Arctic, its people and the political, economic, social and cultural realities of their lives.
---
Cancun, Mexico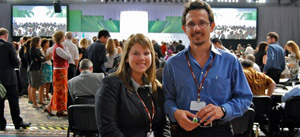 MA graduate, Melissa Harris attends the UN Climate Negotiations in Cancun, Mexico as a Research Assistant for Professor Radoslav Dimitrov. Her responsibilities included making audio and video recordings of negotiations for an academic project on persuasion in world politics. Professor Dimitrov participated in the negotiations for the Cancun accords on the European Union delegation.