2014 Archived News

Nick Caruana - New Publication and Democratic Audit UK Blog
Nick Caruana (PhD Candidate), recently published with Professors Laura Stephenson, (Western University), and Mike McGregor (Bishop's University), in the Canadian Journal of Political Science, an article entitled: "The Power of the Dark Side: Negative Partisanship and Political Behaviour in Canada".
Nick also published a post summarizing his research with Professors Stephenson and McGregor for the Democratic Audit UK Blog. Congratulations, Nick!
---
Bjørnar Egede-Nissen - Field Research at UN Climate Change Conference Lima, Peru
Bjørnar Egede-Nissen, PhD candidate in Political Science, is attending the UN Climate Change Conference in Lima, Peru, from 1-12 December. He is there to conduct research for his dissertation on the unity of the G-77, the developing country coalition, in the climate negotiations. While he is there, he is also representing the country of Belize as an advisor.
---
Dr. Richard VandeWetering - Inspirational Professor Award
Pictured is Chief Education Officer of Kappa Alpha Theta (and Politics student) Alyssa Owens presenting Dr. VandeWetering with his certificate.
On November 11th, Dr. Richard VandeWetering was honoured by the Western chapter of Kappa Alpha Theta as an "Inspirational Professor".  Dr. VandeWetering spoke on "Ideas of the Good Life".  Kappa Alpha Theta aims to promote "intellectual curiosity, leadership potential, commitment to service, and personal excellence". Congratulations Richard!
---
Jeffrey Parker, PhD 2012 - New Publication
Jeffrey Parker (PhD 2012), Research Officer, Legislative Assembly of Ontario, recently published a book, Comparative Federalism and Intergovernmental Agreements.  Intergovernmental agreements are an important instrument in federal systems, establishing new social programs, regulating agricultural practices, and even changing constitutions. This book attempts to understand intergovernmental agreements in a comparative context and provides a theoretical framework for their study by comparing the use of agreements in six federations (Australia, Canada, Germany, South Africa, Switzerland and the United States) and considering why certain federations form more agreements than others. Jeffrey was supervised by Professor Robert Young. Congratulations, Jeffrey!
---
Phil Henderson, Honors BA 2014 – New Publication
Phil Henderson (Honors BA 2014), recently published an article entitled, "A Tale of Two Hamlets: Emergence of the Carnivalesque at the Keady Market" in the first issue of the Journal of Narrative Politics. Interpreted through a marrying of the academic literature on Bakhtin's carnivalesque and the literature of farmers' markets, along with vignettes of Henderson's personal experiences of the Market, serve as points of entry into a discussion of the politics at play in this festive occasion. Congratulations, Phil!
---
Josh Morgan - Municipal Election Victory
On October 27, Josh Morgan (MA Political Science), Recruitment and Development Officer for the Local Government Program, Department of Political Science, was elected to a four year term as Counsellor representing Ward 7 in the London Ontario Municipal Elections. Josh received 56.6% of votes cast in Ward 7.  He was highlighted in the Western News 5th annual Newsmakers issue. Congratulations Josh!
---
Western Political Science and Masters in Public Administration Graduates elected to London City Council
Of 14 councilors elected to London City Council, half are Western alumni.  Professor Andrew Sancton who specializes in municipal politics said, "I think it's good for the university that people with this kind of degree and background are getting elected."  Stephen Turner, BSc'99 (Biology), MPA'13, Jared Zaifman BA'08 (Political Science), MPA'12, and Josh Morgan BA'02 (Economics/Political Science), MA'04 (Political Science) are all graduates of either or both, Western Political Science and the Masters of Public Administration Program which is administered by Western's Political Science, Local Government Program.  Congratulations Stephen, Jared and Josh!
---
Steven Seligman - Dissertation Defense
Steven successfully completed his PhD, "Canada and the 2001 United Nations World Conference against Racism", supervised by Dr. Don Abelson.  Congratulations Steven!
---
Professor Dyczok - Selected Observer to the Ukrainian Parlimentary Election
Marta Dyczok has been selected to act as an observer to the Ukrainian Parliamentary election which will be held on 26 October 2014. She will be joining the independent Canadian bilateral mission organized by CANEOM.
---
Since its launch two weeks ago, over 1,400 eligible Toronto voters have participated in the Toronto Election Study (TES) and researchers have already discovered some very telling trends based on the raw data, including the likelihood that Rob Ford's support will transfer to his brother Doug.  This study, led by political scientists, Laura Stephenson, Western University, Michael McGregor (Principal Investigator), Bishop's University, and Aaron Moore, University of Winnipeg, aims to deliver a detailed understanding of the attitudes and behavior of voters and non-voters in the 2014 Toronto municipal election. 
---
Marta Dyczok – Panelist for 'Ukraine Under Fire' discussion held at the Munk School of Global Affairs
Marta Dyczok co-organized and participated in a panel discussion titled 'Ukraine Under Fire' with Peter Solomon, Lucan Way, and Andriy Kulykov at the Munk School of Global Affairs, University of Toronto.  This panel discussion was hosted by the Centre for European, Russian, and Eurasian Studies (CERES) on September 19, 2004 to examine the state of affairs in Ukraine and the country's ongoing crises.
---
Professor Biswas Mellamphy - Upcoming Lectures
Nandita Biswas Mellamphy will be giving a talk entitled "Con/deception: The Politics of Paradox and Aporetic Agencies" as part of Western's Art Now: Art in the Public Sphere Speakers Series, October 16, 7PM in  NCB-117.


Professor Biswas Mellamphy will also be giving a talk entitled, "War on Terror in the Age of Intelligent Machines" as a part of Western's Retired Academic Group Speakers Series on October 17, at 2:30pm in the Theatre Room, Windermere on the Mount.


Professor Nandita Biswas Mellamphy will be giving a keynote lecture in Toronto this November, along with Drs. Dan Mellamphy and Frances Dyson, at a three-day conference exploring the "Complexities of agency and its relation to the counterfactual" in the era of digital media: 'Tuning Speculation: Sounding Future Networks', November 7-8-9.
---
Professor Trisko Darden - Upcoming Presentation
Professor Trisko Darden will be presenting at the Centre for International Policy Studies on October 31, 2014. Her presentation is entitled: "Foreign Aid, Militarization and Political Violence in Indonesia". She will discuss the relationship between foreign aid and political violence. Unlike natural resource rents, which can only be affected through embargoes and other punitive actions that rely on a concert of actors in order to be effective, international actors can easily manipulate of foreign assistance. This gives aid donors an important source of leverage over recipient states, which has been identified as a potential influence on state's human rights behaviour.
---
If Scotland votes Thursday in favour of Scottish independence, yet another small country could soon join the United Nations. The Scottish National Party (SNP), which supports an independent and non-nuclear Scotland, wants Scotland to be a member of NATO and the European Union but rejects nuclear weapons, including nuclear-armed United Kingdom submarines now based in Scotland.
---
Saad Abbasi - Field Research in Tunisia
PhD Candidate Saad Abbasi recently returned from Tunis, Tunisia, where he conducted field research for his dissertation project.  During his visit, Saad carried out several interviews with influential scholars and academics, elected members of Tunisia's National Constituent Assembly (photographed above), members of prominent civil society organizations, and political activists.  His ongoing research investigates the Islam and democracy compatibility thesis within the Muslim world historically, as well contemporarily with focus on the cases of Egypt, Turkey and Tunisia. 
---
Professor Dimitrov - Recent Lectures
Professor Rado Dimitrov has recently given invited lectures on "Diplomacy and Global Climate Governance" at SciencePo-Paris, the University of Geneva and the Graduate Institute of International and Development Studies. The Graduate Institute in Switzerland is the world's first school dedicated to international relations and one of Europe's most prestigious institutions. Its alumni include UN Secretary-General Kofi Annan and seven Nobel prize recipients. 
---
Robert Waterman - Dissertation Defense
Robert successfully completed his PhD, "Authority Migration and Accountability in Canadian Type II Multilevel Governance", supervised by Dr. Cameron Anderson.  Congratulations Rob!
---

Professor Abelson – Visiting Professor at the University of Aix-Marseilles
Donald Abelson will be a Visiting Professor at the University of Aix-Marseilles in Aix-en-Provence, France in October, 2014. He will be working on a project on US think tanks and soft power with colleagues from the Centre for Research on the Anglophone world (LERMA). In November 2014, he will be a Visiting Professor at Sciences Po  (Institute d'études politiques), in Lyon.
---

Professor Stephenson - New SSHRC-Funded Research Project
Professor Stephenson  and two graduates of Western's PhD program, Professors Michael McGregor and Aaron Moore, are embarking on a new SSHRC-funded research project. The Toronto Election Study is an academic study, similar to national or provincial election studies, aimed at understanding the attitudes and behaviour of voters and non-voters in the 2014 Toronto municipal election. This is a data-driven project that will illuminate why eligible voters make the decisions they do about whether and how to vote, since municipal voting behaviour is not frequently studied in detail.  Regular updates will be posted on the website as the election nears.  You can also follow the project on Twitter at @TOelectionstudy to get the latest updates right in your Twitter feed.
---
Jennifer Mustapha - New Book Chapter
We are pleased to announce that Jennifer Mustapha co-authored a book chapter with Richard Stubbs. The Title of the Chapter is "Ideas and Institutionalization in Asia". Congratulations Jen!
---
Professor Dyczok - Two More Interviews on the Situation in Ukraine
1. Public Radio Ukraine
2. CTV News
---
Carol-Lynn Chambers - Recipient of the 2014 Alumni Award of Merit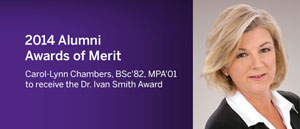 Congratulations to Carol-Lynn Chambers, recipient of the 2014 Alumni Award of Merit. Carol-Lynn is a graduate of the MPA in the Local Government Program and has taught MPA and DPA courses for a number of years.
---
Professor Dyczok explains why the political stresses meant resignation was the only option for Ukrainian Prime Minister, Arseniy Yatsenyuk.
---
Professor Dyczok's
report on the Malaysian Airline tragedy on Public Radio Ukraine - "Watching the story unfold, I noticed that the first international reports were tentative. Canada's national CTV ran the headline, "MH17 reportedly shot down over Ukraine." They cited Ukrainian government spokespeople as the source. An hour later the headline had changed, to "Malaysia airliner shot down over Ukraine."  Professor Dyczok also gives a personal account of these events in this
Western News article
.
---
Dr. Joe Lyons' Webchat with the Toronto Star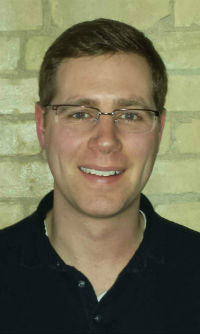 Dr. Joe Lyons did a live (and lively) Webchat organized by the Toronto Star. The discussion focused on whether Toronto should de-amalgamate.
---
Professor Dyczok – Reports From Ukraine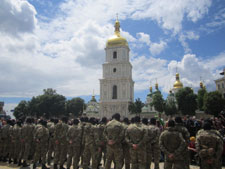 Professor Dyczok filed the following reports from Ukraine.

1. Battalion Donbass, volunteer military unit set up by Semen Semenchenko from Donetsk, had been fighting back the heavily armed men who began taking over Ukrainian government buildings, returning them to Ukrainian control. New recruits volunteered, received training at the Ministry of Interior training base at Nova Petrivka just outside of Kyiv. Today they pledged their oath to Ukraine, and will be sent to the front. Not sharing any photos with faces. Semen wears a mask because the Russian military uses face recognition software. Walked up to one young man who was saying goodbye to his mother, sister, and brother. He answered me in Ukrainian, said he's from Odessa oblast, turned 21 today, and has had 23 days of training. When I asked why he volunteered, he said, 'I'm going to defend my homeland. It's like 1939, war is starting, we have to stop the aggression, and our authorities are afraid to act. So I'm going.'

2. Read her second report on the Past Reaching Into the Present
3. Listen and read her third report on "What Can I Do"?
---
Cristina Badescu - PhD Graduate Appointed as Lecturer at the University of Leeds
Our PhD graduate, Cristina Badescu, has been appointed as Lecturer in International Relations at the University of Leeds. (The UK rank of Lecturer is the equivalent of the Canadian rank of Assistant Professor.) Cristina took both her MA and her PhD at Western University, receiving her PhD in 2007 (supervisors: Elizabeth Riddell-Dixon and Richard Vernon). She has held postdoctoral fellowships at both Western University and the University of Toronto, and has taught at Western University and in the Munk School and Trudeau Centre (Toronto). She has published widely on the topic of intervention and her book on the Responsibility to Protect was reissued in paperback by Routledge last year. The University of Leeds is an international centre of excellence in Cristina's field of research, and she won her appointment against competitors from the US as well as from the UK. Congratulations Cristina!
---
Professor Dyczok – Interviews From the Ukraine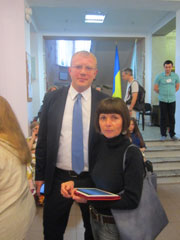 Professor Dyczok was interviewed by different news agencies about political updates in the Ukraine.

1. The Star (June 1, 2014)
2. CBC - The Current (May 26, 2014)
3. The Star (May 26, 2014)
4. CTV (May 26, 2014)
---
Professor Simpson - Organized Three Panels at the United Nations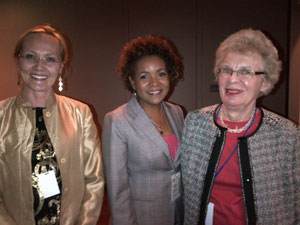 Professor Erika Simpson organized three large panels at the United Nations (UN) in New York City between May 5-10, 2014 during the 3rd Preparatory Committee Meeting of the Nuclear Non-Proliferation Treaty Review Conference. She chaired a panel on an Arctic Nuclear Weapon Free Zone (NWFA) featuring UN Diplomats, Members of Parliament and NGO representatives, and met with various UN officials to spearhead the proposal. She also chaired a panel on "NATO and the NPT: Implications of Alliance Membership for the NPT" which was well attended by U.S. State Department officials along with Diplomats from the UN due in part to the panel speakers, two well known, retired Ambassadors along with two NGO representatives who are active on opposing NATO's tactical nuclear weapons in Europe. Lastly she chaired a panel and spoke at the final session co-sponsored by Canadian Pugwash and Western University on "New Ideas and Initiatives". The final panel also featured the President of the Global Security Institute, Jonathan Granoff and Mike Simpson, (Director of the Canadian Centre for Sustainable Development and Co-Director of the Integral Development Team). Due to the success of these three panels she is now preparing a similar model for next year's important 2015 NPT Review Conference meetings that will be held at the UN in New York City.

As part of the promotion of the Arctic NWFZ concept, Professor Erika Simpson co-authored an op ed with Senator Romeo Dallaire, Freezing out the Nukes which appeared in various Canadian and local newspapers during the Preparatory Committee meetings. The op ed received a lot of attention from Diplomats due to Senator Dallaire's stature at the UN as the Lieutenant-General in charge of UN forces during the Rwandan genocide.

She also chaired the final afternoon of an exciting simulation with 35 university students from Germany. They spent two days negotiating the final session of a simulated negotiation for a Nuclear Weapons Convention and had travelled from two universities in Germany to NYC as part of a simulation organized by Regina Hagen, International Network of Engineers and Scientists Against Nuclear Proliferation, Germany. Professor Simpson pretended to be a ruthless and then accommodating Chair of the final session, which ultimately ended in a bare majority vote in favour of establishing a NWC during a future international crisis at the NPT. For more information, contact Regina Hagen through INESNW or the University of Hamburg and the Darmstadt Technical University.
---

Professor Erika Simpson spoke on the threat of global nuclear and biological proliferation at the Kingston Annual Conference held from May 10-13, 2014. This year's conference theme concerned CBRNe (Chemical/Biological/Radiological/Nuclear/explosive) threats and was attended by approximately 210 Officers in the Canadian Forces, Ambassadors, Academics and invited experts on emergency management from all over North America. 
---
Robert Waterman - New Article
Robert Waterman, PhD Candidate, has recently published an article entitled: "Authorithy Migration and Accountability in Canadian Public Governance" in the Canadian Journal of Political Science. The article discusses the formal acccountability rules when Government delegates decision-making responsibility. Robert is supervised by Professor Anderson. Congratulations, Rob! 
---
Dana Gold - Recipient of the 2014 Kimmerling Prize
Dana Gold, PhD Candidate, has been awarded the 2014 Kimmerling Prize by the Association for Israel Studies (AIS) for the best paper presented by a graduate student at the 2013 annual meeting. Her paper,"The Politics of Emotion: A Case Study of the Israeli-Palestinian Conflict," was presented at the University of California, Los Angeles (UCLA) in June 2013. This award honours the memory of Baruch Kimmerling, a leading public intellectual and sociologist in Israel. 
---
Professor Ferguson - Recipient of the 2014 University Student Council Award of Excellence
Peter Ferguson was recently recognized for his passion and dedication to engage and inspire undergraduate students in the classroom. He is one of four people who received this award from more than 200 instructors nominated from every faculty and affiliated college. Congratulations Peter! 
---
PhD Candidate Zheger Hassan and Professor Adam Harmes traveled to the Kurdistan region of Iraq to conduct research on the recent Iraqi national parliamentary elections. Zheger Hassan is researching 'de facto states' with a particular focus on Iraqi Kurdistan, a politically autonomous region in northern Iraq. Adam Harmes is researching post-conflict elections and campaigns. During the research trip, they traveled with a parliamentary candidate, attended political rallies and meetings and visited the Syrian refugee camp.
---
Dr. Alison Braley-Rattai appointed as Assistant Professor
We are pleased and proud to announce that Dr. Alison Braley-Rattai (PhD 2012) is taking up a renewable 3-year appointment as an Assistant Professor in the Department of Political Science at the University of Toronto Scarborough. She will teach, conduct research, and develop the new Public Law program. Alison's doctoral work at Western was supervised by Professor Richard Vernon. Congratulations, Alison!
---

Professor Abelson gave two presentations recently at Blanquerna - School of Communications and International Relations, Ramon Llull University, Barcelona, Spain.
The first was entitled, "A World of their Own: Think Tanks and World Politics," delivered on April 24, 2014. 
The second was entitled, "The Role of Think Tanks in International Relations: A View from North America," delivered on April 25, 2014.
---

Professor Simpson - Opinion Column
Forgotten Amid the Cheering
Many people in Southwestern Ontario cheered when General Dynamics Land Systems in London  scored a contract worth $10 billion to $13 billion to build armoured vehicles for Saudi Arabia, directly creating about 3,000 new jobs in economically hard-hit London. [Read More]
---
Professor Biswas Mellamphy - Interviewed on the State, Surveillance and Security
Professor Biswas Mellamphy was interviewed by Peninsula News on the lecture she gave for the Contemporary Studies Department at the University of King's College, Dalhousie University on March 21, 2014 titled "The New 'P.R.': Posthuman Rationality in War, Cognition and Culture."  She discussed ideas of politics, technology and emerging digital frameworks that collect, record and archive data.
---

Professor Abelson – Presentation at IMT Institute for Advanced Studies
Professor Abelson gave a presentation entitled, "Policy Research, Political Advocacy and the Future of American Think Tanks," at IMT Institute for Advanced Studies in Lucca, Italy on March 27, 2014.
---
Professor Trisko Darden Interviewed on Flight 370, State Capacity, and Regional Cooperation in the Asia-Pacific
The International search prompted by the disappearance of Malaysian Airlines Flight 370 has underscored the importance of cooperation within the Asia-Pacific region. Professor Trisko Darden highlighted the challenges facing the search in The Washington Post's The Monkey Cage Blog. She has appeared on BBC Radio 4's The World This Weekend (3/23) and BBC Radio 5's Up All Night (3/22), as well as The Today Show (3/23), to discuss state capacity and regional cooperation amongst the participating countries. More recently, she was interviewed by the Wall Street Journal (3/25) on why some of China's neighbours might be suspicious of its motives in joining the search.
---
Professor Dimitrov - UN Climate Conference
Professor Rado Dimitrov is attending the UN Climate Change Conference in Bonn, Germany (March 10-14). He is conducting research on persuasion and negotiating strategies in climate diplomacy.
---
Nandita Biswas Mellamphy has been invited as the annual guest speaker for the Contemporary Studies Program and Contemporary Studies Society students association at the University of King's College, Dalhousie University. Professor Biswas Mellamphy will present a public lecture on the topic of her next single-authored book project entitled The New 'P.R.': Posthuman Rationality in War, Cognition and Culture on March 21, 2014, followed by an intensive workshop on the topic of her next co-authored edited book (with Dan Mellamphy) called The Digital Dionysus: Nietzsche & The Network-centric Condition (forthcoming with Punctum Books) on March 22, 2014. 
---
Joseph Lyons - Dissertation Defense
Joseph successfully completed his PhD, "Structural Variation and Local Service Delivery", supervised by Dr. Robert Young.  Congratulations Joe!
---

First Annual Conference on Gender and Global Change
Three members of the Political Science Department were invited to give panel presentations at Western's first annual "Women In House" conference on Gender and Global Change, which took place on Saturday, March 1st 2014. The conference was conceived to generate inter-departmental collaboration and sharing between students and faculty on gender analysis in discussions of the global. Dr. Veronica Schild gave a presentation on feminist struggles for social justice in Latin America; Dr. Jennifer Mustapha spoke on the contributions of feminist and gender approaches to International Relations and the gendered insecurities that arise in the War on Terror ; and Dr. Dan Bousfield presented on the gendered nature of labour exploitation in virtual (online) economies. 
---
David Hoogenboom - Dissertation Defense
David successfully completed his PhD, "Theorizing 'Transitional Justice'", supervised by Dr. Joanna Quinn.  Congratulations David!
---
Robert Maciel - Dissertation Defense
Robert successfully completed his PhD, "Rooted Cosmopolitian", supervised by Dr. Charles Jones.  Congratulations Robert!
---

Professor Abelson recent presentation to the 2014 Manning Networking Conference, Ottawa, February 28, 2014 entitled: "Ideas, Influence and Public Policy: Think Tanks in Canada and the United States."
---

Postsandinismo: Crónica de un Diálogo Intergeneracional e Interpretación del Pensamiento Político de la Generación XXI (2013).
This book offers an interpretation of the political ideas and aspirations of Nicaraguan youth. It was published by the Central American.

Professor Perez comments on the release of his new book in a television interview with Confidencial. 
Conexiones Fortaleciendo el periodismo nicaraguense provides a commentary on Professor Perez's new book. 
---

Professor Simpson - Opinion Column
The Poor Man's Nuclear Bomb
If terrorists used biological weapons at the Sochi Olympics, hospitals and emergency wards around the world could not cope. The 1918 flu pandemic killed millions of people in a year — no infection, war or famine has killed so many in as short a time — but the risks of biological weapons are higher. Hospitals worldwide could be overwhelmed if there were a biological attack on athletes and spectators attending the Olympics who then head home on public transportation networks.  Read More
---

Professor Ferguson has been awarded a three year fellowship in the newly created Teaching Fellows Program at Western. He is working collaboratively with librarians to design better learning activities to help students develop information literacy.
---
Tim Cobban's Book Makes Top 100
We are pleased to announce that Dr. Tim Cobban's book, Cities of Oil, made Ottawa's Hill Times list for the top 100 books in Politics, Public Policy, and History for 2013. Congratulations, Tim!
---

Dana, PhD Candidate, recently accepted as a Fellow for the Scholars for Peace in the Middle East (SPME). She will be representing SPME as a fellow over the next year by engaging in dialogue with other scholars on issues in the Middle East. She will also be presenting her research at the upcoming MPSA conference in Chicago and CPSA conference in St. Catherines.
---
SSSC Leadership Award Winners 2014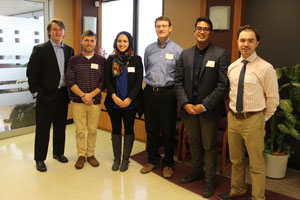 We are proud to announce 5 of the 11 Social Science Students' Council Leadership Awards were awarded to Political Science undergraduate students.  Students are selected based on their demonstrated leadership and participation in extra-curricular activities on campus and/or the local, national, and international levels while maintaining a minimum 70% average.  Congratulations to all!
---
In a live interview on CBC Morning North, Tuesday January 28, Professor Marta Dyczok comments on the resignation of Ukraine's Prime Minister.
---
Professor Simpson - Recently Published Article in The London Free Press, 2014.
Professor Simpsoon comments on the reign of Kim Jong-Un in North Korea entitled: "A January Chill from the North".
---
"Old World, New World: The Evolution and Influence of Foreign Affairs Think Tanks," appears in  the 90th anniversary volume of International Affairs (UK).  The article explores the rise and transformation of foreign affairs think tanks in North America and Europe since the late nineteenth and early twentieth centuries, and highlights the extent to which a handful of think tanks have become important fixtures in the policy-making community. 
---
Professor Jessica Trisko Darden – New Article
Professor Jessica Trisko Darden and Izabela Steflja recently published an article, "Making Civilian Casualties Count: Approaches to Documenting the Human Cost of War" in the December print edition of the journal, Human Rights Review 14(4): 347-366.  In this article they contend that the dominant definition of "civilian casualty" should be expanded to include the full array of harm inflicted on individuals, including psychological harm and what they refer to as multiple casualties of conflict.  Expanding the definition of civilian casualties to include different degrees and kinds of wartime victimization would improve both documentation and analysis.  They propose several areas for improvement in terms of the documentation of civilian casualties as well as potential solutions to the problems they identify.
---
In a live interview on CBC The Current, Friday 6 December, Professor Marta Dyczok comments on the wider causes of the continuing protests in Ukraine and Canada's role. 
---
Professor Jessica Trisko Darden – Guest Post on Global Politics Blog
ForeignPolicy.com has published a guest post written by Professor Jessica Trisko Darden on Russia's foreign relations entitled "What Does Miss Universe 2013 Tell Us About World Politics in 2013?
---
Lucas Savino - Dissertation Defense
Lucas successfully completed his PhD, "The quest for territorial autonomy: Mapuche political identities under neoliberal multiculturalism in Argentina", supervised by Dr. Veronica Schild.  Congratulations Lucas!
---
Cameron Harrington - Dissertation Defense
Cameron Harrington successfully completed his PhD, "Fluid Identities: Toward a Critical Security of Water" supervised by Dr. Erika Simpson.  Congratulations Cameron!
---