2013 Archived News

Professor Simpson - Recently Published Articles in The London Free Press
---
Professor Jessica Trisko Darden – New Article
Professor Jessica Trisko Darden and Izabela Steflja recently published an article, "Making Civilian Casualties Count: Approaches to Documenting the Human Cost of War" in the December print edition of the journal, Human Rights Review 14(4): 347-366.  In this article they contend that the dominant definition of "civilian casualty" should be expanded to include the full array of harm inflicted on individuals, including psychological harm and what they refer to as multiple casualties of conflict.  Expanding the definition of civilian casualties to include different degrees and kinds of wartime victimization would improve both documentation and analysis.  They propose several areas for improvement in terms of the documentation of civilian casualties as well as potential solutions to the problems they identify.
---
Professor Marta Dyczok – CBC The Current
In a live interview on CBC The Current, Friday 6 December, Professor Marta Dyczok comments on the wider causes of the continuing protests in Ukraine and Canada's role.
---
Lucas Savino - Dissertation Defense
Lucas successfully completed his PhD, "The quest for territorial autonomy: Mapuche political identities under neoliberal multiculturalism in Argentina", supervised by Dr. Veronica Schild.  Congratulations Lucas!
---
Cameron Harrington - Dissertation Defense
Cameron Harrington successfully completed his PhD, "Fluid Identities: Toward a Critical Security of Water" supervised by Dr. Erika Simpson.  Congratulations Cameron!
---
Zachary Spicer and John L. Nater – New Article
"Legislative Dissent without Reprisal? An Alternative View of Speaker Selection," The Journal of Legislative Studies, 19(4):  505-525.  Very little research has been devoted to examining the nature of Speaker selection in legislatures. This article attempts to provide a new perspective in which future research could examine the election of Speakers. A collective action perspective is put forward, which sees three groups of actors execute separate strategies to reach their own ends: the backbench, the executive and the opposition. These factors are tested on the Speaker selection exercises in the Ontario legislature. In the case study, it was found that the executive rarely gets their choice of Speaker, and three factors identified in the legislative dissent literature are utilised to examine these private acts of dissent: party popularity, cabinet size and the percentage of new legislators entering the party at each legislative term. It was found that the Speaker selection process involves three groups, each with their own preference order in decision-making.
---
Professor Vuk Radmilovic – New Article
"Governmental Interventions and Judicial Decision Making:  The Supreme Court of Canada in the Age of the Charter" in the Canadian Journal of Political Science 46:2 (June/Juin): 323-344.  The paper analyzes the extent to which governmental mobilization through third-party intervention affects the Supreme Court's decision making. It relies on a dataset of all constitutional rights cases involving review of written laws decided by the Court in the post-charter period (1982–2007). It shows that third-party intervention is a powerful institutional mechanism providing governmental actors with an opportunity to systematically affect the exercise of judicial review.
---
Professor Martin Horak - New Article
Professor Horak recently published an article entitled, "State rescaling in practice:  urban governance reform in Toronto" in the journal, Urban Research and Practice 6(3):  311-328.  The paper presents an inductive, historical, and agent-centered account of governance reform in Toronto. It finds that while state rescaling often originates as a response to the policy challenges arising from social change, economic restructuring, and urban growth, actual rescaling practices are shaped by a variety of locally contingent institutional and political factors. It also argues that in recent years, the long-standing practice of jurisdictional rescaling, which involves comprehensive scalar shifts in governing authority, has largely been replaced by task-specific rescaling, characterized by problem-driven initiatives to mobilize governing authority across multiple governing scales. The paper discusses the causes and the broader implications of this shift. 
---
Professor John McDougall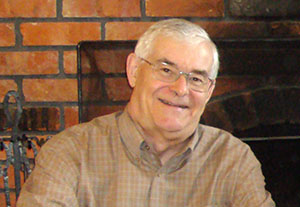 On 22 October 2013, John Norman McDougall passed away at the London Health Sciences Centre as the result of complications caused by cancer.  Professor John McDougall was a stalwart member of the Department of Political Science at The University of Western Ontario since 1974.  He taught international relations to generations of students, specializing in political economy.  He was the author of three books:  Fuels and the National Policy (1982), The Politics and Economics of Eric Kierans (1993), and Drifting Together:  The Political Economy of Canada - U.S. Integration (2006).  He will be sorely missed by his many Western friends, especially at the Grad Club on Friday afternoons.  Son of the late Fred Watling McDougall and Doris Mary (Gaskarth) McDougall, John was born in Edmonton on 17 July 1945.  He was a graduate of the University of Calgary, the London School of Economics, and the University of Alberta.  He is survived by his brother Fred William McDougall, sister-in-law Gail, niece Nancy (Darren Kirkpatrick), nephew Ian, and grand-nephews Tom and Matthew Kirkpatrick, all of Edmonton.  He is also survived by his former wife, Valerie Swinton.  John's remains have been cremated and will be buried at a later date by the family beside the grave of his mother.  An event at Western to celebrate John's life will be announced in due course.  Donations in his memory to any charity or educational institution are gratefully appreciated.
---
"Canadian Foreign Policy in an Era of New Constitutionalism," American Review of Canadian Studies, 43:3 (2013). The article reassesses Canada's role in the global economic crisis through a historical framework, outlining the significance of geopolitical position in Canadian trade policy. Drawing on insights from International Political Economy and analyses of Canadian Foreign Policy, the article highlights how support for global economic discipline may have lasting implications for the Canadian state.
---
Professor Nandita Biswas Mellamphy has been invited to join the faculty of the Global Center for Advanced Studies, the first ever program of its kind, which will unite a global student body with the best of today's luminaries in a network of locations around the world.
---
Marta Dyczok was at the Holocaust Museum in Washington DC for a 2 week workshop on Landscapes of the Uprooted this summer. An international group of scholars from Britain, Germany, Czech Republic, Poland, Israel, the US and Canada discussed the history of over 30 million people displaced by the Holocaust and World War II. The workshop concluded a public presentation on 23 August.
---
Professor Westmacott's Retirement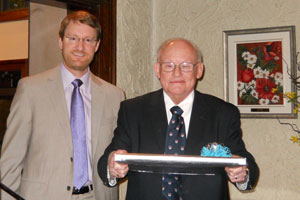 The Department of Political Science celebrated the retirement of Professor Marty Westmacott. The event took place at Windermere Manor and was attended by a large group of staff, faculty members from Political Science and beyond, and the Westmacott family, including Marty's wife, Penny, who is also retiring from Western after many years of service. The size of the group was a testament to the respect and love we all have for Marty. We heard a series of heartfelt remarks from the Dean of Social Science, Brian Timney, and four of our Departmental colleagues, Andy Sancton, Richard Vernon, Laura Stephenson, and Charles Jones, Department Chair. The evening ended with a gracious speech by Marty himself. Marty is part of the identity of our Department. For 43 years he was a highly valued Department member, serving as the Chair of Political Science and as Associate Dean of the Faculty of Social Science. But perhaps Marty's greatest contribution was in the classroom: he is an exemplary teacher. He has an enduring concern for students, enthusiasm for teaching, and unparalleled expertise in Canadian politics. Marty is a living legend: if you walk around the Department of Political Science, you will see on the wall a plaque with the names of winners of the Martin Westmacott Award, given to the Political Science Honors student who improves the most from the beginning to the end of their studies in our Department and shows determination and perseverance in the process. And you might have studied in the Martin W. Westmacott Political Science Resource Room. Marty Westmacott is irreplaceable. We were privileged to work with him and we wish him and Penny all the best for a healthy and happy retirement.
---
Barnard Scholars Visit Mrs. Barnard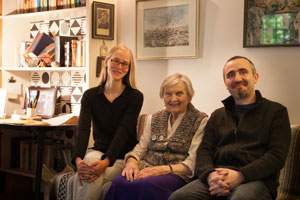 On August 14 & 15, 2013, Barnard Scholars, Attila Ataner and Friderike Spang visited Mrs. Margot Barnard at her home on the Bruce Peninsula. Mrs. Barnard generously endowed scholarship awards in political philosophy, in memory of her husband, Frederick M. Barnard, who taught at Western from 1970 until his retirement in 1986 and published distinguished work in the history of political thought and contemporary political theory. Attila Ataner, a graduate of McGill and the University of Toronto Law School, is in his second year of doctoral study in Philosophy; Friderike Spang, a graduate of the Goethe University, Frankfurt-am-Main, is beginning her doctoral work in Politics this year.
---

Professor Tim Cobban - New Book
Cities of Oil: Municipalities and Petroleum Manufacturing in Southern Ontario, 1860–1960 is the first sustained historical account of the development of the early Canadian petroleum refining and manufacturing industry. 
---
Professor Mustapha published an article in the first issue of the new journal "Critical Studies on Security," and demonstrates the nuances of the critical security studies literature and argues for the benefits of employing a (modified) post-structuralist approach to security.
---
Professor Trisko Darden - New Article
"Making Civilian Casualties Count: Approaches to Documenting the Human Cost of War," Human Rights Review (2013.The article explores the competing interests and actors involved in generating data on civilian casualties of war. The authors call for a more expansive definition of casualty while concurrently arguing for a more precise definition of civilians in wartime contexts. In conclusion, the article offers innovative recommendations for the integration of independent media such as Twitter and YouTube into current data collection efforts.
---
Professor Biswas Mellamphy - International Jury at IARCH
Professor Nandita Biswas Mellamphy has been invited to serve on an international jury launched by the International Competitions in Architecture (IARCH). The competition theme focuses on the socio-political implications of consumerism for architecture and architectural theory.
---
Professor Dimitrov Invited Lecture at the United Nations, Japan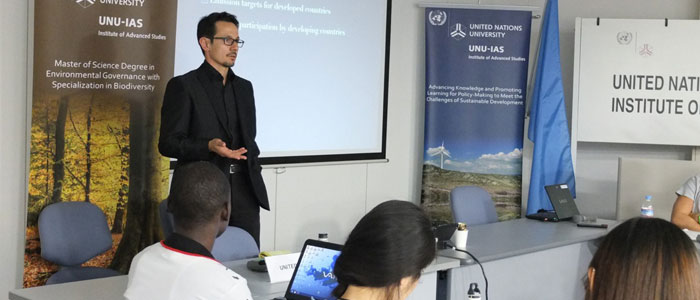 Professor Radoslav Dimitrov taught at the United Nations University in Tokyo, Japan in July 2013. He was invited to lecture on global climate politics and conduct a simulation of UN climate change negotiations for faculty members and graduate students.
---
Cameron Harrington - New Article
Cameron Harrington recently wrote an article published by the Oxford Research Group. The article, "Environmental security in the Arctic: The 'Great Game' vs. sustainable security" calls for a reframing of Arctic security.
---
Zachary Spicer Awarded Post-Doctoral Fellowship at the Munk School of Global Affairs
We are pleased to report that Zachary Spicer has just learned that he has been awarded the post-doctoral fellowship offered annually by the Institute for Municipal on Finance and Governance (IMFG) at the Munk School of Global Affairs, University of Toronto. The same fellowship was previously held by Aaron Moore (PhD, Western, 2009).
---
Zachary Spicer - Dissertation Defense
Zachary successfully completed his PhD, "Regional Organization and the Dynamics of Inter-Municipal Cooperation."  Thanks to his supervisor Dr. Andrew Sancton as well.
---
Professors Cameron Anderson and Laura Stephenson win CPSA Best Poster Prize
At the annual CPSA dinner on June 5th, it was announced that Cameron Anderson and Laura Stephenson were the winners of the Best Poster at this year's CPSA conference. The poster's title is 'Political Discussion Networks and Political Activities in Canada'.
---
Gabe Eidelman wins Vincent Lemieux Prize
We are happy to announce that Gabe Eidelman, who is a SSHRC Postdoctoral Fellow in our Department, has won the CPSA's Vincent Lemieux Prize for best PhD thesis in any sub-field of political science, in English or French, submitted in 2011 or 2012.
---
Michael McGregor gets position at Bishop's University
We are happy to pass along the news that our recent graduate, Michael McGregor, has accepted a one-year position at Bishop's University.
---
Cameron Harrington - Won the prestigious ISA Canada Student Paper Prize 2013
Our PhD candidate, Cameron Harrington, has been awarded the prestigious "International Studies Association-Canada Student Paper Prize." The prize, given to the best paper presented by a Canadian student, was awarded in San Francisco, USA, on April 3, 2013. Cameron's paper, titled "Toward a Critical Water Security: Hydrosolidarity and Emancipation," will be published in an upcoming issue of Canadian Journal of Foreign Policy. Cameron is supervised by Professor Erika Simpson.
---
Professor Simpson - Published an Article on Terrorism in The London Free Press April 5
No Easy Answers Why Some Choose Terrorism, But Still We're Not Helpless
---
Four New Publications - Canadian Political Science Students' Association's Journal
Four undergraduate students from the Department of Political Science have been published in the Canadian Political Science Students' Association's Journal.
Rishita Apsani - "South-South Solidarity or Neo-imperialism? A Critical Approach to China in Africa"
Phil Henderson - "The Fight to Regain Indigenous Self-Determination in Canada"
Colin Baulke - "The Last Real Tyrant of the 20th Century: An Investigation into American Imperialism, Just War Theory and International Intervention"
Connor Scott - "Facilitating Radical Democracy and Political Change in the Age of the Internet"
Read their submissions on the CPSSA Website.
---
Professor Jennifer Mustapha: New Publication
Jennifer Mustapha's latest research has recently been published. It is entitled, 'The Mujahideen in Bosnia: the foreign fighter as cosmopolitan citizen and/or terrorist', Citizenship Studies 17 (2013).
---
Professor Marta Dyczok - Conference at Columbia University

Left to Right: Shevchuk (Columbia), Ryabinska (Warsaw), Dyczok (Western University), Grynko (NaUKMA), Pavlova (Geneva).
Professor Marta Dyczok just returned from Columbia University, New York City, where she presented a paper, "Ukraine's Media in the Context of Global Cultural Convergence", at an international conference she co-organized, "Braking' News: Censorship, Media, and Ukraine", February 21-22, 2013.
---
Professor Marta Dyczok - New Article
Open Democracy published Professor Marta Dyczok's article about the conflict between developers and activist protecting historical monuments in Ukraine, February 20.
---
Sarah Hannan - Assistant Professor
Sarah Hannan (BA 2006, MA 2007) has been appointed to a tenure-track position in political theory at the University of Manitoba. Sarah wrote her MA thesis on "Children and Cultural Rights", and continued her work on the political theory of childhood at Oxford, where she held a Commonwealth Scholarship. After completing her DPhil she won a postdoctoral fellowship at Stanford. The political theory position at Manitoba is one of only three such positions available in Canada in 2012-13.
---
Professor Nandita Biswas Mellamphy - Contributor in New Book
Political Approaches to Apps: Professor Nandita Biswas Mellamphy is one of the contributors, along with such figures as Ray Kurzweil, in an anthology being published by M.I.T. Press devoted to the socio-political and techno-theoretical investigation of apps: The Imaginary App.
---
Tom Deligiannis: New Publication
Tom Deligiannis's latest research has been published. It is entitled, 'The Evolution of Qualitative Environment-Conflict Research: Moving Toward Consensus,' in Rita Floyd and Richard Matthews (eds.), Environmental Security: Approaches and Issues (New York: Routledge: 2013). Congratulations Tom!
---
David Beitelman's First Publication
We're happy to announce that David Beitelman (MA 2010) has just published his first scholarly article. David is currently a doctoral candidate in Political Science at Dalhousie University and a Doctoral Fellow at the Centre for Foreign Policy Studies at Dal. His paper, 'America's Pacific Pivot', appeared in International Journal, Volume 7, Issue 4, Autumn 2012. Congratulations, Dave!
---
Canadian Political Science Students' Association, (CPSSA), Conference 2013

Photo (Left to Right): Patrick Sackville, Jack Litchfield, Jessica Chambers, Monica Kozycz, Clara Bartlett, Marisa Breeze, Mike McGregor and Wesley Tenneson.
Members of the Political Science Association, (PSA) attended the CPSSA Conference in British Columbia in January 2013 at the University of British Columbia. The theme of the Conference was Multiculturalism and Immigration, and featured talks by academics, politicians and students. They were successful in their bid to host the next CPSSA 2014 Conference at The University of Western Ontario. Third year student, Mike McGregor, was chosen to become the Conference Director. Congratulations to the PSA Team!
---
Nietzsche Workshop @ Western 2013
Professor Biswas Mellamphy and Dr. Dan Mellamphy will be presenting the fourth annual Nietzsche Workshop entitled: "Cyber-Nietzsche: Tunnels, Tightropes and Net-&-Meshworks" at the New School on April 13.
---
Social Science Students' Council Leadership Awards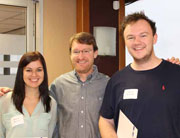 Photo (Left to Right): Monica Kozycz, Professor Charles Jones (Chair), Patrick Sackville.
We are pleased to announce that two Honors Political Science students have won this year's Social Science Students' Council Leadership Awards. Congratulations to Monica Kozycz and Patrick Sackville for their impressive contributions to student life at Western. Monica and Patrick are Co-Presidents of the Political Science Association, but their achievements include mentoring and community activities beyond the Department as well. Congratulations to Monica and Patrick!
---
Professor Marta Dyczok - Article in the Kyiv Post
Professor Dyczok's op ed on recent developments in Ukraine through the prism of Hostynnyi Dvir was published in The Kyiv Post entitled "Hostynny Dvir: A microcosm of Ukraine."
---