2011 Archived News

Milestones of our Graduates - Stephanie Vieille - PhD Thesis Defence
Stephanie Vieille successfully defended her PhD thesis, "Rethinking Justice in Transitional Justice: An Examination of the Mãori Conception and Customary Mechanism of Justice." Congratulations Stephanie, and thanks to supervisor, Dr. Joanna Quinn.
---
Professor Dimitrov - Invited Lecture
Professor Radoslav Dimitrov was invited to lecture at the London School of Economics and the Grantham Research Institute of Sir Nicholas Stern. He presented his assessment of global climate policy and research on persuasion in world politics.
---
Professor Radoslav Dimitrov - UN Climate Negotiations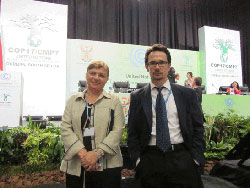 Professor Radoslav Dimitrov participated in the UN Climate Negotiations in South Africa, on the delegation of the European Union. Seen here with Daniela Stoycheva, a former mediator of the negotiations. 
---
Professor Marta Dyczok - Cambridge University Workshop
Professor Marta Dyczok co-organized and spoke at the Cambridge University Workshop, "Independent Ukraine, Twenty Years On".
---
Professor Dyczok - Harvard University Symposium
Professor Dyczok organized and spoke at a symposium on her new research project; the Politics of Memory and Media at Harvard University on November 30. 
---
Professor Dyczok - Invited Lecture
Professor Dyczok has been invited to give a lecture on her research, The Politics of History, at The Harriman Institute, Columbia University.
---
Milestones of our Students - Awards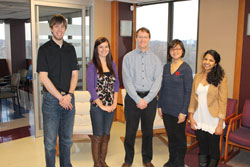 Congratulations to the following award winners (from left to right): Andre Wilkie - Gracey Family Continuing Scholarship, Monica Kozycz - Andrew Grant Scholarship in Political Science, Dr. Charles Jones, Chair, Department of Political Science, Kimberly Cura - Andrew Barnes Memorial Award in Political Science, Keishia Fernandopulle - Andrew Grant Scholarship in Political Science, and Philip Henderson - John A. McNee Award in Political Science (not in picture).
---
Bruce Morrison - New Article
Dr. Bruce Morrison has just published an article in the prestigious journal, World Politics. The article is entitled: "Channelling the 'Restless Spirit of Innovation'": Elite Concessions and Institutional Change in the British Reform Act of 1832". Congratulations, Bruce, on publishing this fine and nuanced paper. 
---
Milestones of our Graduates - Asim Ali's Research Fellowship
Asim Ali, a doctoral candidate in our Department, is a holder of 2011-2012 Research Fellowship for Sovereign Wealth Fund Initiative, (SWFI), at the Fletcher School, Tufts University. "The Sovereign Wealth Fund Initiative (SWFI) Affiliates program gathers a global group of scholars exploring key issues in sovereign wealth and long-term asset management. They are affiliated with the SWFI for one academic year and contribute to the body of research and publications generated by SWFI each year." Well done, Asim!
---
Sarah Hannan's Doctorate
We are pleased to announce that one of our finest graduates, Sarah Hannan (BA 06, MA 07), has completed her D.Phil. at the University of Oxford, successfully defending a thesis entitled: "Balancing Parental Authority and Children's Rights: A Role-Based Solution." Sarah is now a Post-Doctoral Fellow at the Stanford Center for Ethics in Society where she will be working on a Spencer Foundation project on equality of opportunity in education. Congratulations Sarah! 
---
Professor Caroline Dick - New Book

Professor Caroline Dick has published a new book entitled "The Perils of Identity: Group Rights and the Politics of Intragroup Difference" (UBC Press 2011). The book which assesses how philosophical treatments of identity-based rights claims work to suppress respect for difference in the legal realm, has been described as a work that "significantly advances the debate around multiculturalism and group rights, some of the most pressing issues of our time." Congratulations Caroline!
---
Gordon McBean Named President-Elect of the ICSU
We are pleased to announce that Professor Gordon McBean has been named President-Elect of the International Council for Science. Gordon will assume the presidency of the ICSU in 2014.  Professor McBean is an expert on climate change and catastrophic loss reduction. His important work includes a leading role in the Intergovernmental panel on Climate Change. The ICSU is a non-governmental organization with a global membership of national scientific bodies (121 members representing 141 countries) and International Scientific Unions (30 members). ICSU's activities focus on three areas: planning and coordinating research; science for policy; and strengthening the universality of science. Its mission is to strengthen International science for the benefit of society. Congratulations, Gordon, on your fine achievement.
---
Professor Salim Mansur - New Book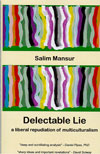 Professor Salim Mansur has just published a new book, Delectable Lie: A Liberal Repudiation of Multiculturalism (Mantua Books, 2011).
"Professor Salim Mansur is a man of exceptional courage, powerful insight, and possessed of both a delightful and engergetic prose style" - Rex Murphy, "the Point of View" on CBC The National and host of CBC Radio One, Cross Country Checkup.
"Canada led the Western world into the multicultural mire in 1988, ironically under a conservative government. Salim Mansur's deep and scintillating analysis should help the country out of this illiberal and unfortunate policy." Daniel Pipes, PhD President of the Middle East Forum and Taube distinguished fellow at the Hoover Institution of Stanford University.
"Clear thinkers are rare, and so are powerful polemicists. Courageous human beings are rarer still, but the rarest of all is to find the three combined in one person. Meet Salim Mansur". George Jonas, author and columnist for the National Post.
---
Dr. Bruce Morrison - Conferences
Dr. Morrison presented work in September before the Boston Area Research Workshop on History, Institutions, and Politics at Harvard University.
---
Professor Marta Dyczok - Award Winner
Dr. Dyczok has been awarded a Eugene and Daymel Shklar Research Fellowship at the Ukrainian Research Institute, Harvard University, for the autumn semester.
---
Professor Marta Dyczok - Presentation
On September 19, 2011
Marta Dyczok
participated in a
Mini Symposium
on Independent Ukraine 1991 to 2011.
---
Milestones of our Graduates - Aaron Moore 
We are pleased to announce that Aaron, (PhD 2009), is the 2011-12 holder of the Institute of Municipal Financial and Governance, (IMFG), Postdoctoral Fellowship, Munk School of Global Affairs, University of Toronto. Aaron will be extending his current research into city planner's influence on planning policy and the politics of urban development. Congratulations, Aaron!
---
Dr. Veronica Schild - Award and Conferences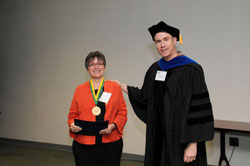 Professor Veronica Schild receiving her award from Professor Theodore J. Kinnaman, Chair of the Department of Philosophy, George Mason University, Fairfax, Virginia. May 2011. Dr. Schild received the "2011 Alumna of the Year Award" from the Department of Philosophy, George Mason University, Fairfax, Virginia. Congratulations Veronica!
---
Dr. Schild - Conference Presentations
Dr. Schild also presented these 2 papers at the following conferences:
"Las mujeres pobres y el feminismo en la construcción de un nuevo estado de "cuidado' en América Latina." Posgrado en Estudios de la Mujer, Universidad de Costa Rica, San José, Costa Rica. May 2011.
"Las mujeres pobres y la familia en la configuración de un estado neoliberal de "cuidado': Reflectiones críticas sobre una década de relaciones feministas con el estado." Encuentro Mesoamericano de Estudios de Género y Feminismos: Avances y retos de una década, 2001-2011, Guatemala City, Guatemala, May 2011.
---
Milestones of our Graduate - Eric Sayers
Eric Sayers completed his BA and MA in Political Science at The University of Western Ontario under the supervision of Dr. Don Abelson. He was recently chosen by the Diplomatic Courier and Young Professionals in Foreign Policy in the Fall issue as one of the "Top Most Influential Professionals under 33". Congratulations Eric!
---
Dr. Nandita Biswas Mellamphy - Conferences
Dr. Biswas Mellamphy has returned from Épineuil-le-Fleuriel, France, where she and Dr. Dan Mellamphy presented papers for the Ars Industrialis and Pharmakon.Fr societies at the invitation of French political philosopher Bernard Stiegler.
---
Professor Marta Dyczok's - Three Publications
The Wall Street Journal published Professor Marta Dyczok's op-ed. (The Ukrainian Blues (and Yellows). What's changed and what hasn't in the 20 years since independence.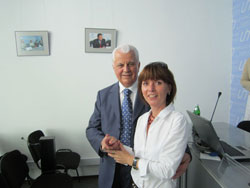 Professor Marta Dyczok's Meeting with Leonid Kravchuk, August 19, 2011. Professor Marta Dyczok recalls working as a journalist in Ukraine in 1991 and looks at how things have changed. She met with Ukraine's first President, Leonid Kravchuk, on August 19, 2011, exactly 20 years after the beginning of the August 1991 coup. Kravchuk was a key player in the events that brought down the USSR.
The Ukraine Watch published a blog on the arrest of the former Ukraine's Prime Minister.
---
Milestones of our Graduate - Aarti Patel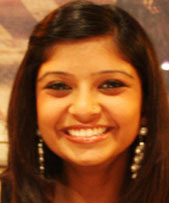 Ms. Aarti Patel, recent graduate of the Political Science Program, was awarded an internship position with the Canadian Embassy in Washington, DC. Congratulations Aarti!
---
Dr. Erika Simpson - Conferences
Dr. Erika Simpson has returned from conducting interviews at NATO headquarters in Brussels, Belgium, as part of a research project that is partly funded by the University of Western Ontario's Social Science Alumni Research Fund. She also presented a paper in Berlin at the 59th Pugwash Conference: European Contributions to Nuclear Disarmament & Conflict Resolution.
---
Social Science Award Winners
We are proud to announce the Political Science Graduating students who were presented with awards at this year's Faculty of Social Science Awards Ceremony on June 15, 2011. The Department is proud of these fine young minds and we wish them well in the future.
Bradley King, S.F. Glass Gold Medal, Honors Specialization in Political Science

Maria Ramirez Serrano, Gold Medal, Honors Major in Political Science

Tyler Marve, Gold Medal, Major in Political Science Arthur So, Martin W. Westmacott Award
---
Teaching at Xiamen University in China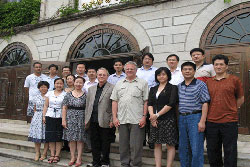 Drs. Bob Young and Andrew Sancton with students in front of the Xiamen's University of China June 2011. Drs. Bob Young and Andy Sancton taught courses on policy process and local government to part-time students in the MPA program at Xiamen University in China from May 30 to June 2, 2011. Their trip was funded by the Dr. David S. Chu Program in Public Administration, China.
---
Milestones of our Graduates - Scholarship Winners
Congratulations to our PhD candidates, who succeeded in the recent SSHRC and OGS competitions.
Amanda Vyce

won a SSHRC Doctoral Fellowship to support her research which will take an anti-colonial critical theoretical approach to examining indigenous resistance and collective action and the politics of decolonization in Canada.

Joe Lyons won an Ontario Graduate Scholarship on his research comparing the policy consequences of service delivery through municipal departments and local special purpose bodies.

Alison Braley won an OGS on her research on the moral and political status of children and parents and their rights.

Andrew Chater won an OGS on his research on the influence of epistemic communities on Canada's Arctic policy.

Incoming PhD candidates

Tamara Hinan

and Bojan Ratkovic have also won Ontario Graduate Scholarships.
Well done, Amanda, Joe, Alison, Andrew, Tamara and Bojan!
---
Scholarship Winner
We are proud to announce that one of our Honors students, Jennifer Ye Won Kim, has won a prestigious scholarship from the Korean Canadian Scholarship Foundation. The $2,500 prize recognizes outstanding scholastic achievement, community service, and leadership ability. The award was presented recently at a Gala event in Toronto at which Premier Dalton McGuinty was the keynote speaker. Congratulations, Jennifer!
---
Recipients of the Agnes Cole Dark Fund
Professors Adam Harmes and Pietro Pirani are the recipients of awards from the Agnes Cole Dark Fund for 2011-2012. This award provides funding for new research projects and the advancement of existing research projects.
---
Recipients of the Social Science Alumni Research Awards
The following faculty members have been awarded the Social Science Alumni Research Award for 2011-2012: Martin Horak, Erika Simpson, and Richard VandeWetering. This award provides funding for new and existing research projects, travel to external research facilities, and the dissemination of research findings.
---
Milestones of our Graduates - Appointed to a Tenure-Track Position
We are pleased to announce that, on July 1, 2011, Dr. Anna Esselment (PhD 2009) will be starting a tenure-track position in the Department of Political Science at the University of Waterloo. A strong department just got stronger, and we have another reason to be proud of our graduates. Congratulations, Anna!
---
Professor Donald Abelson - International Scholarly Activities
On May 12th, 2011 Donald Abelson was interviewed by L'Observatoire Français des Think Tanks in Paris on the role and influence of think tanks in the United States. His videotaped remarks were used as an introduction to a conference entitled, " à un an des présidentielles, quelle est la place des Think Tanks dans le débat public, en France et aux Etats-Unis?". The conference took place at Sciences Po.
On May 15th, 2011, Professor Abelson gave a presentation to the Israel Democracy Institute (IDI), a Jerusalem-based think tank at its International Conference entitled, "What Do Think Tanks Do?" His talk, "Think Again: How American Think Tanks Compete in the Marketplace of Ideas".
On May 18th, he gave a presentation to the Israeli Institute for Regional Foreign Policies in Tel Aviv. The presentation entitled, "Can the American Think Tank Experience be imported to Israel?" was sponsored by the Friedrich Ebert Stiftung.
---
Invitation to discuss Marshall McLuhan's Legacy
As part of the European centenary celebrations of the Canadian political media theorist Marshall McLuhan (McLuhan in Europe 2011), Dr. Nandita Biswas Mellamphy has been invited by the Canadian Embassy in Berlin and the German-Canadian Professionals Association to discuss McLuhan's legacy on May 27, 2011. For more information, visit the McLuhan in Europe 2011 // Berlin Centennial Weekend website.
---
New Book by Andy Sancton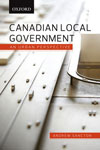 Professor Andy Sancton has just published a new book, Canadian Local Government: An Urban Perspective (Oxford University Press, 2011). It has been praised as "excellent, written at just the right level in a highly readable style." Oxford University Press accurately describes the book as "the essential text on municipal government in Canada." Congratulations on this fine achievement, Andy!
---
PSA Event: Lecture given by Mayor of London, Joe Fontana
The Political Science Association hosted the Mayor and former Liberal MP, Joe Fontana, who gave a lecture on March 29 at 7:00 pm, UCC 315.
---
Annual Reception for Faculty Authors
Dr. Nandita Biswas Mellamphy participated in the Bookstore at Western's Annual Reception for Faculty Authors on April 7th, 2011 at 7:00 pm. Dr. Biswas Mellamphy recently published her first book, 'The Three Stigmata of Friedrich Nietzsche: Political Physiology in the Age of Nihilism'. The Department congratulates Nandita on her achievement.
---
Milestones of our Graduates - Presented at the ISA Convention 2011
Asim Ali, a doctoral candidate in the Department of Political Science, delivered a paper entitled Sovereign Wealth Funds: International Political Economy of the Strategic State at the 2011-International Studies Association Convention on a panel on "Governing Financial Markets." The paper presented a typology of different Sovereign Wealth Funds --- developmentalist (Asian based); bureaucratic-authoritarian (Middle East based) ; free market (North American based), and social democratic (Norwegian based) --- and contended that these funds, in spite of being at the intersection of 'high finance and high politics', are primarily driven by domestic political considerations. Through a case study of the Government Linked Corporations (GLCs) and investment portfolios of two Asian SWFs - South Korea and Malaysia --the paper argued that the rise of SWFs represents a "strategic state" whose transformative capacity within global finance has important implications for "north-south" relations in the realm of economic development, international relations, and security. Sovereign wealth funds (SWFs) are funds controlled by sovereign governments that hold and manage foreign assets derived from current account surpluses or foreign currency reserves.
---
21st Century Leadership - A Contrarian View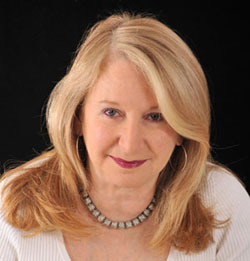 Dr. Barbara Kellerman gave a free public lecture about political leadership: "21st Century Leadership - A Contrarian View" on Tuesday, March 22, 2011 at 1:30 pm in room 146 of the University Community Centre (UCC). She is the James MacGregor Burns Lecturer in Public Leadership at Harvard University's John F. Kennedy School of Government. She is ranked by Forbes.com as among "Top 50 Business Thinkers" and by Leadership Excellence in the top 15 of 100 "best minds on leadership." Kellerman received her B.A. from Sarah Lawrence College, and her M.A., M.Phil., and Ph.D. degrees from Yale University. Recent books are Bad Leadership: What It Is, How It Happens, Why It Matters (2004); a co-edited volume on Women & Leadership: State of Play and Strategies for Change (2007); and Followership: How Followers are Creating Change and Changing Leaders (2008). Her talk is funded by the Social Science Student Donation, the Department of Political Science, the Faculty of Social Science, and the Visiting University Scholar Program, and is supported by the University Students' Council, the Society of Graduate Students, and the Western Caucus on Women's Issues.
---
Department Scholars - International Studies Association Annual Convention
Several faculty and students from the Department will present papers at the 2011 Annual Convention of the International Studies Association in Montreal, March 16-19:
Asim Ali, "Sovereign Wealth Funds: International Political Economy of the Strategic State"
Dan Bousfield, "Beyond Humanitarianism: A Gramscian Approach to Canadian Foreign Policy"
Dan Bousfield, "The International Relations of Social Networking: Memes, YouTube and Going Viral"
David Hoogenboom and Joanna Quinn, "Transitional Justice and the Diaspora: Examining the Impact of the Haitian Diaspora on the Haitian Truth Commission"
Joanna Quinn, "The Prospects for Customary Law in Transitional Justice: The Case of Fiji"
Laszlo Sarkany, "The Prosecutor of the International Criminal Court: From Rome to Kampala, and beyond"
---
Professor Stephenson - Major International Research Project
Dr. Laura Stephenson is part of a major international research project investigating the workings of electoral democracy, 'Making Electoral Democracy Work'. The study will examine twenty-seven elections in five countries. Follow the link for a story in the Western News about Professor Stephenson's role in the project. International study eyes democracy.
---
Canada-U.S. Institute to Host Ralph Nader
On March 15, 2011, Western's Canada-U.S. Institute hosted consumer advocate, lawyer, presidential candidate, and author Ralph Nader. Ralph Nader has been named by Time Magazine as one of the 100 "Most Influential Americans in the Twentieth Century." He gave a lecture "Canadian Independence: Salvation or Sacrifice to Canada-U.S. Relations" which was followed by a book signing.
---
Understanding Bentham

A video featuring Professor Doug Long talking about Bentham. While on Sabbatical last year Professor Long spent time at University College London (England) preparing selections from the manuscripts of Jeremy Bentham (1748-1832), the father of English utilitarianism, for publication.
---