2017 News Archive
Professor Salim Mansur - Receives Canada Senate 150th Anniversary Medal
Professor Mansur was awarded a Senate 150th Anniversary Medal for his work to promote interfaith understanding.  The award ceremony took place in the Senate Chamber, Parliament of Canada, on November 29 and was presided by the Honourable George J. Furey, Speaker of the Senate.  The award citation for Mansur noted, "Salim Mansur has done extensive work promoting interfaith understanding, particularly Jewish-Muslim reconciliation. An author, columnist and professor at Western University, he is a founding member of the board of directors for the Centre for Islamic Pluralism based in Washington, D.C."  The Senate 150th Anniversary Medal is intended to celebrate the achievements of Canadians who have made significant contributions to their community and commemorates the 150th anniversary of the first sitting of the Senate on November 6, 1867.
---
Abelson, Riddell-Dixon, Sabin – The Hill Times Top 100
Congratulations to the members of our Political Science family – Professor Don Abelson, Professor Emerita Elizabeth Riddell-Dixon, and Postdoctoral Fellow Jerald Sabin, who have books on The Hill Times List of 100 Best Books in 2017!
Breaking The Ice: Canada, Sovereignty, and the Arctic Extended Continental Shelf, by Elizabeth Riddell-Dixon, Dundurn, 343 pp., $28.99. Religion and Canadian Party Politics, edited by David Rayside, Jerald Sabin, and Paul E.J. Thomas, UBC Press, 384 pp., $89.95. Twenty-First Century Immigration to North America: Newcomers in Turbulent Times, edited by Victoria M. Esses and Donald E. Abelson, McGill-Queen's University Press, 338 pp., $34.95. 
---
Professor Don Abelson - New Book
Professor Abelson's book, Northern Lights: Exploring Canada's Think Tank Landscape, (McGill-Queen's University Press, 2016) has been translated into Simplified Chinese by the Shanghai Academy of Social Sciences Press. The book launch took place at the 2017 Shanghai Global Think Tank Forum on December 1, 2017. At the forum, Professor Abelson delivered a keynote address entitled, "Finding the Sweet Spot: Striking a balance between policy research and political advocacy." The third edition of his forthcoming book, Do Think Tanks Matter? Assessing the Impact of Public Policy Institutes (McGill-Queen's University Press, 2018), will also be translated by the Shanghai Academy of Social Sciences Press.
---
Zheger Hassan - New Publication
Political Science PhD Graduate Zheger Hassan's publication "Baghdad Confronts Iraqi Kurdistan over Independence and Kirkuk" in the Georgetown Journal of International Affairs.
---
Professor Joanna Quinn - 

Named RSC President-Elect 
The College of New Scholars, Artists and Scientists of the Royal Society of Canada is pleased to announce Professor Professor Quinn, as President-Elect. "It's an honour to be asked to serve as President of The College.  I look forward to working with Canada's emerging intellectual leaders to connect College members in useful and innovative ways that showcase the depth and breadth of our collective research", said President-Elect Joanna Quinn. "We're extremely proud of not only Professor Quinn's research at Western, which examines how societies acknowledge and cope with past crimes, but of her leadership within the College of New Scholars, Artists and Scientists," says John Capone, Western's Vice-President (Research). "It comes at a time Western and the RSC alike are taking great strides to increase scholarly connections and promote excellence in research."

Joanna Quinn will assume the office of President-Elect during the Celebration of Excellence of the RSC on the weekend of November 23-25, 2017 at the Fairmont Winnipeg Hotel in Winnipeg, Manitoba. Her two-year term as President of the College will begin in November 2018.
---
Dr. Jerald Sabin - New Publication
Dr. Jerald Sabin, SSHRC Post-Doctoral Fellow in Political Science, released published a peer-reviewed study with the Institute for Research on Public Policy entitled: "A Federation within a Federation? Devolution and Indigenous Government in the Northwest Territories." According to the press release, "The Northwest Territories (NWT) is on the leading edge of political, constitutional and administrative changes that are fundamentally redefining the relationship between Indigenous people and the Canadian state, says a new study from the Institute for Research on Public Policy." According to the study's author, Jerald Sabin, the speed of change and the peaceful means through which power was shared have been striking. As he says, "Internationally, this model is unprecedented. These new institutions and practices are designed to mediate and regularize intergovernmental relations in what is becoming Canada's first federation within a federation." More broadly, he concludes that this power-sharing model is a significant step toward embedding Indigenous and treaty rights in the public governance framework as well as the reconciliation of Indigenous and settler societies." Download the study here.
---
Professor Narain - Awarded for Excellence
Professor Nigmendra Narain has been awarded the Western University Residence Life Teaching Award of Excellence for 2017.  The Western University Residence Life Teaching Award of Excellence is a student-nominated accolade that celebrates and recognizes faculty members across the university who have made significant contributions to first-year undergraduate education and have gone above and beyond in supporting residence-based initiatives/events. Recipients have made lasting contributions towards fostering learning and development within the first-year student population in both the residence and university community. Nominations were received from residence sophs, staff and students and a small selection committee reviewed the impact that our faculty have had in our residence community.  Well done!
---
Professor Radoslav Dimitrov - Live from Bonn, Germany
Professor Dimitrov is attending the UN Climate Change Conference in Bonn, Germany. He is representing Bulgaria and the European Union in the negotiations to operationalize the Paris Agreement, as well as teaching his classes on diplomacy and international relations via Skype videoconference live from the venue!  Professor Dimitrov also meets with members of the Canadian delegation, including Elizabeth May, leader of the Green Party of Canada.
---
Professor Joanna Quinn - Reconciliation @ 150 Presentation
Saturday, October 28, Western's members of the College of New Scholars, Artists and Scientists of the Royal Society of Canada hosted an event entitled, "Making a Difference: Research for Social Justice" that showcased the research being done here at Western. The event was part of the College's cross-Canada "Wave" of public discussions. Professor Quinn in conversation with Cheryl Suzack (University of Toronto) presented on Canada's Truth and Reconciliation Commission.
---
Professor Joanna Quinn - Named Fellow of Western's Africa Institute
Professor Quinn has been named a Fellow of Western's Africa Institute, in recognition of her substantial contributions to The Africa Institution and to research, knowledge translation, and knowledge dissemination.  She has been recognized as a role model and inspiration to other faculty and students within the Africa Institute, their discipline, and the Western Community, and for serving as an excellent collaborator in partnership with African institutions and societies.  Fellows are esteemed for their high level professional and personal integrity.  An Africa Institute Fellow holds this honour for life.
---

In Memoriam – Professor Emeritus Bob Young
It is with deep sadness that we announce the passing away of Dr. Bob Young.  Bob was a gifted teacher and scholar, and a mentor and dear friend to many. While his impressive body of work will shape our discipline for decades to come, it was his commitment to strengthening our department and his willingness to help his colleagues develop as full members of the academy that will be remembered most.  Bob was a distinguished scholar, great mentor, and friend.  We in Political Science wish to send our heartfelt condolences to Bob's Wife, Louise Gadbois, and family, at this extremely sad time.  Bob will be missed dearly.
Donations in Bob's name will be gratefully received and may be made to the Toronto General Hospital Transplant Unit, or to a charity of choice. Bob's Obituary in The London Free Press. On November 10, 2017, there will be a Celebration of Life in honour of Bob Young from 4-7 pm. at Bellamere Winery and Event Centre, 1260 Gainsborough Road, London, Ontario. 
---
Friderike Spang - Dissertation Defense
Friderike Spang successfully completed her PhD, "Dealing with Disagreement: Towards a Conception of Feasible Compromise", supervised by Professor Richard Vernon and Professor Charles Jones. Congratulations Rike!
---
Professor Nandita Biswas Mellamphy - Presentation 
Professor Biswas Mellamphy has been invited by the Posthumanism Research Institute to give a talk about politics in the information age entitled 'Approaching Posthuman Politics'.  The event is free to all and will be held on Thursday October 19, 12:00pm in The Hawk's Nest at Wilfrid Laurier University. 
---
The Barnard Scholarship 2017/18 Recipients
The Department has received $52,500 in funding for four recipients of The Dr. Frederick M. 
Barnard
 Scholarship Trust for the 2017/2018 academic year. 
Political Science congratulates Political Science students Afifa Khwaja, Jacob Hunsburger, and Caleb Althorpe and Political Philosophy student Heather Stewart on receiving this year's Dr. Frederick M. Barnard Scholarships. 
Mrs. Margot 
Barnard
 has generously endowed a scholarship trust in memory of her late husband, Frederick 
Mechner
Barnard
 who was a distinguished political theorist and intellectual historian at Western from 1970 until his retirement in 1985. The 
Barnard
Scholarship Trust offers scholarships to graduate students in Political Philosophy, entering MA or PhD programs in either Political Science or Philosophy at Western.
---
Professor Robert Young's articles Available Freely by CJPS
As a tribute to his research and in memoriam to honour the memory of
Professor Young
, Canadian Journal of Political Science (CJPS) is offering
free access to his articles
. Four of the selected articles included are "Leaders' Communications in Public-interest and Material-interest Groups", "Steven Lukes's Radical View of Power", "How Do Peaceful Secessions Happen?", and "The Concept of Province-Building: A Critique".
---
Professor Dan Bousfield - New Article
Professor Bousfield
has a new article in globalizations titled "
Revisiting Cyber-Diplomacy: Canada–China Relations Online
".
 This paper situates Canada–China relations in the context of recent internet developments and debates about information and communication technologies (ICTs) infrastructure.
---
Dianne Lalonde - Prize Finalist
PhD Candidate, Dianne Lalonde, is a finalist for the Lieutenant Governor's Visionaries Prize. Dianne is one of 6 finalists in the Reconciliation category and will be presenting in front of judges on Wednesday, September 13th in Thunder Bay.
---
Professor Joanna Quinn - New Book Chapter
Professor Quinn has a chapter in the just-released Research Handbook on Transitional Justice, edited by Cheryl Lawther, Luke Moffett, and Dov Jacobs, (Edward Elgar). Providing detailed and comprehensive coverage of the transitional justice field, this Research Handbook brings together leading scholars and practitioners to explore how societies deal with mass atrocities after periods of dictatorship or conflict. Situating the development of transitional justice in its historical context, social and political context, it analyses the legal instruments that have emerged.
---
Professor Christopher Alcantara - New Publication
Professor Alcantara has published a new paper in Canadian Public Administration called "Implementing comprehensive land claims agreements in Canada: Towards an analytical framework". This paper is currently in "Early View" but is scheduled for publication in the September 2017 (60) 3 issue.  In this paper, Alcantara constructs "a framework for analyzing the interactions between Indigenous, federal, and provincial/territorial governments in the implementation of modern treaties in Canada. It finds that a useful way for conceptualizing these situations is to focus on two characteristics relating to the treaty provisions and the signatories while remaining sensitive to the effects of time and other contextual factors."
---
Milestones of our Graduates – Dr. Vine Employed as Deputy Treasurer
Ph.D. graduate Timothy Vine will be working with the City of Elliott Lake as Deputy Treasurer, putting his dissertation, which focused on reconciliation with Indigenous Canadians, into action, helping the city negotiate the purchase of Crown land, while respecting neighbouring Indigenous communities.  Congratulations!
---
Professor Zack Taylor - Task Force Proposes Reforms to Toronto City Governance 
Last fall, Professor Taylor was appointed to a task force organized by University of Toronto's School of Public Policy and Governance to propose feasible reforms to reinforce Toronto City Hall's capacity for strategic decision making and priority-setting in the citywide interest. After four meetings, the task force released its final report, A Practical Blueprint for Change, on June 29. All of the proposed reforms can be adopted by Toronto's council without changes to provincial legislation. Prof. Taylor will work with the other task force members, including former Toronto city managers Joe Pennachetti and Shirley Hoy, CivicAction CEO Sevaun Palvetzian, and former councillors John Parker and David Soknacki, to support council's consideration of the report's recommendations.
---
Milestones of our Graduates – Dr. Harrington Appointed as Assistant Professor
We are pleased to announce that beginning September 2017, Dr. Cameron Harrington (PhD 2014) will join the School of Government and International Affairs at Durham University as an Assistant Professor. Congratulations!
---
Professors Caroline Dick and Christopher Alcantara - New Publication
Professors Dick and Alcantara have published a new paper in the Canadian Journal of Law and Society called "Decolonization in a Digital Age: Cryptocurrencies and Indigenous Self-Determination in Canada" April 2017 (32) 1: 19-35.  This interdisciplinary paper "explores the extent to which digital currencies, such as Bitcoin or MazaCoin, might be used to facilitate Indigenous self-determination, political autonomy, and economic prosperity. Based on our review of the literature, we argue that cryptocurrencies demonstrate some potential for advancing these goals but that there are a number of potential roadblocks as well. Future research should investigate how Indigenous communities might use digital currencies and other related technologies to further their political, economic, and social goals."
---
Professor Zack Taylor - SSHRC Insight Development Grant on Urban Resilience 
The Social Sciences and Humanities Research Council of Canada (SSHRC) has funded a collaborative project between Professor Taylor, Professors Carrie Mitchell and Sarah Burch at the University Waterloo, and Greg Oulahen at Ryerson University, on the process and politics of planning for resilience in Canadian cities. The project will examine how public, private, and community actors involved in Toronto and Vancouver's planning processes interpret and operationalize the increasingly influential concept of resilience. This project is an extension of Professor Taylor's earlier research, funded by the Government of Ontario, on urban resilience theory and its potential to inform social, economic, and environmental policymaking in the Toronto region. 
---
Professor Christopher Alcantara - APSA Book Award
Negotiating the Deal by Professor Alcantara, has been awarded the American Political Science Association's S.M. Lipset Best Book Award for 2017. The "Seymour Martin Lipset Best Book Award" is given to honor a significant contemporary contribution to the scholarship on Canadian politics, or Canada in a comparative perspective, or a comparative analysis of Canada with other countries, particularly the United States.
To quote the committee: This work was viewed, as one committee member put it, as offering "a significant contribution in our theoretical and practical understanding of why some treaty negotiations succeed and others fail." Moreover, the four diverse case studies of First Nations people (two from Newfoundland and Labrador and two from the Yukon Territory) are carefully done, using a variety of resource materials, including numerous interviews with those involved in the negotiating process. The use of the comparative method throughout the volume provides an important systematic dimension to the analysis as Alcantara identifies the key factors across these cases for success or failure of treaty negotiations. In all, this volume "should be essential reading for scholars and practitioners" for those seeking to understand relations between Aboriginal and non-Aboriginal communities. Moreover, the central findings may well be applicable to other nations seeking to address land and resource claims of indigenous communities.

The book also received the Best Book in Canadian Studies awarded by the Canadian Studies Network in 2014, the International Council for Canadian Studies Pierre Savard Award in 2015, and was a finalist for the CPSA's Donald Smiley Prize in 2014.
---
Michael Dietrich - Dissertation Defense
Michael Dietrich successfully completed his PhD, "Historical Institutionalism and the Politics of a Knowledge Economy", supervised by Professor Adam Harmes. Congratulations Michael!
---
Professors Spicer, McGregor, and Alcantara - New Publication
Drs. Zac Spicer, Michael McGregor (both alumni of our PhD program) and Christopher Alcantara have published a new article entitled "Political opportunity structures and the representation of women and visible minorities in municipal elections" in the latest issue of Electoral Studies (August 2017) 48: 10-18. Their paper examines the effects of incumbency, salary, and district magnitude on the decision of visible minorities and women to run and win election in municipal contests. Their study has a surprising finding, with significant implications for debates about electoral reform.
---
Professors Martin Horak and Andrew Sancton – New Publication
Professors Horak and Sancton along with researchers Rachna Goswami and Umera Ali, have recently published a new guide entitled Municipal Resource Guide to Leading Practices in Cost Savings. Along with the support from the Ontario Ministry of Municipal Affairs, this Guide, which features case studies from around Ontario, presents detailed profiles of 14 selected cases of leading practices in cost savings. The case studies come from municipalities of varying sizes in all regions of the province, and profile leading practices in a wide variety of service fields. In addition to these cases, the Guide presents a reference compendium of 159 cost-savings recommendations from recent Municipal Service Delivery Reviews. The Guide is intended to serve as a source of ideas and inspiration for Ontario's local officials as they seek to provide the best possible services to their residents in challenging fiscal times.
---
Percy Sherwood - Teaching Assistant Award
MA Student, Percy Sherwood, has recently been awarded a Graduate Student Teaching Assistant Award. Each year, twenty awards are presented to Western's most excellent teaching assistants by the Society of Graduate Students and in association with the School of Graduate and Post-doctoral Studies and the PSAC Local 610 Union for teaching assistants and post-doctoral associates. The award is in the amount of $500, which is awarded at a celebratory luncheon with the other award winners on June 8.
Previous years Political Science recipients of the Graduate Student Teaching Assistant Award for 2015-2016 include John Caldwell (MA '16) and Tom Randall (current PhD Candidate).
---
Jane Kovarikova – Recent Articles
PhD Candidate Jane Kovarikova has recently been featured in the Western News and Toronto Star, discussing the child-protection system in Ontario, urging Ontario to take a deeper look at how at the province cares for Crown Wards and the resulting outcome of youth who age-out of the system, and recommending Ontario track foster children after they leave care.
---
Post-Doc Jerald Sabin - Shortlisted for CPSA Prize
Dr. Jerald Sabin, SSHRC Post-Doctoral Fellow, has been shortlisted for the CPSA Jill Vickers Prize which is "awarded to the author or authors of the best paper presented, in English or French, in any section of the 2017 conference programme of the Canadian Political Science Association on the topic of gender and politics."  
His paper, co-authored with Kyle Kirkup, is entitled "Competing Masculinities and Political Campaigns."  According to the jury report, "This paper presents an investigation of competing masculinities during the 2015 Canadian election. Its empirical core comprises systematic content analysis of 756 articles from Canada's top ten English newspapers. The authors find that Harper and Mulcair presented themselves (or their campaign teams did) as embodying "hegemonic" or traditional masculinity, and newspaper coverage duly picked up on that image. By contrast, Trudeau embodied a balance of hegemonic and subordinate masculinity. Given Trudeau's success on election day, the authors ponder changing notions of masculinity. The paper provides a challenge to our conventional understanding of how politicians perform gender and sexuality, that will surely provoke further research, including the possibility that fluidity of gender presentation might be more available to men than to women."  Congratulations Dr. Sabin! 
---
Percy Sherwood – Presentation
MA Student, Percy Sherwood, will be presenting his paper entitled "Auto-Exceptionalism" at Acadia University in Nova Scotia for this year's SPT (Social and Political Thought) Graduate Student Conference. The conference gets underway May 5th, and will wrap up on Sunday, May7th.
---
Dr. Jerald Sabin – New Postdoctoral Fellow
We are pleased to announce the appointment of Dr. Jerald Sabin as a SSHRC Postdoctoral Fellow in our department. He will be working with Dr. Christopher Alcantara, beginning May 1.  Dr. Sabin completed his Doctoral degree in Political Science at the University of Toronto in 2016 and has published several articles, book chapters, and a co-authored book on religion and Canadian party politics published by UBC Press this year.
His research interests include political development, liberal democratic institutions, identity politics, gender and sexuality, and the politics of Northern Canada. His scholarly agenda considers how identity intersects with Canadian liberal democracy, its institutions, and practices. Postmaterial and postcolonial identities – including those based in race, gender, and Indigeneity – are increasingly important in Canadian politics. As these identities are constitutionalized within our legal and political systems, his SSHRC postdoctoral project asks a critical question: what is the future of liberal democracy in Canada?
---
To better understand the role of Mayors in Canada, PhD Candidate Kate Graham took a two month journey across Canada, stopping in the largest city of each of the 10 provinces. She interviewed, mayors past and present, city councilors, and other influencers in the cities to better understand the role of the mayor in that city. She kept an ongoing blog of her travels, The Mayors Project, and used social media to power local engagement.
---
Professor Christopher Alcantara - Presentation at Harvard University
Professor Alcantara will be presenting some findings from his latest book (which has recently sold out!) at the Weatherhead Center for International Affairs at Harvard University on 27 April 2017 as part of a workshop called, " Economic Issues Facing Indigenous People in Canada and the United States."  The "workshop is designed to convene academic economists and quantitative sociologists working on Aboriginal peoples' issues in the US and Canada, for the purpose of networking and sharing ideas, data sources, and research agendas" and includes presenters such as former Ontario Premier Bob Rae, economists Dominic Parker and Anke Kessler, and political scientist Miriam Jorgensen, among others.
---
Professor Christopher Alcantara and PhD Candidate Dianne Lalonde - Co-Author New Publication 
Professor Alcantara and PhD Candidate Dianne Lalonde, along with Professor Gary Wilson from UNBC, have co-authored a new paper called " Indigenous Research and Academic Freedom: A View from Political Scientists". It was recently published in Volume 8, Issue 2, 2017 of the International Indigenous Policy Journal.   The paper argues that non-community-based research, in which the researcher exercises academic autonomy over the project, still has a role to play in Indigenous-focused research.  
---
Professor Zack Taylor – Named Munk School Fellow
Professor Taylor has been named a Fellow of the Institute on Municipal Finance and Governance at the Munk School of Global Affairs at the University of Toronto.
---
Professor Erika Simpson - Opinion Editorial
Professor Simpson has authored an opinion editorial, "A lot More to be Answered"  Published March 24 th, the editorial was carried by Postmedia, Canada's largest newspaper chain.  [Read More]
---
Professor Cristine de Clercy - Presentation at University of Calgary
Professor de Clercy gave a talk to students and faculty in the Department of Political Science at the University of Calgary on February 1 st, titled "The Structure of Party Discipline in Justin Trudeau's Liberal Caucus." The talk concerned how the Liberal leader has reformed institutional aspects of party leadership within the organization, and discussed how the rise of social media is mobilizing leaders to adapt to these new communication conduits.
---
Department of Political Science Professors Recognized
Congratulations to our Political Science Department Professors awarded the 2015-2016 USC Teaching Honour Roll Award of Excellence!
Dan Bousfield
Peter Ferguson
Erin Hannah
Martin Horak
Charles Jones
Jennifer Kirkham
Bruce Morrison
Jennifer Mustapha
Andrés Pérez
Joanna Quinn
Faculty members are awarded based on teaching evaluations from all of the classes a faculty member has taught in the previous academic year, including intersession but excluding distance studies courses, are included, whose total average scores meet or exceed 6.3 will be listed in the Honour Roll.
---
Professor Dan

Bousfield

- Teaching Award Recipient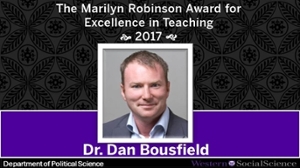 Professor Bousfield is this year's recipient of the Marilyn Robinson Award for Excellence in Teaching. Professor Bousfield's aim is to make the learning experience more accessible for his students. It is this approach that leads Bousfield  to always be experimenting with the use of technology and social media in his classes. Bousfield tries to approach his subject matter through shared interests with his students, bringing in what he describes as "found objects" – such as social media and pop culture - to engage the students.  Congratulations!
---
Tim Vine - Dissertation Defense
Tim Vine successfully completed his PhD, " The Truth and Reconciliation Commission of Canada and Crown-Aboriginal Relations", supervised by Professor Joanna Quinn. Congratulations Tim!
---
Percy Sherwood – Presentation
MA Student Percy Sherwood will be presenting his paper entitled "The State of Exception Today" at the Western Law Interdisciplinary Graduate Student Conference on May 18-19.  Top papers will be reviewed by the Editorial Staff of the Western Journal of Legal Studies for publication in the Journal's Fall/Winter 2017-2018 issue, provided it meets the Journal's publication format standards.   This conference brings together graduate students in any and every discipline - because no problem can be solved by one discipline alone. 
---
Professor Marta

Dyczok

- Presentation at University of Saskatchewan
On Friday, February 17, Professor Dyczok presents at the 20th Annual Mohyla Lecture on "What's Changed? Evolution of Ukraine's Media Since Independence".
---
Professor Christopher

Alcantara

- Presentation at Memorial University
Professor Alcantara  will be delivering a presentation on Friday, February 10 as part of the Department of Political Science's Seminar Series at Memorial University. He will be talking about his latest co-authored book,  A Quiet Evolution: The Emergence of Indigenous - Local Intergovernmental Partnerships in Canada (University of Toronto Press: 2016).
---
Back To Top