Nietzsche
The Nietzsche Workshop 2013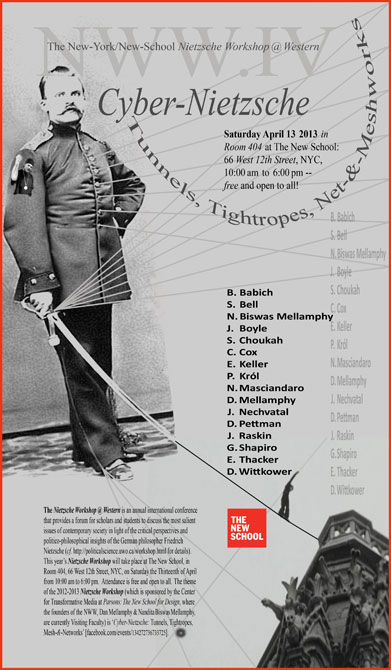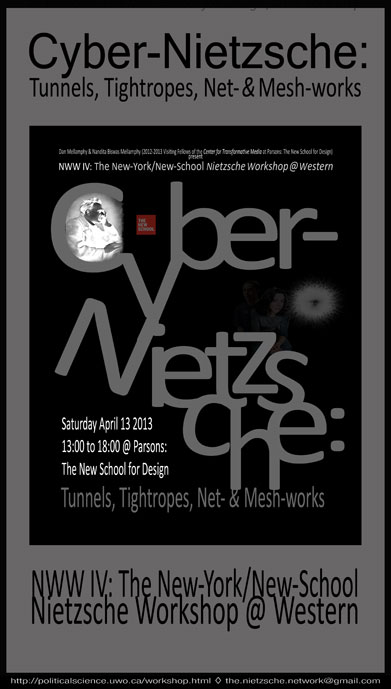 Professor Nandita Biswas Mellamphy & Dr. Dan Mellamphy (2012-2013 Visiting Faculty of the Center for Transformative Media at Parsons: The New School for Design),  presented the fourth annual Nietzsche Workshop @ Western (NWW.IV),* 'Cyber-Nietzsche: Tunnels, Tightropes, Net-&-Meshworks', at The New School on April 13 2013, 13:00-18:00. The theme was that of the relation of Friedrich Nietzsche's philosophy to Media Studies, Cybernetics, and the so-called 'Digital Humanities' (Human, All too Human?).  For information see the NWW.IV facebook page and the previous workshops (NWW I, II & III) below. *The Nietzsche Workshop @ Western was an annual international conference that provided an academic forum for scholars and students to discuss the most salient issues of contemporary society in light of the critical perspectives and politico-philosophical insights of the German philosopher Friedrich Nietzsche. The goal of the conference is to provide students and faculty with a forum to exchange and discuss controversial but innovative ideas within an academic context, all with the goal of furthering Western's international reputation for academic excellence.

Visit us on Facebook
---
The Nietzsche Workshop 2011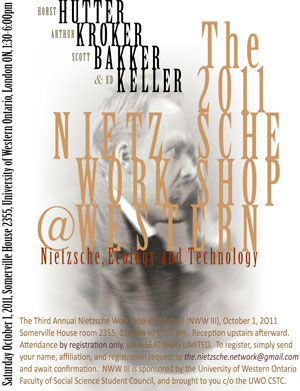 The Nietzsche Workshop @ Western was an annual international conference that provided an academic forum for scholars and students to discuss the most salient issues of contemporary society in light of the critical perspectives and politico-philosophical insights of the German philosopher Friedrich Nietzsche. The goal of the conference was to provide students and faculty with a forum to exchange and discuss controversial but innovative ideas within an academic context, all with the goal of furthering Western's international reputation for academic excellence.
Date: October 1, 2011
Location: Somerville House Room 2355, The University of Western Ontario
Keynote Speakers:
Horst Hutter, Montreal, PQ
Arthur Kroker, Victoria, BC
Scott Bakker, London, ON
Ed Keller, New York, NY
This event would not be possible without the generous support of:
The University of Western Ontario Faculty of Social Sciences Student Council. We thank them for their generous donation.
Contact Information:
For more information please e-mail The Nietzsche Workshop @ Western.
Credits:
Graphic Design: Dan Mellamphy
Webmaster: Bibi Pettypiece
---
The Nietzsche Workshop 2010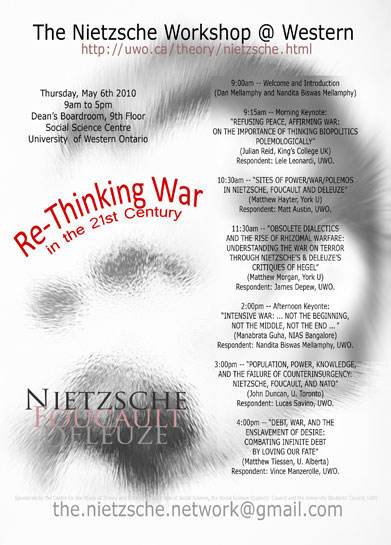 Nietzsche, Foucault, Deleuze: Rethinking War in the 21st Century
This conference featured keynotes from Dr. Manabrata Guha, author of Reimagining War in the 21st Century: From Clausewitz to Network-Centric Warfare (Routledge 2010) and Dr. Julian Reid, author of  Biopolitics of the War on Terror (Manchester University Press 2007).
---
The Nietzsche Workshop 2009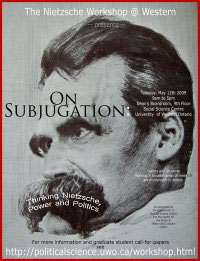 Subjugation: Thinking Nietzsche, Power and Politics
This conference featured keynote speaker, Dr. Heike Schotten, author of Nietzsche's Revolution: Decadence, Politics and Sexuality (Palgrave 2009), from the University of Boston.
Both events were successful and featured papers from faculty, graduate and undergraduate researchers from reputable universities in North America.