Taking a Human Approach to Human Rights, Truth and Reconciliation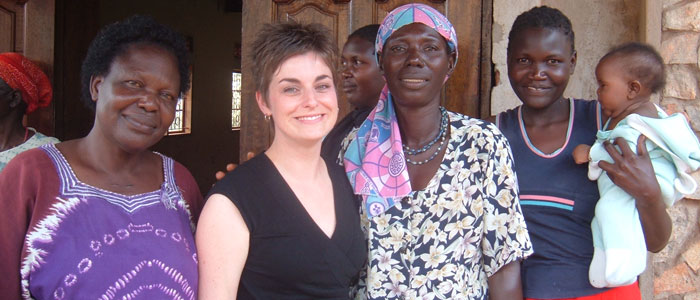 Ideas for thesis topics sometimes come out of the blue. And for Joanna Quinn, her inspiration came from a little footnote. From that small spark, this Associate Professor at Western launched herself into what has become a distinguished career in political science that she lives and breathes every day with a fierce passion.
Quinn had just entered McMaster University to begin her PhD and wondered where her keen interest in international human rights would take her. While writing a paper about South Africa's Truth and Reconciliation Commission, she happened upon a footnote saying there had been something similar in Uganda.
"From just that note, I began to dig," Quinn recalls. "I had to start from scratch. There was practically nothing published on the Ugandan Truth Commission, and everyone I asked said there was nothing to find."
When she made her first visit to Uganda in 2001, she had just one name to go on and not much else. "With field work, there are two things really. The first part is the thrill of the chase. If you tell me there is no information, then I just rub my hands together and say, 'Well, we'll see about that.' I take it as a challenge," she says. "The other part is that I'm just plain stubborn.  If I know there is something out there, I just have to find it."
Her qualitative interviewing began with government officials, commissioners, religious leaders, and traditional Ugandan tribal chiefs. Then over the years, during her next eight visits, she expanded her inquiries to also include women affected by conflict and former child soldiers who were drawn into the chaos. "The people whom I talked to about their work and their experiences, nobody had ever asked them about it before," she explains.
Locating the actual commission reports for Uganda seemed like an insurmountable task, but through luck and determination, she was told maybe she should go through the closets at the Human Rights and Peace Centre at a Law School in Uganda.
"I spent two days in a dusty closet in the corner of a law school in Uganda, surrounded by file boxes from the commission. To put my hands on this stuff that no researcher had ever seen before was amazing," she recalls.
Today, she continues to research, publish and teach on this topic and the larger field of transitional justice, which looks at how justice works in places where there has been civil war and genocide.
As she does her interviews, she seeks answers to questions like these: "So if we want you to feel like justice has been done – what will that take? Is it about putting that person in prison, or is it about giving you a chance to tell your story, or do you want to have the laws changed so it can't happen again? Is it an apology from the government? Is it compensation of some kind? Or is it that you might want an acknowledgement that it happened?"
"I spent two days in a dusty closet in the corner of a law school in Uganda, surrounded by file boxes from the commission. To put my hands on information that no researcher had ever seen before was amazing." – Joanna Quinn, Ph.D.
What Quinn found most interesting was the acknowledgement part of it. "Truth and reconciliation commissions try to do that – with mixed results," says Quinn. "In reality, there is another way, a form of acknowledgement that is happening in their own communities, in traditional ways. It is known as customary law or traditional justice, and since 2004, these two elements became natural extensions of my body of research."
Specific funding to keep her work going was earned shortly after she joined Western in 2003, in the form of a SSHRC postdoctoral fellowship. In 2009, she received a SSHRC standard research grant to advance her work further, comparing traditional forms of acknowledgement in Uganda and Fiji, and how this assists with social rebuilding. Her current SSHRC funding has since been extended through to 2015.
Quinn has written extensively on her many research interests and published a book in 2010 entitled, The Politics of Acknowledgement: Truth Commissions in Uganda and Haiti with University of British Columbia Press. She has also written 16 peer reviewed articles on the topics of truth and reconciliation, along with authoring more than a dozen book chapters and delivering invited academic presentations around the world.
Her specific interests have allowed her to expand her role at Western and she is an active administrator for two centres. In 2009, she became Director of the Centre for Transitional Justice and Post-Conflict Reconstruction, which is now partially funded through one of Western's Interdisciplinary Development Initiative grants. In 2010, she was named Director of The Africa Institute, which brings together interested parties campus-wide who share a common thread of work - Africa.
On the teaching side, Quinn works closely with students in fourth year, Master's and Ph.D. programs. Quinn hires students as research assistants to assist with many projects, and some students have joined her in the field in Uganda too, gaining valuable experience.
Within the classroom her love of teaching shines through. Her enthusiasm is contagious and she has earned numerous teaching awards over the years. "My goal is to have my students come away having learned more than they ever thought they could," she concludes. "I want them to use their brains and their hearts."